Christian Atsu
Atsu explains his choice for Newcastle United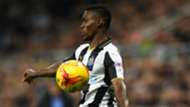 Ghana midfielder Christian Atsu has no plans to end his loan stint with Newcastle United for another challenge in Turkey.
The 25-year-old arrived at North East from Chelsea in a season-long loan deal, after frustrating spells with Everton, Bournemouth and Malaga. However, he appears to be enjoying football again, in the Championship, making 16 appearances so far.
Back from the Africa Cup of Nations, Atsu earned a second-half substitution, as Newcastle defeated Wolverhampton Wanderers 1-0 to go top of the table on Saturday.
"Why would I go to play in Turkey when I want to play in the English Premier League? I want to settle down," Atsu was quoted as saying by thechroniclelive.co.uk.
"I heard the rumours, but I wasn't interested. I wasn't focused on that because I knew I wouldn't be going to play in Turkey.
"I am very happy at this club. Newcastle is a great club with a good coach, good lads and fantastic fans. I am very happy at Newcastle. I am enjoying my time here much more than at any of my previous clubs. I am getting more playing time, and that makes everything much easier for me," he said.
Atsu admitted that he almost gave up on his career due to frustrations but needed to psych up himself to overcome the trying times.
"I couldn't play many games at Everton, and then I went to Bournemouth and didn't play one single Premier League game. It was appalling, a very difficult time for me.
"I was really disappointed. You work hard when you are not playing still you are not getting into the team. It was frustrating. I tried to learn from that mistake. I was at Bournemouth and almost gave up.
He added: "I said to myself I want to settle somewhere and be really serious. I believe in myself and I will be more relaxed and confident in my football. I had to leave there in January [2016] to go to Malaga, but in my first game there, I scored and then got injured. I almost gave up fighting to play in England."