Transfers
'Liga MX will be running scared' - Atlanta United's Barco signing the next step in MLS evolution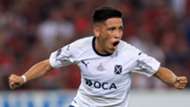 PHILADELPHIA — Ezequiel Barco isn't exactly a household name.
The 18-year-old playmaker doesn't bring the transcendent star power that the likes of David Beckham, Thierry Henry and Kaka offered MLS. Even calling him a known commodity would be a stretch.
Yet Barco required the most expensive transfer fee in MLS history. After Atlanta United announced the Argentina youth international's arrival from Independiente on Friday, club president Darren Eales confirmed the reported fee of $15 million is "in the ballpark."
While Barco will carry high expectations on the field, his impact is expected to spread beyond goals, assists and points in the standings. If it doesn't, then Atlanta owner Arthur Blank won't be getting his money's worth.
"For the bigger picture, I think this is a huge signing for the league," Eales said at Friday's MLS SuperDraft. "This is a kid who is 18 years old, who is one of the top teenagers in the world, who is being approached by European clubs, had the offer to go, but he was sold on the vision of Atlanta United. He dug his heels and he was determined to move. I think that says a lot for where MLS is going now that we can attract these type of players."
While Barco has just 57 first-team appearances under his belt, the 5-foot-6 attacker has already earned plaudits for his control on the ball and creative prowess. Confidence seems readily available as well: Facing Flamengo last month at the Maracana, Barco converted a penalty for the goal that clinched the Copa Sudamericana title.
Having built last year's expansion side around Paraguayan playmaker Miguel Almiron, 23, and Venezuelan striker Josef Martinez, 24, Atlanta went even younger and pricier as the club banked on the South American pipeline once more this offseason. A former Tottenham executive, Eales called it the "hardest deal I've done."
"Credit to the kid — he gave up stuff to come here, he really wanted to be a part of this league," Atlanta technical director Carlos Bocanegra said. "It makes me feel good about our club and about our league, a league of choice, that he knows this is another steppingstone in his career that's going to help his development and improve him as he goes on and on."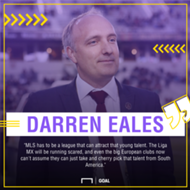 Although MLS has long been derided as a "retirement league," Atlanta has played its part in shedding that perception. Rather than pay big money for a star on the brink of calling it quits, Eales has directed resources to young players looking for a bridge to Europe. While he argued the cash spent on an aging star becomes "dead money," a talented prospect can produce for a couple of years before rewarding that investment with a transfer fee.
"Every club is a part of that pipeline and that sort of supply chain," Eales said. "So my view was you could attract top talent, and if you could then move them on then that's good for everybody because you can reinvest those funds and get that next young player.
"It's easier for us to go to other players in South America or around the world and say, 'Look, this league, MLS, is a league that's going places. You can come here, be a superstar for a while and then still get that move to a top club.' Hopefully, ultimately, what we want to do is be able to retain that talent when the league goes from strength to strength and becomes one of the top three or four in the world."
Game changer. @EzeBarco10. pic.twitter.com/tQU7yOF6xd

— Atlanta United FC (@ATLUTD) January 21, 2018
A signing like Barco isn't just about long-term sustainability and brand building. Almiron and Martinez paid immediate dividends for Atlanta, posting Best XI campaigns as United became the first expansion team since 2009 to make the playoffs. Eschewing the notion of a short-term stay, both players are returning for a second season under coach Gerardo "Tata" Martino at Mercedes-Benz Stadium.
The undoubted pinnacle of CONCACAF, Liga MX has long embraced its status as an appealing destination for South American talent. Now Atlanta has positioned itself as a formidable player in that market, and laid a blueprint for other MLS clubs to potentially follow.
"MLS has to be a league that can attract that young talent," Eales said. "The Liga MX will be running scared, and even the big European clubs now can't assume they can just take and cherry pick that talent from South America. We've shown [MLS] is a valuable league to develop the player. They can learn English, they can do all of those things that help de-risk a move to a European club. That's where I see MLS' place at the moment, but I think it's great for us now. We're getting talented players who excite our crowd that drives the league."
It's all theoretically quite enticing — but contingent on a player like Barco panning out. If Barco hasn't made a name for himself by the time his multi-year deal ends, that carefully crafted philosophy collapses.
"He needs to produce," Bocanegra said. "And we need to make sure he lives up to his potential."