Asian Games
Asian Games 2018: AIFF accuse IOA of 'arbitrarily' excluding Indian football team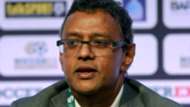 The All India Football Federation (AIFF) has criticised the Indian Olympics Association (IOA) for not allowing the Indian football team from participating in the Asian Games 2018.
The football event was meant for the U-23 team with three seniors allowed to be included.
Speaking to reporters at a press conference in Delhi on Monday, AIFF General Secretary Kushal Das said, "It is an unfortunate press conference. The IOA has taken a decision not to allow the Indian men's and women's football teams to participate in the Asian Games. I would like to state and put on record some facts," he continued.
"We have got no official communication about the team's non-participation. It has all been verbal. And that too when I called them up, they informed that the teams will not be allowed to participate. It is strange that they did not have the protocol or the courtesy to inform the federation why the teams are not being allowed to participate. No formal communication has ever come from them."
Das went on to acknowledge the IOA's regulations, according to which only countries ranked between 1 and 8 at the continental level would be cleared for the Games. But he stressed that an exception should have been afforded for the football team which is ranked 14th in Asia and recently clinched the 2018 Intercontinental Cup.
"I would also like to state that once the news was flashed about the non-participation, I did call up the IOA and they said that there is a proposal not to send teams who ranked below 8th.. It was very very unclear that whether they were referring to the current rankings or performances in the previous games.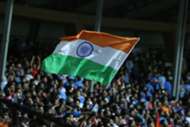 "So based on that, I said that you must look at football a bit differently. It is a sport where India has been doing well recently. We have jumped from 173 (in 2015) to 97. Then they asked us to make a presentation and explain what has been happening in Indian football and we can reconsider. That presentation was sent on June 4," the AIFF official clarified. 
"How can you compare what happened four years back to current circumstances? Even if they had thought there is no chance of a medal they should have spoken to the technical team and the coach giving us a chance to explain our point. But they just arbitrarily took the decision," vented Das. 
Das also mentioned AIFF president Praful Patel's efforts to convince IOA President Narinder Batra in the matter. IOA Secretary-General Rajeev Mehta and Lalit Bhanot (Chairman, Preparation Committee, Asian Games) were also contacted. 
"After that, there has been no communication from IOA whatsoever. I had to then ask my president Mr. Patel to intervene. Mr. Batra then said the same thing i.e. to make a presentation. We said that we have already done so. But we sent our presentation again to Mr. Batra, Mr. Mehta and Mr. Bhanot.
"But strangely, there was no communication again till June 30. I believe there was a meeting on June 30 and in the evening when I called them up, they said that the decisions have not been reversed. I have sent a letter to the IOA expressing our disappointment at this decision. We also said that if expenses are an issue, the federation is willing to pay for the team's travel and stay. Again, I did not get a response from the IOA on this matter."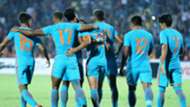 The AIFF General Secretary went on discuss the developments made by the Indian football team who have qualified for the 2019 AFC (Asian Football Confederation) Asian Cup to be held in UAE.
"Significant improvements have been made in the rankings since 2014. We were 165 back in 2014 if I am not wrong. Now we are 97. We have qualified for the Asian Cup after eight years. So the progress is evident. The youth leagues have been flourishing and a lot of work is being done at the grassroots levels. So when I explained to the IOA all these factors, they asked us to make a presentation. But even after that, they haven't considered our case," he lamented.
Kushal Das pursued to defend the cause of the women's team as well who are attending a camp in hopes of participating at the Asian Games.
"As far as the Indian women's team is concerned, yes we have participated in two international friendlies. We have also participated in the SAFF (South Asian Football Federation) Championships. The team is still in a camp, preparing for the Asian Games. We had plans to send the women's team to Spain for further preparation before the games. We have not yet disbanded the camp hoping for some favourable decision."