Arsenal v Bayern München
'Arsenal going through the worst period in recent history' - Wright saddened by demise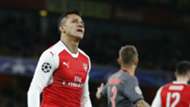 A demoralising Champions League exit at the hands of Bayern Munich saw Arsenal hit the lowest point in their recent history, according to Ian Wright.
The Gunners were always up against it in a meeting with the German giants, having suffered a 5-1 defeat in the first leg of their last-16 encounter.
Horrow show spells the end for Wenger
To fall to the same scoreline on home soil, though, was difficult to stomach, with dark clouds having descended on Emirates Stadium.
Supporters staged a protest against Arsene Wenger prior to kick-off, and their mood was barely lifted from that point.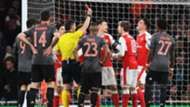 Wright admits that these are troubling times for Arsenal, with a humbling defeat in Europe coming on the back of domestic issues that have seen the club slip out of the Premier League's top four.
He told BT Sport: "The first game was more upsetting than this. I thought the guys had a bit of a go. After the penalty decision it started to go against us.
Wenger 'revolted' by refereeing display
"It's a sad day because we've gone out again at this stage. We're going through a period in our history that's the worst in history I can remember.
"With everything that's going on you have to say it will take some sort of monumental effort for Arsenal to turn it around in terms of the drive and determination of the players. It feels like something is coming to an end."
Wenger attempted to put a brave face on things at the final whistle, with the Frenchman quick to bemoan the performance of the match officials – with the second half dismissal of Laurent Koscielny proving costly.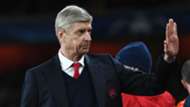 Wright, though, concedes that the long-serving manager may have reached the end of the line in north London, with it difficult to see how an extension to his current contract can be justified.
He added: "I don't want him to be forced out with protests and banners. I wouldn't like to see him to be hounded out like that.
The future looks very dark for Arsenal
"But if it carries on like this, yes.
"He's always very defiant when he speaks, he defends his players and I'm not sure why he does to be honest."