Romelu Lukaku
Another Pogba? Lukaku pressure will be unbearable if he joins Chelsea for £100m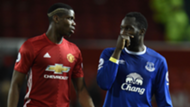 ---
COMMENT
---
Paul Pogba's transfer to Manchester United is a cautionary tale for Romelu Lukaku amid Chelsea return talk and he will have to face football memes, hysteria and harsh criticism upon any bad run of form.
A £100 million asking price has been slapped on Lukaku by Everton as the Belgium international refuses to sign a new deal. Chelsea are interested in signing him, after failing to do so last summer, as they aim to reduce their over-reliance on Diego Costa. They will likely face competition from Manchester United. 
Conte: I wouldn't swap Costa for Lukaku
United decided to do a similar deal to that which potentially lies in-store for Lukaku by bringing back their former player Pogba for £89 million in 2016. Pogba's price tag has come under constant scrutiny and ridicule since his transfer away from Juventus, which may have become a factor in his underwhelming performances on the pitch. 
The discussions around Pogba's transfer fee have not only served as a distraction but they have also increased the pressure on the 24-year-old. Any bad performance is not only dissected among rival fans on social media but also by the national and international press, with some appearing to thrive on criticising a newly super-rich footballer. 
Lukaku was sold by Chelsea to Everton for £28 million. Pogba, meanwhile, was lost for free to Antonio Conte's Juventus and their opportunistic transfer policy. This fact will do little to deter the wolves at the door who will be waiting to pounce on any three-game goal drought or bad miss.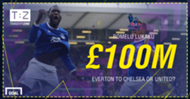 For Lukaku, a high price tag will introduce him to this unkind and high-pressure world. He is currently the top man at Everton, a club without the same pressures to succeed that the players at Chelsea face, and he is leading the scoring charts by some distance with 24 goals. 
Costa has already faced heavy criticism, despite being his side's top goal scorer this season after enduring the worst goal drought of his Chelsea career. Lukaku will face far worse, for far less and at a younger age. 
At Everton, the harsh criticism has been limited to his poor performances against Liverpool, having not scored against them since October 2015. He has also failed to score in his last five appearances versus Chelsea and his poor record against big teams in general is a cause for concern. 
In fact, 19 of his 24 league goals have come against sides in the bottom 11 in the Premier League. This calls into question his ability to handle the pressure of being a talisman on the bigger occasions.
Another high-pressured environment for any footballer comes with their national team, and Lukaku has often struggled with Belgium. At Euro 2016, he only scored in one of his country's matches, despite starting all five of them.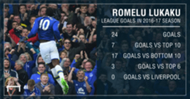 He scored in the same number of matches as the forgotten Michy Batshuayi, who he may come in to replace. His 20 goal return in 56 games for his country is good, but not great. 
Meanwhile, if Lukaku repeats any of this wearing a Chelsea shirt next season, he will be hung out to dry by some pundits who will be hoping for another flop of Fernando Torres proportion. The criticism can be heard and it can create a downward spiral in confidence and form, despite the big money in the game. 
'Man Utd not a step up for Lukaku'
Like Pogba, Lukaku is tough and his manager will likely protect him, at whatever club he choses to leave for. It appears that £100 million is the price for top talent in 2017 and he will need to remind himself of that during his first bad spell. 
Lukaku can be a success at Chelsea, like Pogba can still be at United, but he will have to show a strong character, especially if he choses to return to Stamford Bridge.