Super League
Another MSL team request match not be shown live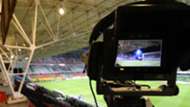 ---
BY        ZULHILMI ZAINAL       Follow on Twitter
---
Goal has learnt that another Malaysia Super League side have asked the match broadcaster not to show their match live on television.
A source close to M-League organiser Football Malaysia LLP (FMLLP) and the match broadcaster has contacted us, saying that the team made the request for their round 17 match this Saturday not be telecast.
The source refused to divulge the exact reason for the request, but implied that it was because the team want to maximise their gate receipt for the match, as they are the home team. The match is expected to be one of the most-anticipated round 17 Super League matches.
The source also added another more incriminating reason behind the request. They claimed that the cash-strapped club have missed salary payment for its players for the past two months. 
"The club have not paid their players for the past two months. The request is their last option, as they are in a dire need for money at the moment," claimed the source, who declined to be named.
We have also verified this piece of information with another source close to the club.
The source voiced his exasperation towards the request to us, finding Malaysian teams' increasing aversion to having their matches shown on live television regressive.
"To me, Malaysian football is not real football," said the source.
Last weekend, Kedah made the same request to the broadcaster, asking their round 16 Super League match against Selangor at home not be shown live, and the broadcaster acquiesced. The team issued a statement explaining that they made the request because their past three home matches had been shown live, but stopped short of issuing any financial reasons.
However, there's a reason behind M-League teams' reluctance to let their matches be shown on television. Live broadcasts usually result in a drop in match attendance and gate collection for Malaysian clubs, while they are not paid live broadcast fees that are commensurate with the number of their matches shown live on television. Each Super League club receives a lump sum of RM1 million (around USD230,000) in broadcasting fees every season, while Premier League outfits receive RM500,000.