Arsenal
'An Arsenal player losing his bottle, surely not!' - Xhaka mocked after missed penalty at Euro 2016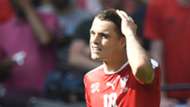 It didn't take long for Tottenham and Manchester United fans to question Granit Xhaka's bottle after his missed penalty for Switzerland.
The Gunners' £30 million signing smashed his spot-kick well wide of the goal which allowed Poland to book their place in the quarter-finals.
Arsenal's tendency to throw away advantages in title races is well-documented and Arsene Wenger has now been accused of signing a player whose mentality will fit right in at the Emirates Stadium.
Xhaka will fit right in at Arsenal with bottle like that.

— The Spurs Brain (@TheSpursBrain) 25 June 2016
That's what we need more players with no bottle, you'll fit in perfectly Xhaka #WelcomeXhaka

— Lou Barry (@LouBarry_) 25 June 2016
Xhaka will bottle his penalty. He's an Arsenal player now, it's obvious.

— joshy (@notjsoh) 25 June 2016
Xhaka choked. He's born for Arsenal.

— United Peoples TV (@UnitedPeoplesTV) 25 June 2016
Granit Xhaka, Arsenal player...losing his bottle - surely not!!

— Anfield Talk (@Anfield_Talk) 25 June 2016
Xhaka already learning how to bottle, ready for his Arsenal career.

— Adam ⚡️ (@MaximumMartial) 25 June 2016
Xhaka will fit in just fine at Arsenal. #EURO2016

— Matthew Doyle (@MLSAnalyst) 25 June 2016
Xhaka will suit arsenal 😂😂 #bottle

— AlanWalsh (@Walshman_) 25 June 2016
Xhaka has no bottle can we get a refund?

— Shaun H (@_Always_Arsenal) 25 June 2016
Memo : Xhaka must never take a penalty @Arsenal

— MD (@Memz_Dogi) 25 June 2016
Xhaka even taking long passes from the penalty spot

— Arsenal Column (@ArsenalColumn) 25 June 2016
That Xhaka is gonna fit in perfectly at Arsenal the bottle job.

— ChelseaFansChannel (@ChelseaFansYT) 25 June 2016
Xhaka hasn't played a game for Arsenal yet but he's already a bottle job

— Simon Dawkins (@simondawkins23) 25 June 2016
Xhaka already has that bottle mentality needed for Arsenal

— Waves (@TomBurley98) 25 June 2016