Premier League
Americans Abroad: Chandler scores in MOTM performance, Williams makes EPL debut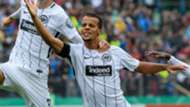 The Bundesliga season does not start until next week, but the DFB-Pokal ensured it was still a fairly busy weekend for Americans in Germany.
The big piece of news among the Americans was a negative one — John Brooks went down with a leg injury in his competitive debut for Wolfsburg and was substituted off in the first half of a 1-0 win over Eintracht Norderstedt. With World Cup qualifiers so close at hand, Brooks' status is anything but certain for the crucial clash against Costa Rica on Sept. 1.
There was good news for other Americans however. Timmy Chandler delivered Eintracht Frankfurt's opener against Erndtebruck in his club's 3-0 victory and earned man of the match honors. The caveat is Chandler's side was facing a team from Germany's fourth division, but Frankfurt did spend nearly 70 minutes down a man. 
Chandler's performance comes at a potentially crucial time. DeAndre Yedlin missed Newcastle United's Premier League opener with a hamstring injury sustained in early August and may not be fit in time for the qualifiers against Costa Rica and Honduras. The right backs at the Gold Cup were Graham Zusi and Eric Lichaj and while they each had moments, both have question marks about their viability in the right-back role for the national team.
Brooks limps off in Wolfsburg debut
Chandler is certainly no stranger to question marks either — he's had them since before he fully committed to the U.S. in 2013. But with that said, he is the right back who plays against the highest level of competition week in and week out. He performed well in the Bundesliga last season. On the basis of club play, it is hard to argue he is not the top option if Yedlin is unable to go.
And while it may not have come against top competition, a goal this week doesn't hurt his cause. 
The fullback wasn't the only American to find the net in the German cup this weekend. Bobby Wood buried a penalty for Hamburg — but that was the only goal for his side in a bitter 3-1 defeat to 10-man third-tier side Osnabruck.
It was an inauspicious start for Wood and Hamburg, who had a memorable last-gasp win over Wolfsburg to get to safety in the Bundesliga last season. Dropping a Pokal match against a lower-division club that was short a man is not going inspire confidence Hamburg will do much better in 2017-18. 
---
PL DEBUTS FOR HUDDERSFIELD, WAGNER, WILLIAMS
---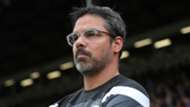 Huddersfield Town made its historic debut in the Premier League on Saturday and with it, a pair of Americans got their first taste of life in England's top flight.
Former U.S. international David Wagner was at the helm for Huddersfield and saw his side walk away with an impressive 3-0 victory against Crystal Palace. Not only was the win emphatic, it also came on the road at Selhurst Park. 
Wagner's job of keeping Huddersfield up this season will be difficult, but it's hard to imagine the first game going much better.
Danny Williams had to wait a little longer for his Premier League bow, coming on for Huddersfield for the final 33 minutes of the match.
While he did not score a goal, the performance will be still one to remember for Williams, who, despite being a midfielder, entered the game in an unfamiliar role of right back.
"Danny, I've spoken with him," Wagner said in a post-match conference. "The last time he played right back was six years ago. So for this, he did it well, even if Wilfried Zaha showed him what a proper winger in the Premier League is."
Williams will probably remain primarily a midfielder for Huddersfield, but should the team fail to bring in more cover at right back before the end of the transfer window, it seems likely he may be tasked with filling in there from time to time.
The only other American to see action as the Premier League kicked off was Geoff Cameron, who went the full 90 minutes in Stoke City's 1-0 loss to Everton. Both Yedlin and Emerson Hyndman are nursing injuries. 
---
HORVATH ASSUMES NO. 1 ROLE FOR BRUGGE
---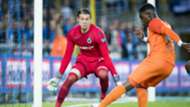 As Tim Howard and Brad Guzan get up there in years, the question of who is the next No. 1 for the U.S. grows ever louder. The Gold Cup saw Bill Hamid return to the fold and Jesse Gonzalez switch his allegiance to the U.S. from Mexico, tying him down permanently. And there are other MLS options who have built cases for themselves, such as the Columbus Crew's Zack Steffen.
However, 22-year-old Ethan Horvath continues to make his argument for the role in Europe.
After a midseason move to Club Brugge in Belgium in 2016-17, Horvath initially sat on the bench before impressing late in the season last year. It looks to have been more than just a trial, as Horvath has now started all three of Brugge's league games (all wins) and both matches in the club's Champions League qualification tie, though Brugge lost that 5-3 on aggregate to Istanbul Basaksehir.
Champions League soccer would have been a good way to showcase his skills, but starting every week for Brugge can only help Horvath build his case as to why he is the heir apparent to the current duo. And there's still a chance for him to display his talents in continental competition as Brugge can still qualify for the Europa League through the competition's qualification playoffs.
---
AMERICANS FIND HOME IN 2.BUNDESLIGA
---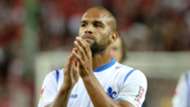 While there are a good number of U.S. national team players in Germany's top division, the country's second tier is also going to be worth a look this year for those interested in Americans abroad.
Last week, 19-year-old Haji Wright moved from Schalke to Sandhausen SV on loan, where he will be a teammate of fellow American Andrew Wooten.
Another teenager, 19-year-old McKinze Gaines, moved from Wolfsburg to Darmstadt permanently during the summer window. There he'll join American striker Terrence Boyd, as they try to battle back to the Bundesliga after relegation last season.
WATCH: Dempsey scores 50th Sounders goal
They aren't the only Americans hoping for a quick return to the top flight. Alfredo Morales and Ingolstadt could not manage to scrape their way to safety last season and will have to work to reclaim their Bundesliga status in 2017-18.
Jerome Kiesewetter made the move to Fortuna Dusseldorf last season, and played in 18 games in the league, starting five. At age 24, he'll look to build on that this campaign.
So while there is plenty to be focused on in the Bundesliga, keep an eye on the second division, where any one of these players might just be able to make a name for themselves and play their way into greater opportunities down the road.