KPL
Ambrose Rachier: Gor Mahia players to receive salary for July and August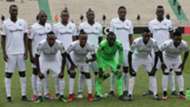 Gor Mahia players have been told to expect money in their bank accounts by the end of the day on Monday.
Club chairman Ambrose Rachier gave out his word that the management will remit the two month salary arrears owed to players even as he insisted that the club is stable financially.
Rachier, who confirmed that the club has received a bailout from their shirt sponsor, a gaming company, revealed that the money is expected to hit players' bank accounts by the close of business on Monday.
"Appropriate arrangements were made for the payment of similar emoluments for the month of August 2018 but on account of certain unavoidable settings beyond our control, the salaries were delayed. The laches in remittance were both unexpected and anticipated.
"The situation has now been rectified, remittance received and all salaries, bonus and allowances for the stated period should be paid before close of business on Monday."
Rachier, however, said that they will only pay for the two months of July and August. "For the avoidances of any misconception, I must state here that all salaries, allowances, and bonuses for the period up to and including the 31st July have been duly paid in full.
"As far as am aware, we have not paid for the last two months. We will pay September's salary when we get there."