Africa Women Cup of Nations
Algeria braced up for hostile Awcon opener against hosts Ghana on Saturday
Group A Correspondent in Accra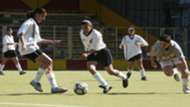 Algeria skipper Myriam Yasmine Benlazar says they will not be intimidated by the crowd when they face hosts Ghana in the 2018 Africa Women Cup of Nations opener on Saturday.
On their fifth appearance at the continental showpiece, The Fennecs are set to face the Black Queens at the Accra Sports Stadium in Group A, which also contains Cameroon and Mali.
The North Africans are hoping to make it out of the group stage for the first time.
"We know for a fact that Ghana is the host nation and their fans will be behind them," Benlazar said at the pre-match conference on Friday.
"We are not worried about that. We are here to play and give a good account of ourselves.
"Ghana is a strong side and is always difficult to play against them but we are here to play our game and we wouldn't be intimidated by the home crowd."
Coach Radia Fertoul also made clear their ambitions for the tournament which will serve as qualifiers for the 2019 Fifa Women's World Cup in France.
The top three finishers will grab the valuable tickets.
"This will be our fifth time at this tournament and our preparations have been good and we are ready for Ghana on Saturday," Fertoul said.
"We are very well aware of how tight our group is but we are poised to make history by being the first ever North African country to make it to the Fifa World Cup, which means we have to qualify from our group first."
Ghana captain Elizabeth Addo, meanwhile, is calling for total home backing in their quest for a first continental title.
"We need support of the nation as Cameroon had two years ago when they hosted, so that we can make history for mother Ghana," the playmaker said.
"In one way, there is pressure on us and in another way, there's no pressure.
"We will motivate ourselves to push harder."
Coach Bashir Hayford, on the other hand, had an interesting personal motivation for wanting to win gold on home soil.
"We are going to write a piece of history for the Queens because they have never won this cup before.
"I will need this international tournament to boost my CV and status as I have won the cups that are expected to be won locally.
"We will kill two birds with one stone - we'll host and win this tournament and qualify for the Fifa World Cup."