Transfers
Alexis and Ozil warned by Hleb that everyone regrets leaving Arsenal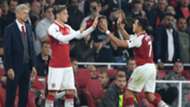 As Mesut Ozil and Alexis Sanchez edge towards the exits, Alexander Hleb has warned that they might end up regretting leaving Arsenal like everyone else does.
The Gunners are facing up to the prospect of losing two stars that they paid big money to bring on board as both Sanchez and Ozil are running down their respective contracts, while Arsene Wenger has refused to consider parting with either during the January transfer window.
That means free agency beckons in the summer, unless fresh terms can be agreed, but former Arsenal star Hleb – who left north London for Barcelona back in 2008 – has offered a cautionary tale to those considering a move elsewhere.
The Belarusian told Planet Football: "It's still difficult for me to explain why I left Arsenal.
"I was absolutely happy there. Arsene completely trusted me, it was idyllic. And then I decided to leave.
"I was on vacation and agents and managers convinced me that I had to go to Barcelona. To be honest, I didn't really understand what I was doing. At some point, I realised, 'Oh god! I'm leaving Arsenal!'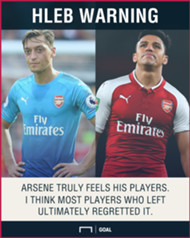 "When Arsene said that it was a matter of hours, I felt devastated. It was really hard for me to accept that. Wenger did everything to make me stay at Arsenal.
"He even texted me as I was fishing. 'Alex, I won't let you go, we need you here.' I cried when I read it."
Hleb added on the emotions which followed his exit from Emirates Stadium: "During my first season in England, I picked up an injury while playing for the national team. So, as I was trying to recover from it, I told Arsene that maybe it would make sense to send me on loan to Germany or something.
"He was like: 'Stop it! I believe in you! Don't even think about things like that.' Honestly? I just flew out of the room. It really felt like I had wings. 
"Arsene truly feels his players. He says exactly what a player needs to hear. I think there are very few guys who might say that they haven't enjoyed working with him. Everyone felt like they would get a chance. And I think most players who left ultimately regretted it."
It remains to be seen whether those words will be heeded by a pair of international stars currently weighing up their options.
Sanchez continues to be heavily linked with a move to Manchester City, with Goal revealing that the Chilean is eager to push through a switch to the Premier League leaders after missing out on a transfer over the summer.
Ozil, meanwhile, has sparked talk of interest from Manchester United and Barcelona, with the World Cup winner a proven performer at the very highest level and a man who has been a vital source of creativity for Arsenal during his time in England.