David Meyler
Alex Bruce to Real Madrid, Nani to Hull and Meyler's hilarious deadline day updates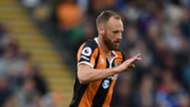 Hull City midfielder David Meyler was involved in many transfer deadline day stories involving some huge clubs - mainly because he made them up himself to pass the time on Twitter.
The Republic of Ireland international entertained his 84,000 Twitter followers - and probably gained a few more - as he narrated potential transfers before the window closed.
The major confirmed January deals
Meyler greeted news that team-mate Alex Bruce was leaving the club for Wigan, with the hilarious reply "Alex told us he was going to Madrid."
Alex told us he was going Madrid https://t.co/d0aznl4diA

— DM (@DavidMeyler7) January 31, 2017
A Real Madrid or Atletico Madrid move for Bruce failed to transpire, while Meyler was also on the lookout for a new signing on deadline day.
Where are you @luisnani training starts in 5 minutes?

— DM (@DavidMeyler7) January 31, 2017
The 27-year-old sent a tweet to Valencia winger Nani asking him why he had yet to turn up for Hull training, much to the amusement of Tigers fans.
Anyone got the postcode for BodyMoor Heath?

— DM (@DavidMeyler7) January 31, 2017
Meyler even went one further, suggesting that he may link up with former Hull boss Steve Bruce at Aston Villa, enquiring as to the address of their Bodymoor Heath training ground.
The midfielder is very active on Twitter, engaging with fans, and also has a live streaming account with Twitch where he plays FIFA 17 games for charity.