Albirex Niigata S
Albirex Niigata give outgoing goalkeeper Yohsuke Nozawa the perfect send-off by securing fourth consecutive Singapore Cup
Albirex Niigata gave outgoing goalkeeper Yohsuke Nozawa the perfect send-off as they hammered Brunei DPMM 4-1 to seal their fourth consecutive Singapore Cup.
It was never in doubt as the White Swans have certainly established themselves as the dominant all-conquering force here in Singapore football. And against DPMM FC, they were at their absolute best tearing apart their opponents piece by piece.
What didn't help was also the tactics deployed by The Wasps' coach Rene Weber whom afforded the Japanese too much time and space.  Captain Wataru Murofushi needed no second invitation to make full use of the space as he dazzled in the middle of park.
Murofushi would open the scoring in the 10th minute with a well drilled effort that left DPMM FC's goalkeeper Haimie Nyaring no chance before adding another in the 64th minute. But it wasn't just the Japanese who shone; local boy Adam Swandi too had the game of his life.
Swandi was at his best making darting runs and combining it with speed and trickery. His efforts would eventually pay off as he scored with a sweet strike in the 33rd minute. The 72nd minute would see Hiroyoshi Kamata add the icing on the cake with his team's fourth goal.
Indeed the only dampener for Albirex and Nozawa was conceding a late goal by Azwan Ali. But it won't matter much for the The White Swans for they have the comfort of knowing that they completed a clean sweep of all domestic trophies for the third year in a row.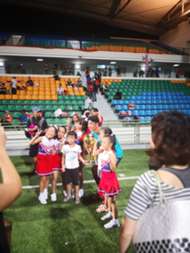 Speaking after the game Swandi who will look to nail down a starting berth in Fandi Ahmad's Lions squad for the AFF Suzuki Cup had this to say.
"I feel very happy of course but there is a still long way for me. I still have many aspects to work on with regards to my game. This season has been positive and I will keep on going."
Echoing Swandi's words will be Albirex for this is a team that never rest on its laurels and will keep on going, as the whole of Singapore has come to realise.