Rufino Segovia
Aidilfitri break an important period for Rufino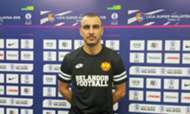 ---
BY        ZULHILMI ZAINAL       Follow on Twitter
---
Selangor's star striker Rufino Segovia is looking forward to the coming break in Malaysian competitions, for the Islamic celebration of Aidilfitri.
When met by Goal, the Spaniard said that he needed the respite in order to fully recover from a knock he has been carrying, including in their 2-2 draw against PKNS FC on Sunday.
In the round 15 match that was held at the Shah Alam Stadium, the hosts opened the scoring through Rafael Ramazotti's 18th minute goal, but the visitors snatched the lead through goals by Rufino (79') and Kugan Dhevarajan (90'). However, Ramazotti rescued a point for the Red Ants with his second of the night, two minutes into injury time.
Goals scored in the PKNS vs Selangor match
In their round 14 match last Wednesday, Selangor had edged PKNS 2-1 at the Kuala Lumpur Football Stadium. The two Selangor-based sides are set to meet two more times again on June 23 and 30, in the semi-final stage of the FA Cup.
Despite their inability to beat PKNS on Sunday, the former Atletico Madrid player told Goal that he's glad with the positives shown by the Red Giants, moreso when they will face off two more times after the break.
"I'm a little sad that we managed to come from behind with our two goals, only to concede the equaliser in the last minutes. We need to be stronger in the final minutes. But in our three most recent matches we have collected seven points; and we've done a very good job.
"The two back-to-back games against PKNS have shown that we can win, that we are strong at home, and they have also given us confidence. It's also good that the first leg match will be a home match. We need a positive result and to play like we did today. I'm confident that we can reach the final," explained the 33-year old forward.
Now the Spaniard is looking forward to the short Aidilfitri break. However, he said that it isn't for leisurely reasons. Instead, he wants to use the time to fully recover from a knock he had picked up in their Wednesday clash against PKNS.
In that match he was taken off at halftime by head coach Nazliazmi who said he did not want to risk aggravating the Spaniard's condition, but Rufino was later deemed fit to play the full 90 minutes on Sunday.
"I have no plans for the break. I want to recover from the hamstring injury I picked up in our previous home game. Today I was a little on the careful side.
"I want to rest and take on Perak (their first match after the break, on June 19) and PKNS in my best condition," he remarked.
Rufino is currently the league top scorer with 13 goals, while the Red Giants are in eighth place.