AFC Asian Cup
Asian Cup 2019: Bahrain to conduct summer training camp in Czech Republic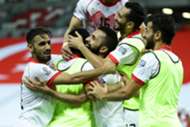 The Bahrain football team is all set to undergo a summer training programme as part of the preparation for the upcoming AFC Asian Cup 2019 which starts in January.
The 34-member squad will begin training on June 18th. After a week's training in Bahrain, they will travel to the Czech Republic on June 24th for the preparation camp.
Bahrain are placed in Group A at the Asian Cup alongside hosts UAE, India and Thailand. They are currently ranked 116 in the latest FIFA rankings and are 20th in the AFC rankings.
Bahrain, Thailand and UAE are serious about their preparation for the Asian Cup. Thailand are playing friendly matches against some of the top teams in Asia. They most recently played against China and lost by a margin of two goals.
UAE too are keeping no stones unturned as they are expected to play Trinidad and Tobago and South American giants Argentina later this year.
India are playing the Intercontinental Cup in Mumbai where they are up against the second string teams of Kenya, Chinese Taipei and New Zealand.
Here is the 34-member Bahraini squad
Sayed Shubbar Alawi, Kumail Abdulla, Sayed Mahdi Baqer, Ahmed Abdulla, Ibrahim Habeeb, Ali Madan, Mohammed Sahwan, Abdulaziz Khalid, Ahmed Juma'a, Mohammed Al Banna, Mahdi Abdullatif, Jamal Rashid, Isa Moosa, Abdulla Abdo, Abdulla Yousif, Mahmoud Mukhtar, Ali Isa, Hussain Jameel, Abo Baker Adem, Kumail Al Aswad, Ali Haram, Sayed Redha Isa, Yousif Habeeb, Mahdi Abduljabbar, Mahdi Hemaidan, Jassim Al Shaikh, Ahmed Bu Ghammar, Abdulwahab Al Malood, Ashraf Waheed, Ali Habib, Ahmed Moosa, Mohammed Ahmed.