Australia
Iconic Predator Accelerator re-released by adidas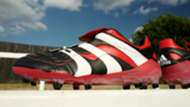 It was the boot Zinedine Zidane wore as he led France to 1998 World Cup glory, and 20 years later the adidas' Predator Accelerator is set for a timely return.
Taking inspiration from the original design with the synonymous red, black and white colour scheme, the Predator Accelerator is a trip down memory lane for adidas fans.
With the look and feel of the classic boot but with a modern touch, the Accelerator can be worn on and off the pitch with a boot and shoe option available.
While the boot stands out for its distinct old-school aesthetic, the shoe has adidas' trademark BOOST midsole which gives those that wear them a genuine extra burst of speed on the pavement. 
The new Predator Accelerator will be available from 23rd August and can be purchased be here.