NPFL
Abia Warriors suspend Ndifreke Effiong for indiscipline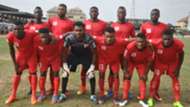 The management of Abia Warriors has announced the immediate suspension of their attacker, Ndifreke Effiong for gross misconduct, indiscipline, and disrespect to the constituted authority.
A letter addressed to the player and signed by the club secretary, Oliver Ndife said management took the decision after an emergency meeting during which the offenses against him were established.
He has been directed to leave the team's hotel in Lagos immediately as well as exit the club's camp in Umuahia.
Igwe Onuoha, a media aide to Abia Warriors confirmed the report and de-emphasized insinuations that Ndifreke was being punished for the red card he collected against Kwara United on Monday.
He said the attacker's numerous sins are well documented and that the club had decided against making it a public issue because of his role as one of their top performers but that they were forced to lay his bare after another gross misconduct during the game with Kwara United.  
"Ndifreke's indiscipline record didn't just start today. It is what has been building up over time but we have continued to accommodate him because he is one of our star players but the act he exhibited was the height of it," Onuoha told Goal.
"It is not that it is anything special to collect a red card but the manner of it. He thought he was fouled and after he had stayed for some time on the turf the referee stopped the game to call for attention on him but the player stood up and ran to hit the player he thought injured him. He was given a red card at the time we were doing well and very close to reducing the tally during the match
"His red card which was the second for us in that same match didn't go down well with the team. it was at the wrong time when we were doing and it was also avoidable had he kept his cool. This is just the first of the disciplinary action that will be taken against him."
Ndifreke is Abia Warriors' leading scorer in all competitions but without him his team won their Federation Cup Group C second game, on Wednesday against Kano Pillars.