CAF Confederation Cup
A goalless draw isn't an option for SuperSport United in Lubumbashi, says Eric Tinkler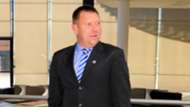 SuperSport United coach Eric Tinkler believes that it is vital that they grab an away goal in Lubumbashi on the weekend as they prepare to take on TP Mazembe in the first leg of the Caf Confederation Cup final.
The continental cup final will be SuperSport's biggest game in their history, and not many would have given the Tshwane-based outfit a chance when the tournament began earlier in the year.
But while most would go into the away leg hoping to keep it tight and defend valiantly, Tinkler on the other end has other ideas.
Speaking ahead of Sunday's highly anticipated encounter, the 47-year-old revealed that SuperSport's priority will be to find the all-important away goal.
"An away goal is a priority for us' otherwise it means nothing'" Tinkler told the media.
"For me' you need to try and take advantage by going there and scoring irrespective of whether it is 1-1' a 2-1 loss or even better' we have won 2-1, but 0-0 would not be the greatest score for us because it puts you on the back foot," he continued.
"If it is 0-0 and they come here and score one' then you must score two. It is different when you play like they did against Zesco United. We need to go out there and score because we can't afford to go there and not score," he explained.
Meanwhile, Tinkler's preparations ahead of the clash have been less than ideal considering that he has been without a few of his key players, including Jeremy Brockie, Clayton Daniels and Morgan Gould among others who were all on international duty.  
"It would have been beneficial training on the artificial pitch in Rustenburg with all the players available but we felt that it was important to go there because we needed the depth in the squad," Tinkler said of his side's recent training camp in Rustenburg where they trained on an artificial pitch.
"Someone in the team' somewhere' is going to have an opportunity. A guy like Prince Dube is travelling with us and this is his first trip," he elaborated.
Nonetheless, Tinkler remains confident and believes that should SuperSport overcome their opponents, they will firmly etch their name on the continent.
"It will be massive' we will put the name of the club on the continent which is what I don't think is the case at the moment," he added.
"I don't think that Mazembe took SuperSport seriously when we played them in the earlier round. I promise you now that they know who SuperSport is. On a personal level' this is something that I would like to have on my CV," admitted Tinkler.
"My objective as a coach is not only to win things in South Africa but also on the continent. I have been to two finals in this competition in the past and if I fail three times I will still go back. That is how ambitious I am," he concluded.