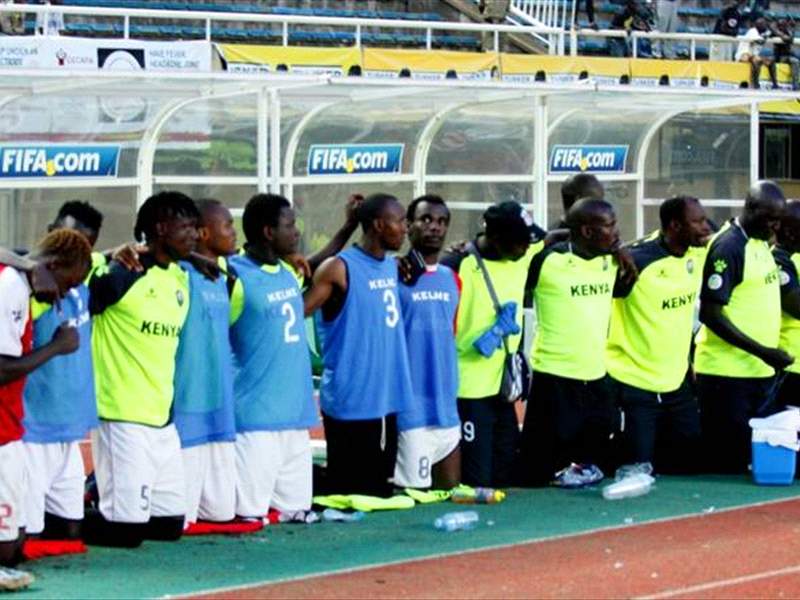 By Otieno Otieno in KITWE
Kenya's Harambee Stars were dumped out of the 2013 Cosafa tournament after they succumbed 1-2 to Botswana in their final Group 'B' match played at Nkana Stadium, Kitwe on Thursday.
Lemponye Tshireletso and Jerome Ramathakwana scored a goal for the Zebras while an own goal by Michael Pepukani earned Kenya their only goal of the match.
Botswana went on the attack from the word go and were the first to win a corner in the third minute when David Owino conceded as he tried to block an opponent.
Two minutes later, Francis Kahata beat his marker in midfield but could not do much with the ball which ended up in the hand of Botswana goalkeeper Mwampule Masule.
Botswana forward Lemponye Tshireletso was a thorn for the Kenyan defenders and he should have punished them in the sixth minute when he got a through ball only to waste it. From then on, Botswana looked the more settled side winning a free-kick just at the tip of the Kenyan defense which Tshireletso calmly slotting home for his side's opening goal in the 11th minute.
Kenya almost replied four minutes later but Jockin Atudo's free-kick went just wide. David Owino earned the first caution of the match after hacking Tshireletso and immediately after Kenyan coach Adel Amrouche pulled out Musa Mohammed for Edwin Seda in an attempt to bring some creativity in the midfield.
But the pressure continued for Kenya with Dirang Moloi blasting at Jerim Onyango in Stars goal after Francis Kahata had lost possession. Stars had to wait until the 25th minute to get their first corner of the match from a wonderful build up among the front men.
The Kenyan striking partnership of Edwin Murunga and Edwin Lavatsa did not have much impact in the entire first half. Lavatsa had just a couple of chances but only one looked dangerous when he was put through by Kahata at the half hour mark but was stopped on the line to earn Kenya their second corner.
Botswana earned another free-kick in the 44th minute and Jerim Onyango did everything to stop Jackie Mothatego's kick.
Kenya brought on Edwin Lavatsa as the second half kicked off resting off-color Andrew Murunga and should have been rewarded in the first minute of the second half had Edwin Seda headed home from a Francis Kahata cross.
The Stars clearly lacked the fighting spirit of their first two matches and it showed with no clear cut chances to write home about.
Stars were lucky to get their equalizer with four minutes to go when Michael Pepukani headed into his own net while trying to clear a Paul Kiongera attempt.
However, the Zebra's kept up the pressure and a concentration lapse by the Stars defense allowed Ramathakwana to head home the winner. This result locks out Stars from progressing to the quarters of the tournament.