Mats Hummels
'5-1 does not tell the story of the game' - Hummels believes sending off totally changed Arsenal outcome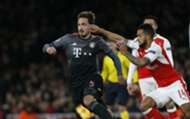 Bayern Munich defender Mats Hummels believes that the scoreline in Tuesday's Champions League win over Arsenal does not reflect the true nature of a competitive match.
Trailing 5-1 from the first leg, Arsenal took the lead at the Emirates before a controversial sending off and penalty turned the game around. Laurent Koscielny saw red for the Gunners after fouling Robert Lewandowski in the area, allowing the Polish striker to net from the spot.
The future looks dark for abject Arsenal
The extra man allowed Bayern to take control of the tie and to record another 5-1 win to progress with a 10-2 aggregate scoreline. However, Hummels believes that the margin of victory flatters the German side.
"The 5-1 does not tell the story of the game," Hummels told reporters. 
"The red card was a defining moment, then we had one man more on the pitch and scored to make it 1-1. That stole Arsenal's thunder as they would have needed to score four goals to reach extra time. With one man down it was clear they would not reach that."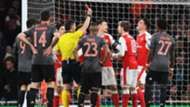 Despite claiming that the scoreline was not indicative of the closeness of the match, Hummels does feel that the referee's decision to send Koscielny off was indeed the correct one.
Referee Tasos Sidiropoulos looked to initially show a yellow card to the defender, but was overruled by a fifth official behind the goal, and then sent Koscielny off.
"I think the ref decided correctly," Hummels continued. "From the pitch it didn't look like a duel for the ball but instead a cynical foul to prevent a clear chance."
Bayern Munich have reached the semi-final stage of the Champions League in each of the last five seasons, winning the trophy in 2012-13 after knocking out Arsenal on the way to the final.
The former Borussia Dortmund defender is optimistic that Bayern can reach the final once more and lift the trophy, but remains realistic that even a small slip up could cost the Bundesliga side dearly.
WATCH: Alexis laughs during drubbing
"Theoretically there are four more games until the final. It's foreseeable we can reach it, but to get there, we have really to deliver," the defender admitted. 
"There will be only difficult tasks now. We are in very good shape, but we have to go game by game. We should not think that two convincing results mean we will reach the final. We have to know one bad day can be the end and that's why we have to prevent that."