By Otieno Otieno
Kenya midfielder Jamal Mohammed admits that his football career was headed to the dogs had he not signed for top Oman side Al Nasr.
'Malo', who started his career at premiership side Mathare United where he featured from 2003-2006, says he has now settled well in Oman and would not want to desert the number one game.
After Mathare, 'Malo' joined Liberty Professionals in 2006 where he stayed for one year before signing for Hapoel Nazareth. It was a similar case at Nazareth since he quit after one year to join Swedish side Enkopings in 2007 to 2009.
Goal.com caught up with 'Malo' and he gives his take on the up-coming World Cup qualifier against Nigeria, his career and future plans.
Goal.com: You have stayed at Al Nasr for some time now. What are some of your achievements with the club?
'Malo': My form has been outstanding at the club and was voted the best player in the just concluded season. This is after I scored three goals and gave numerous assists. Almost all the goals by my team-mates came from me. It has been a great performance and I am delighted by it. I can only hope to do better.
Goal.com: You appear to have finally settled at this club after moving from club to club in the past. Why is that?
'Malo':I have realized that time is running out on my career and it is important for me to settle down. I regret that I wasted myself with a long lay off and decided that if I get a chance I'll take it seriously. With the few years remaining to call time on my career, it is important that I settle down and play football.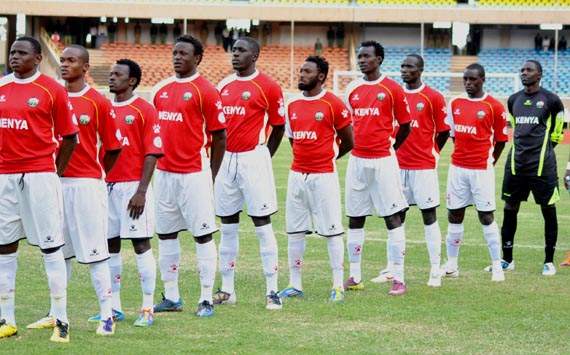 BACK IN THE GAME|
'Malo' (
fifth from right
) parades for Harambee Stars in a past assignment.
Goal.com: So will you retire at Al-Nasr?
'Malo': The club has recently given me a two year contract but following my great performance last season, there are many offers which have come up in Libya and Singapore and Al Nasr is in discussion with them to see the possibility of me joining them. Whatever comes my way and if the deal is good I will not hesitate to take it. Like I said my time is running out.
Goal.com: What is your take on the up-coming World Cup qualifier against Nigeria?
'Malo': The result on March 23 in Calabar has certainly given us a lot of confidence. Furthermore, Nigeria now respects us because they understand we are no push-overs. There is a huge possibility we can beat them at home. All we need to do is to have 100 percent concentration, make use of our chances and we should get the victory.
Goal.com: Kenya has never beaten Nigeria. Will this make a difference in the game?
'Malo': That is history and we can make our own history at home. For us it does not matter what has happened in the past. This is our best opportunity to erase the bad memories and give our fans something to celebrate about.
Goal.com: Kenya don't have Arnold Origi and Dennis Oliech. Do you think these will affect the team's performance?
'Malo': The two players are no doubt key to our campaign. Origi brings into the team great confidence and passion while Oliech is always capable of doing anything in a match. However, this is a team and those who get the opportunity must represent those who are absent and get positive results for the sake of everyone.