By Dennis Mabuka | Chief Editor
Arsenal midfielder Aaron Ramsey has urged coach Arsene Wenger to shop for quality players so that they can challenge for trophies next season.
Ramsey, who has been on a private holiday in Kenya for the past week, told Goal.com that he expects Arsenal to put in a better performance compared to the recently-ended season by winning titles next term.
"We had a difficult season but thank God we fought our way back to the Champions League. Tottenham gave us tough competition but finally we beat them on the tape for the Champions League slot," he said.
"We must now start planning for next season and I know Arsene (Wenger) will beef up the squad with quality signings. That is the way to go and hopefully we will be able to challenge for top honours come next season."
The Welsh midfielder, who was speaking after meeting young players from Ligi Ndogo who had paid him a courtesy call at Hemingways Nairobi in Karen, remained optimistic that Arsenal will fight for the league title come next season.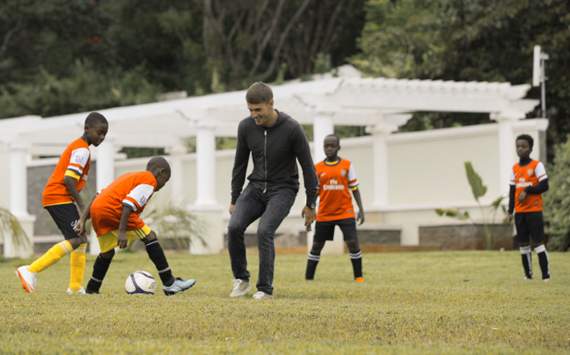 SHOWING THE SKILLS |
Arsenal's Aron Ramsey trains kids at Ligi Ndogo on Friday
"We need a trophy now and next season I have strong belief that Arsenal will not disappoint. We must end this long wait and win a trophy. We currently have a strong team and with a few additional I know we will deliver the top prize."
The 22-year-old is the first active Arsenal player to visit Kenya in recent years. He jetted into the country on Saturday, May 25 and proceeded to Diani in Mombasa and later to Ol Seki Hemingways Mara, which is owned by local hotel chain Hemingways Collection.
''I have loved my stay here, enjoyed the wildlife at the Mara and the weather in Mombasa with my family. The hospitality has been first class and am definitely looking forward to coming back some time in the future,'' added Ramsey.
On Kenya's football talent, Ramsey, who began his career at Cardiff City, said, "This country has already produced exemplary international footballers and I have confidence that with initiatives like Ligi Ndogo, more talent is being nurtured for the future."
The budding players who got the opportunity to meet and even play against the Welsh midfielder before he returned to the United Kingdom were between 10 and 12 years old.
"I am very excited to have met Ramsey, who is one of my favourite players at Arsenal, the team that I support," said Andrew Kalama, one of the Ligi Ndogo youngsters.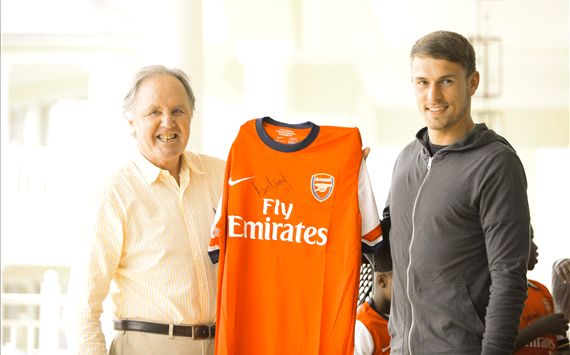 ARSENAL SHIRT | Dicky Evans (L) of Hemingways Collection receives a signed Arsenal jersey from Ramsey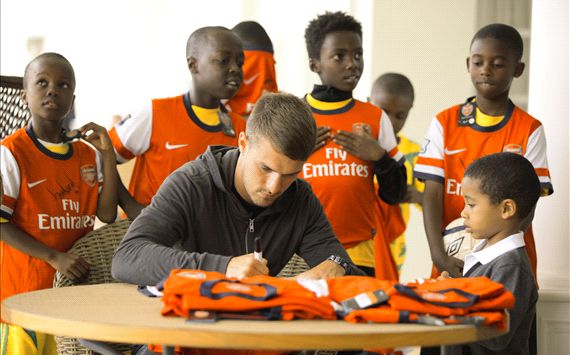 SIGNING THE SHIRTS | Ligi Ndogo youngsters looking on as Aaron Ramsey signs an Arsenal jersey
Ramsey, capped 26 times for Wales, joined Arsenal in 2008 from Cardiff City. He featured in 36 of the 38 games in the ended 2012/13 season netting once to guide his side to a fourth place finish ahead of London rivals Tottenham.