COMMENT
By Fernando Duarte
Brazil coach Luiz Felipe Scolari has rolled back the years and let us in on his plan to capture the World Cup in 2014 by naming a player who many believe peaked a long, long time ago in his maiden squad.
In two weeks' time, Scolari's side will face England at Wembley relying on Ronaldinho to spark up the creative department, just like he used to for Barcelona. And that is the first problem for 'Big Phil's' masterplan: even in his mid-noughties prime, and not forgetting his brace of Fifa World Player of the Year awards, the buck-toothed player often encountered criticism in Brazil for a perceived failure to emulate his
Blaugrana
form with the
Selecao
.
True, his contribution to Brazil's fifth World Cup cannot be forgotten, let alone his two moments of brilliance in that tricky quarter-final against Beckham and Co. in Yokohama.
Still, Rivaldo and Ronaldo ended up hailed as the architects of that campaign and Ronaldinho's abysmal display four years later in Germany only fed the "I told you so" brigade. Since then, he has had chances to return in two other World Cup cycles – under Dunga and Mano Menezes. Both coaches lost patience and faith.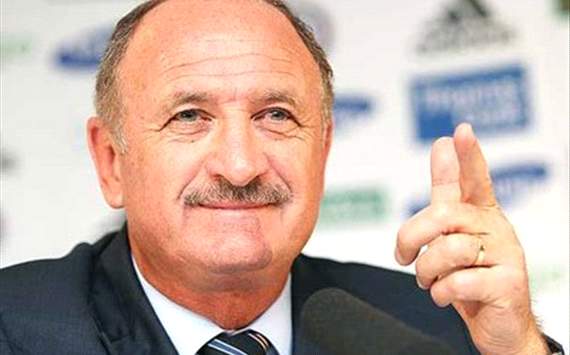 Balanced | Luis Felipe Scolari wants more experience in his Brazilian side
'Big Phil', however, has taken over at a side that lacks experience, and Ronaldinho could have a role to play. Under Menezes, Brazil had an average age of 21.9, but that soon fluctuated to 25 once the London Olympics project was done with and the coach could resort to using players aged 23 and over. But in Scolari's first press conference last November, he openly said that bringing back veterans would be one of his priorities. And we must remember 'Big Phil's'
modus operandi
: His teams have always been built with seasoned players, especially ones he has converted into followers.
Ronaldinho fits the bill in this sense. He was also one of the best players in the recent Campeonato Brasileiro, although there followed an acrimonious departure from Flamengo and a disappointing loss of steam from his new club, Atletico Mineiro, in the second half of the season that saw them lose the title to Fluminense. However, few expected him to under perform in a league which is not comparable to La Liga or Serie A.
And Ronaldinho, who turns 33 in March, is no spring chicken either, but his mere presence might be helpful for the team. He remains a mean dead-ball deliverer and any side can do with flashes of brilliance. Off the pitch, he will certainly soak up the attention that can still be a bit uncomfortable for younger
Selecao
stars such as Neymar and Oscar. With 18 months to go to a home World Cup where nothing but the sixth title will be enough for Brazil, details like that could be crucial.
SCOLARI'S THREE OLD GUARDS

RONALDINHO



The 32-year-old is the only remaining player in the squad from Scolari's 2002 World Cup-winning team. He scored nine goals and made 14 assists for Atletico Mineiro last season.

JULIO CESAR



Cesar, 33, has been a mainstay in the QPR goal since his move from Inter last season, having spent the past seven years with the Serie A side.

LUIS FABIANO



The 32-year-old is back in Brazil following his seven-year spell in Europe with Porto and then Seville, for whom he made 149 starts
Despite Ronaldinho's inclusion, Scolari did not choose to simply usher the 'old guard' in for his first match. In fact, his 20 players for the Wembley rendezvous average 26.5-years-old – they are babies in comparison with the 29-year old squad taken by Dunga to South Africa. QPR's Julio Cesar - arguably one of the best keepers in the Premier League this season - and Sao Paulo's Luis Fabiano, the injury-prone striker, are the only players who got the nod. And Fabiano's inclusion is explained by Leandro Damiao's apathetic recent displays for the
Selecao
and Alexandre Pato's own list of sick-notes.
Speaking of frontmen, Scolari fulfilled his promise to abandon the 4-6-0 Catalan experience tried by Menezes in his last games in charge. The man who took a job many people in Brazil wished had been given to Pep Guardiola will not abandon a tactical scheme with a classic 'number nine'. Fluminense's Fred, the top scorer in the 2012 Brazilian season and Ronaldo's understudy at Germany in 2006, also returns and will probably be first choice against England.
'Big Phil's' list, which has been skewed towards European-based players due to the start of the Brazilian season, still contains the names of 12 men already capped under Menezes. No eyebrows were raised with the presence of Dani Alves, the Chelsea trio formed by David Luiz, Ramires and Oscar, and even Ronaldinho wasn't a total shock. Kaka, called up by Mano as a temporary solution last year, will have to deal with his lack of playing time at Real Madrid and sit out the England game. Instead, Scolari brought in Hernanes. One of the reasons behind Lazio's revival in Serie A, the 27-year-old is back from a long exile after trying to perform open-heart surgery on Karim Benzema in a friendly against France in February 2011.
Of the four first-timers, the most interesting choice is Bayern Munich's Dante. Still virtually unknown in Brazil, the centre-back has been outstanding for the German club this season, building on a similarly impressive 2011-12 period at Borussia Monchengladbach. Even though the path to the
Selecao
might have been facilitated by the thigh injury that has sidelined Thiago Silva, Dante's technical style is a welcome addition to the mix - especially if 'Big Phil' decides to plump for a three-man defence, just like in 2002, although few would bet against a 4-2-3-1 at Wembley.
And in a season when Brazil will play in the group of death at the Confederations Cup and have a mean streak of friendlies against Italy, Russia, France and Chile, it will be no shock if Scolari recalls more veterans if things don't go to plan. And he could yet complete a hat-trick of coaches who have failed to re-boot Ronaldinho.