ANALYSIS
By Luca Caioli
In the end, it was a pair of penalties which closed the door on paradise for Cristiano Ronaldo.
The first was the one he missed in the Champions League semi-final against Bayern Munich, the second was the kick he failed to take in the last four of Euro 2012 against Spain. Two slight but significant dark spots in probably the best season Ronaldo has had since he joined Real Madrid in July 2009.
It had all looked rosy enough before those two evenings, though. In April, by scoring a goal at Camp Nou, he handed the Spanish Primera Liga title to Madrid at the expense of Lionel Messi and Barcelona. That was even better than when he scored in the final of the Copa del Rey against Barca 12 months earlier. He said it himself that to win La Liga against Barcelona, and with a nine-point advantage, was amazing.
| | |
| --- | --- |
| | CRISTIANO RONALDO | 2011-12 STATS |

MORE ON
CRISTIANO RONALDO


| | | | | |
| --- | --- | --- | --- | --- |
| Competition | Games | Goals | Assists | Booked |
| La Liga | 38 | 46 | 12 | 4 |
| Champions League | 10 | 10 | 3 | 1 |
| Copa del Rey | 5 | 3 | 0 | 1 |
| Supercopa | 2 | 1 | 0 | 1 |
| Total | 55 | 60 | 15 | 7 |
Amazing because Cristiano, Jose Mourinho and the whole Real Madrid institution have finally overcome the previously invincible Barca. Ronaldo had been left having nightmares of Messi, and Mourinho of Pep Guardiola. But they erased the fear and put the losses of Clasicos past to the back of their minds.
That game at Camp Nou has given Madrid a little something else, too. Sure, there is much to be expected: the Spanish Supercopa, which brings Barca and the Blancos together once more, is a matter of days away. But for now, the mind must stay with the phenomenal achievements of Ronaldo over the past 12 months.
He scored 60 goals in official matches (46 in La Liga, 10 in the Champions League, three in the Copa del Rey and one in the Supercopa), and also registered five for Portugal. It is an impressive figure, though not enough for a second successive Pichichi, thanks to Lionel Messi's 50 league goals. Messi's season was a feast of goals; 73, a record in the history of world football. But, as Mourinho, ever the iconoclast, was to put it, they were goals that did not help to win a major title.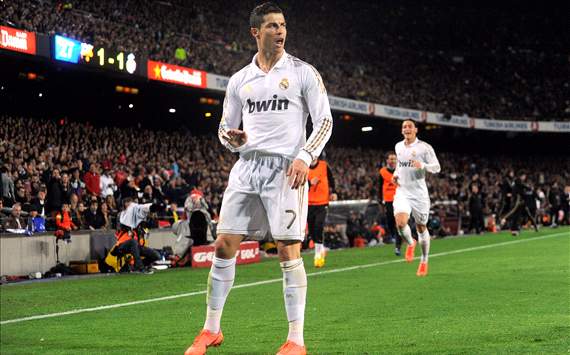 Calm down, I'm here | Ronaldo secures the Liga title at Camp Nou
They may also not bring home a fourth straight Ballon d'Or in January 2013. Because, as Mourinho said: "To win it, you must be the best player of the season. Cristiano helped his team to win something, and I don't think that anyone ever won it without winning something important during the season. How can Messi win it if he didn't win La Liga or the Champions League?"
At the moment, Cristiano Ronaldo would prefer to think of other things, but everybody knows that he would love to capture that highest of personal accolades once more, having previously earned it in 2008 – the last time he clinched the top position in the Goal.com 50. Ending Messi's record run of three successive gongs would also give him extra pleasure.
But, more than that, Ronaldo wants to win the Champions League, and that fabled decima which Real Madrid have now chased unsuccessfully for a decade. The European title is one that Ronaldo has conquered with Manchester United but has only ever lost with Madrid. It remains a necessity for him and for the club.
With his goals, there is every reason to believe they can win La Liga again, as well as the Copa del Rey, and he could be the top scorer in Spain and in Europe, too. It is no exaggeration because when he was a boy in Madeira, Ronaldo always wanted to win everything, including when he was playing marbles. He has always set new targets, always attempted to outdo himself. His three years in Madrid have demonstrated exactly that.
| | |
| --- | --- |
| It has been a crescendo: 33 goals in the first season, 53 in the second, 60 in the last one. A total of 146 goals in just 144 matches, at an average of 1.01 goals per game | |
It has been a crescendo: 33 goals in the first season, 53 in the second, 60 in the last one. A total of 146 goals in just 144 matches, at an average of 1.01 goals per game. He is the Real Madrid player who has reached 100 goals in fewer matches than any other. He is the only player in La Liga to have scored against all 19 opponents in one season, slapping a spectacular 19 past his favourite victims, Malaga. But it is not only goal tallies which speak of his amazing progress.
There is greater penetration being contributed by the Portuguese to the team's game as a whole, with better defensive work, assists, and a generally more rounded role. Cristiano is a proven leader for Real Madrid. And for Portugal, too. The national skipper's three goals helped his side to the semi-finals at Euro 2012, with a crucial double against Netherlands that qualified them for the last eight a real stand-out moment.
Those feats ensured that the Portuguese people have once more hailed him as a hero, and the country's newspapers were left with little else to call him other than simply the best in the world.