2019 MiniFootball World Cup awarded to Australia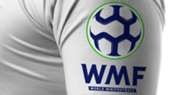 MiniFootball is coming Down Under with the announcement the 2019 WMF World Cup is to be held in Australia.
The Australian MiniFootball Federation (AMF) has won the right to stage next year's event ahead of Kazakhstan after a majority vote at the end of a lengthy bidding process.
It is expected to be held in Perth - where the AMF is based - during autumn 2019.
AMF chairman Indy Khabra was delighted in the organisation's achievement and revealed his excitement for the future of the sport in Australia.
"We've done a lot of hard work and it was very clear early in the week there wasn't going to be a clear winner and it would be a very close vote," Khabra said.
"We now focus on delivering the tournament and strategic partnerships in support of the WMF World Cup, and the growth of MiniFootball in Australia."
The tournament will be the lynchpin for the promotion of MiniFootball in Australia, with plans to launch a domestic league in all states.
Australia made the quarter-finals of the 2017 MiniFootball World Cup in Tunisia - where they were knocked out by Spain after qualifying from a group featuring Argentina, France and Czech Republic - who eventually won the tournament.
The World MiniFootball Federation (WMF) includes members from 100 countries across five continents.