I-League 2017: Indian Arrows 3-0 Shillong Lajong: Luis Norton de Matos-less youngsters beat ten-men Reds
The Indian Arrows recorded their second win of the 2017/18 I-League campaign, beating Shillong Lajong 3-0 at the Ambedkar Stadium in New Delhi on Tuesday.
Defender Jitendra Singh (19') opened the scoring in the first half before Nongdamba Naorem (86') arguably scored the best goal of the season yet. Rahul Kannoly Praveen (90+1') scored late on to put the icing on the cake.
In the absence of head coach Luis Norton de Matos, second-in-command Flyod Pinto was in charge of Arrows. He made as many as six changes to the side that lost to Gokulam Kerala FC. Right back Boris Singh was replaced by Asish Rai whereas Jitendra Singh made a comeback in place of Deepak Tangri in a four-man backline.

Captain Amarjit Singh and Jeakson Singh retained their places and were joined by Ninthoinganba Meetei and Suresh Singh, replacing Abhishek Halder and Rahul Kannoly. Rahim Ali and Abhijit Sarkar started up front in place of Edmund Lalrindika and Aniket Jadhav, who did not even make it to the bench.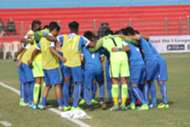 Bobby Nongbet was unsure if skipper Samuel Lalmuanpuia could make it to the starting XI before the matchday, as he had suffered an injury in his right thigh. But the 19-year-old cleared a fitness test before the match to start for Lajong. Nongbet made a single change to the XI that faced NEROCA at home as Redeem Tlang was relegated to the bench in favour of Ivorian Abdoulaye Koffi. 
Indian Arrows started the game with pace and gusto, seeing more of the ball and using it to unleash a flurry of attacks.The first chance of the game also fell for Arrows when they were awarded a free-kick within sniffing distance of the goal, which was deflected away for a corner by the Lajong defence.   
Against the run of play, Lajong's skipper Samuel threaded in a perfect through from midfield for Abdoulaye Koffi whose shot from six yards was snuffed out by Dheeraj Singh.
The initial pressure finally paid off when Jitendra Singh opened the scoring for Indian Arrows by tapping in a brilliant ball fed to him by Rahim Ali. The move was initiated by Stalin who used his nimble touch to win a free-kick near the touchline and was quick to find Amarjit Singh in front. The skipper found Rahim Ali who then laid it off from the left of the box for Jitendra who scored from three yards out.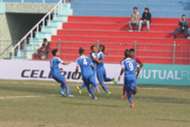 Amarjit Singh got into the referee's books after a needless shove on the back from behind with his elbow on a Lajong player. His state-mate Suresh Singh also got booked at the same time while he was protesting his skipper's yellow card.
Arrows continued their domination on the ball as Nongbet's men failed to a carve out anything creative. They had the chance to double their lead on the 40th minute from a free-kick on the right, but Stalin's delivery into the box was headed out comfortably by Laurence Doe.
Lajong failed to seize an opportunity to score the equalizer right at the stroke of half-time when Hardy Cliff's delivery was met by Koffi. However, his header lacked the power to test Dheeraj Singh.
Lajong came out all guns blazing in the second half to find that much-needed goal. But skipper Lalmuanpuia had to be substituted at the break by Lalrohlua, as the teenager failed to carry on with his niggling thigh injury. 
But Lalrohlua's stay was shortlived as he saw two yellow cards within a span of five minutes, first for a late challenge on Meetei and then sticking a leg out to trip Rahim Ali who had clearly beaten his marker.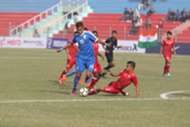 With ten men on the field, Lajong once again found themselves being pinned into their own half by the boys in blue. Meanwhile, Floyd Pinto's substitutions worked wonders as both Naorem and Rahul KP went on to register their name on the scoresheet and put the result to bed. 
Naorem's goal was nothing but sensational as he skipped past four red shirts before calmly slotting it past goalkeeper Lachenpa. Individual briliance was written all over the goal as Naorem showed exemplary control and dribbling skill to cut through the entire Lajong defence before hitting the net.
Nongbet's men were put under more misery when Rahul KP latched on to a ball from Rahim Ali at the edge of the box before firing home a low shot at the near post. Lachenpa should have done better in stopping that but it was clearly not Lajong's day on the pitch. 
Indian Arrows will next travel to Kolkata to face Mohun Bagan on December 29, whereas Shillong Lajong, after a sizeable break of ten days, will host Chennai City FC on January 5.