Chennai has never been known as a footballing city, but the crowd one sees at the Jawaharlal Nehru Stadium, or as the Machans call it the Marina Arena, belie the notion. Now, over the course of the last two seasons, a coterie of Chennaiyin supporters have bedecked the B-stand of the Stadium in Chennaiyin FC in mottos relaying their Tifo, calling the splenderous stand their own. They have christened themsleves the B-Stand Blues (BSB).
Goal sat down with some of the founding members of the BSB (B-Stand Blues), all of them Chennai residents and matchday regulars - Mani, Rajanidhi, Surya, Monish, Vivek, Sanandh, Vinod, Neeraj, Madhan, Abdul and Balaji. Revealing all about the fervour and passion that united them, the clan pulled no punches in letting their renowned rivals Manjappada of the Kerala Blasters, and West Block Blues of Bengaluru FC who the real kings of fandom in India were.
"B-Stand has the best view and is right behind the home dugout so that Marco and the boys can hear us, no-brainer that we should be based there," came the obvious reply to the question on the fan group's position in the stadium.
"It all started with the two long-time friends Mani, with his circle of Chelsea fans, and Monish, with his circle of Manchester United fans, going to the games together, sitting in the E-Stand, and deciding to have a banner made in appreciation for the then-captain Bojan (Djordjic), which became an instant hit. This later led to the formation of BSB.
"We decided to put aside out European club loyalties and root for our club, Namma Chennaiyin FC. We finally had our very own home team in a major footballing league as Chennai doesn't have an I-League team as well, and we didn't need another calling, we were all huddled up in the blue of Chennaiyin."
It is perhaps prudent wordplay on the part of the club management in the naming of the club, as 'Chennai-yin Football Club' literally translates to 'Chennai's Football Club' in Tamil. And while we delve on nomenclature, it is only natural to ask the BSB boys whether they picked the name up from their Kannadiga counterparts, and what other pointers they had taken from them.
"Yes, the name was of course inspired by the West Block Blues, and tweaked to make sense for us as the B-Stand brought us together across our various differences. And while we haven't really taken any pointers from them, we surely look forward to taking six points from them when we play them after the merger", said one of them, with a wink. Fiery lot, weren't you warned?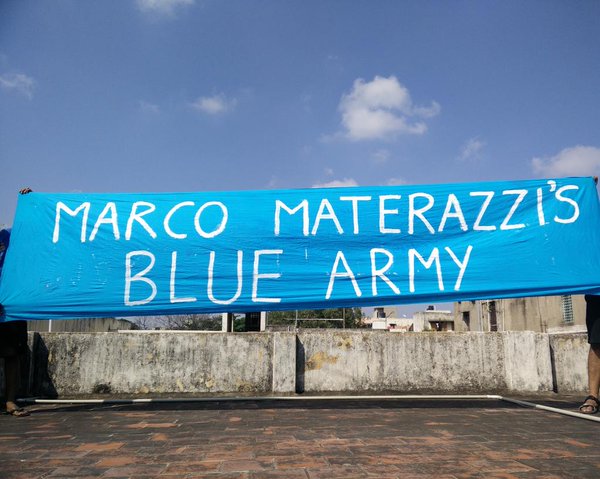 Chennai has a deeply ingrained cricketing image thanks to the hugely successful Indian Premier League (IPL) outfit Chennai Super Kings, but the BSB reveal that there are plenty of areas in Chennai where the kids may not know who cricketer Ravichandran Ashwin is, but would surely know Dhanpal Ganesh.
"It isn't really known in the national scene, but many places in Chennai are proper footballing localities. North Chennai has a really bad reputation thanks to its unfair, vilified description in movies and the media as the hotbed of crime and unruliness, especially the 'kolai, kollai' (murder, loot) tag wrongly associated with the zone. And hotbeds there are, though of the footballing kind in areas like Vyasarpadi and Kannikapuram, where kids who don't have two square meals a day lace their boots and take the field first thing in the morning. They don't follow European football and tactics don't matter much to them. Warm up and play, that's it."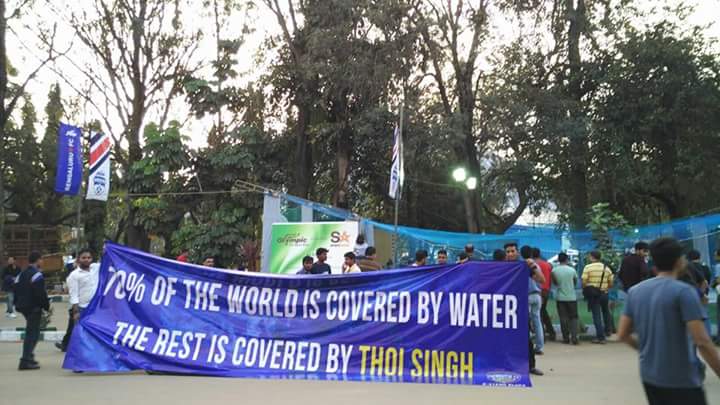 "The stadium is mostly filled by people from these parts, and you can see from the frantic dancing, singing and the energy on show during the matches how much Chennaiyin means to them. For the people in Chennai, Vyasarpadi's own Dhanpal Ganesh is as big a star as Cristiano Ronaldo, Lionel Messi or Neymar, and that is what sets us apart from the other supporters as well. We do not want to ape European clubs like our noisy neighbors who are trying to become the Indian Borussia Dortmund, but rather carve our own sustainable identity, and we are ready to join hands with the club and go that way step by step," they said, with a not even thinly-veiled dig at the Blasters' Manjapadda.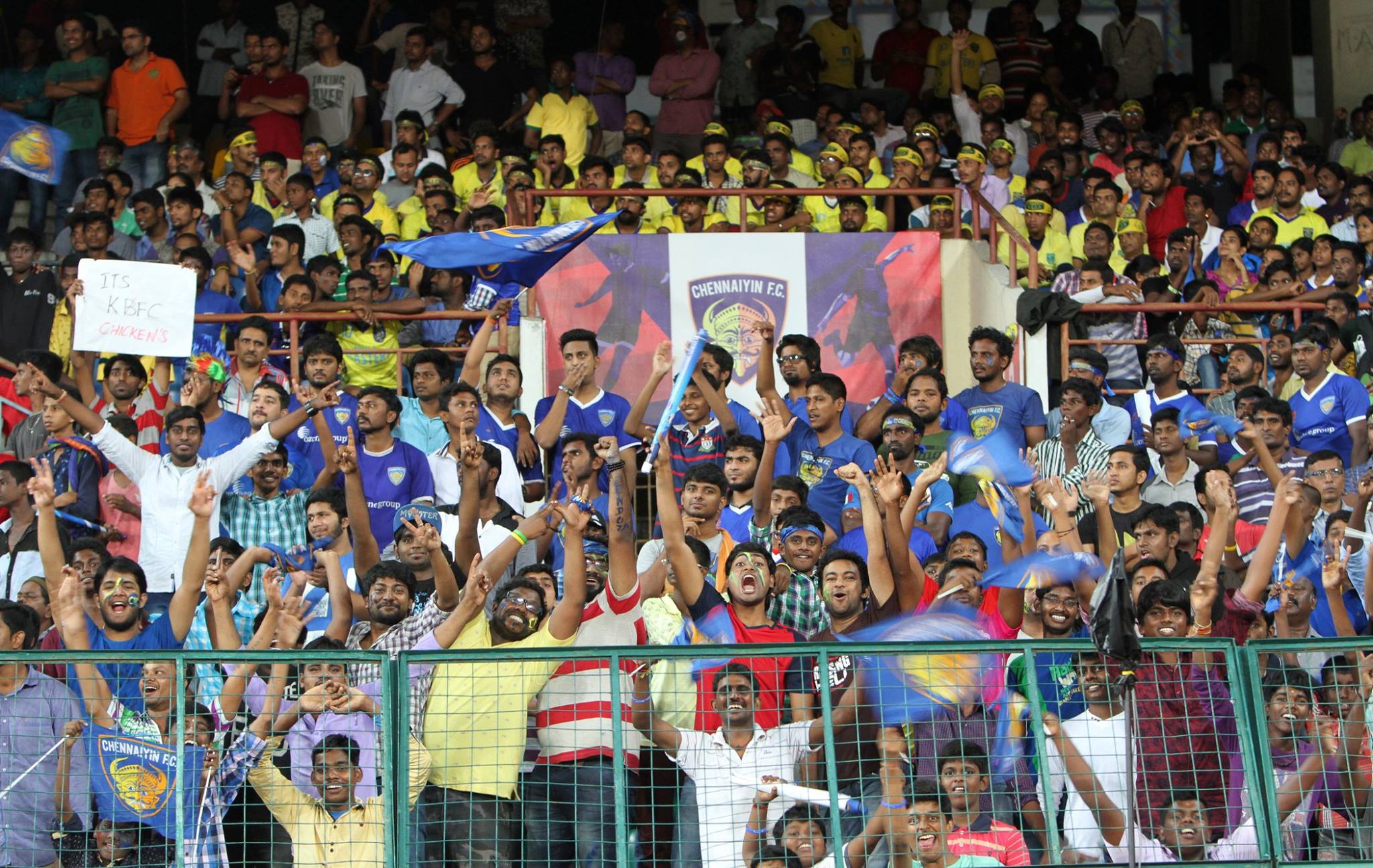 When Goal asked them about their plans for the upcoming season, they revealed how they had planned to stand by their team every step of the way.
"We will be there from the start to the finish. We will go and greet the players at the airport when they return from pre-season, attend every home game and sing our chants at the loudest inside and outside the stadium. We have even prepared a huge tifo that we will be unveiling on our first home game. We are confident of getting the 'Championes, championes' chant booming throughout the stadium. We may not be a lot in number, but we are no less passionate than anyone else. We have planned to distribute printed chants throughout the stadium so that the others can join in as well. We are also planning an Elano tribute when FC Goa come calling, making it clear how we feel about how their (former) owners treated our ex-skipper."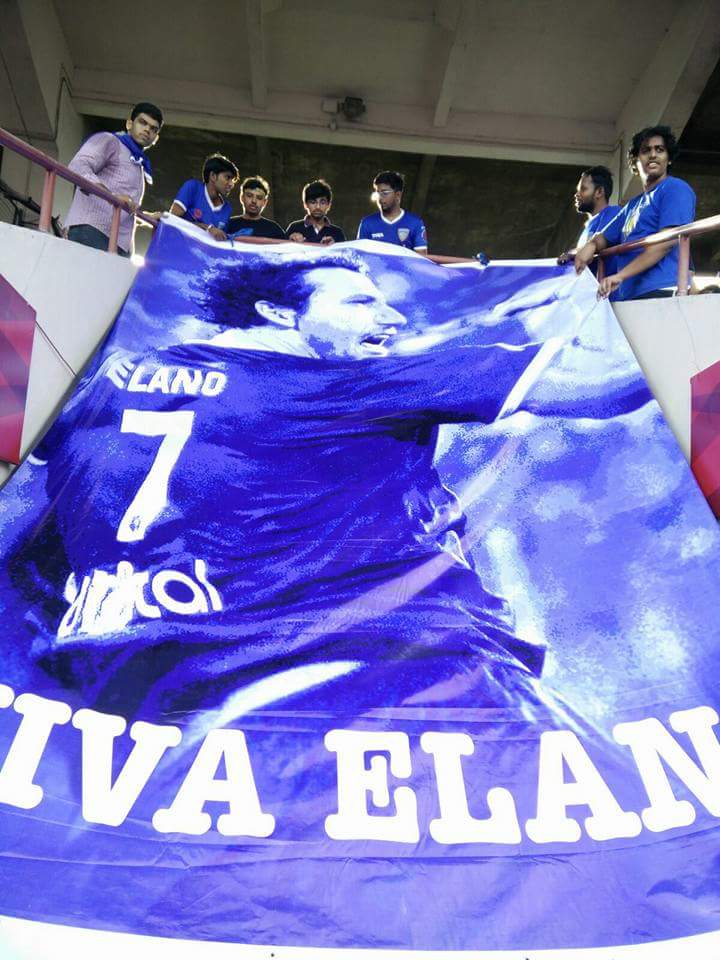 Another one of them added, "We are also planning to sponsor some under-privileged and get them involved with the sport in the B-Stand. Our message is clear, we are not a group of Chelsea or Manchester United or Barcelona fans cheering for Chennaiyin. We are proper Chennai fans and as long as you promise to give your heart to the Blues of Chennai, you're one of us", summing up the BSB attitude.
When asked about the squad going into the season, they make it clear that they will be missing one man, the MVP from last season – John Stiven Mendoza.
"Mendoza will be a huge miss! He won us several games, including the final, single-handedly and while we are happy that that has led to him playing alongside the likes of Frank Lampard, Andrea Pirlo and David Villa (at New York City FC), we were pining for him to return until recently when the rumours got quashed. The new additions look to be well tailored to the gaffer's (Marco Materazzi) tactics, especially (Hans) Mulder and (Maurizio) Peluso. We are confident that given the form Jeje is in, he will fill Mendoza's void seamlessly. (John Arne) Riise was spectacular last season for the Dynamos, except when Mendoza took him apart in Chennai. Surely he will try to amend that day's failings with seven clean sheets in Chennai!"
The cheerful gang part with a simple message, that everyone is welcome to be a part of BSB and can get in touch with them via their Facebook page. Their words certainly are razor sharp, but can they match it up with their efforts in the stands and more importantly, can their team give them enough to cheer? All said, the signs point towards Chennaiyin enjoying a strong home support with a dedicated bunch of locals at their loudest. Should make for fun attendance!