Spain have become innovators in the footballing world recently as they continuously bring forth new styles and techniques. With the emergence of tiki taka in 2007-08 and the inventive 4-6-0 approach in Euro 2012 Spain have revolutionized football in current times. There was a time when the Spanish were considered as underdogs and perennial underperformers with lots of talent and little output but now the only thing that has changed is the latter. Spain have focused on utilizing their midfield talent and have improvised by employing an extra midfielder.
When Vicente Del Bosque announced his squad, questions were raised when he had included an extra midfielder in place of a defender. Now we understand why he did that, as he simply wanted to tap Spain's enormous potential provided by technically gifted midfielders. However, he did surprise everyone when he chose to start with a 'false nine' against Italy and it did earn them a draw with Fabregas grabbing the equalizer. The system also worked against Croatia as Fabregas provided the chipped pass for Iniesta to assist Jesus Navas.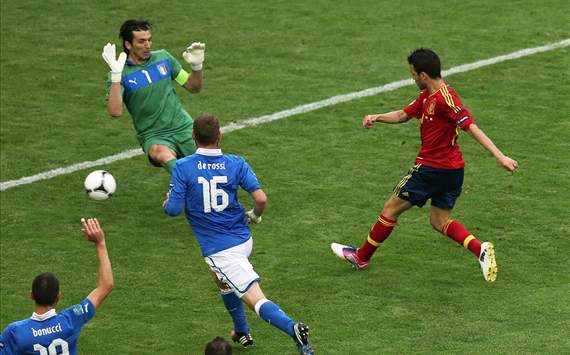 Fabregas worked the trick against Italy
When Spain first started using their famed style of football, people thought that the tiki taka can be easily thwarted by a slightly defensive approach, but it didn't work. Next they thought that they can muscle their way to victory but such teams only saw their players being cautioned and/or sent off and eventually tiki taka triumphing. Then when teams began to understand the possession game properly, they tried to counter it by playing an extra midfielder to stop Spain from dominating in the middle of the park. Many teams switched from a preferred 4-4-2 formation to 4-5-1 when facing Spain but the La Roja never changed their approach and mentality. Maybe this gave Vicente Del Bosque an idea, "Hey! If they can sacrifice a striker and use an extra midfielder to stop our midfielders, I can sacrifice a striker and use yet another midfielder!" Del Bosque went one better than opposition managers and furthered their misery of winning the midfield battle.

| | |
| --- | --- |
| Player | Total Passes |
| Xavi | 431 |
| Alonso | 366 |
| Fabregas | 140 |
| Busquets | 325 |
| Silva | 217 |
| Iniesta | 303 |
When Spain play with a 4-6-0 formation, they intend to play with a carefully built approach play. They neither try to counter with speed nor they slow it down to a tortoise's pace. This formation allows them to set camp in the opposition's half with all six midfielders spread across the width of the pitch. They try to drag the opponents and force gaps between the lines from where a 'false nine' will try and run and look for a pass. There isn't any certain 'false nine' on the pitch but that role is altered to create even more confusion. When playing against a six man midfield, opposing teams have to field atleast five midfielders and instruct the lone forward to fall back and help out in defense. This will blunt their attack because even if they win the ball off Spain, they'd need to make a few passes in order to give some time for someone to make a run. This is where the six man midfield again comes handy, they'll quickly press down their opponents forcing them into a mistake and win the ball back. The six man system fits the tiki taka style perfectly as it creates ample movement, increases the passing options, dominates the midfield and players can take up positions between defenders. Spain's game is all about 'what we do to you, more than worrying about what you can do to us.' La Roja force their opponents to adjust to their style and do not allow them the freedom of dictating the flow of the game.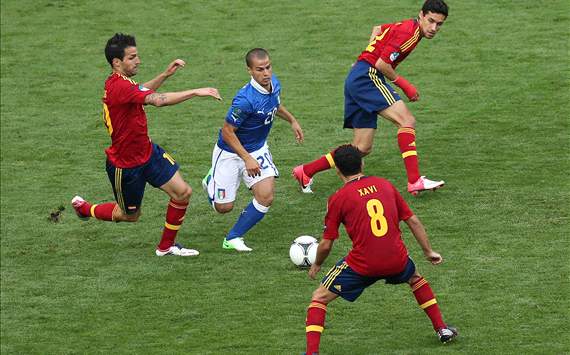 Spanish midfielders forcing Italy's Giovinco into an error by pressing
David Villa's injury was a blessing in disguise as it gave Spain the opportunity to experiment with a 'false nine.' Innovation and improvisation, these are things which make a champion team and Spain surely are one. They just set the bar a little higher with every tweak they make. The 4-6-0 has been pretty useful for Spain, it may be boring for some people but it is has a clinical tinge to it. Whether Spain's experiment will be successful or not, only time can tell but it surely has given tacticians the world over a new lesson to learn.

How do you stay up to date with football when on the move? With

http://m.goal.com

– your best source for mobile coverage of the beautiful game.