Luis Suarez Miramontes

Date Of Birth: 2 May, 1935

Place Of Birth: A Coruna, Galicia, Spain

Height: 1.75m

Playing Position: Deep lying playmaker
Regarded as one of Spain's greatest ever players, Luisito was noted for his graceful and elegant style of play. He was an excellent passer of the ball and also had explosive shooting skills. He started his playing career for Deportivo La Coruna but soon was transferred to FC Barcelona in 1955. Despite averaging a goal every two games, Luis Suarez was not a striker. He was a playmaker. The nickname "El Arquitecto" was given to Suarez because of his excellent vision and ability to direct play. It was said that Suarez knew where he wanted to put the ball even before he received it. Reminds you of anyone?
"Architect of Spain's maiden European triumph"
Luis Suarez was the star performer for the triumphant Spanish side when they won the European Nation's Cup in 1964, a tournament they hosted. Since there were only 4 teams participating in the final round, the tournament directly began from the semifinals. Spain's first match was against Hungary at the Santiago Bernabeu. Orchestrated by the brilliant Luis Suarez, Spain overcame a Hungary side brimming with their own talent to reach the final on its home soil. El Arquitecto assisted Jose Maria Pereda for the opening goal. However, Hungary managed to find an equalizer in the 84th minute but Luis Suarez's experience came in handy as he directed his younger compatriots to find the winner. Their efforts were rewarded when the skilful Amancio Amaro scored in the 112th minute to send Spain into the final.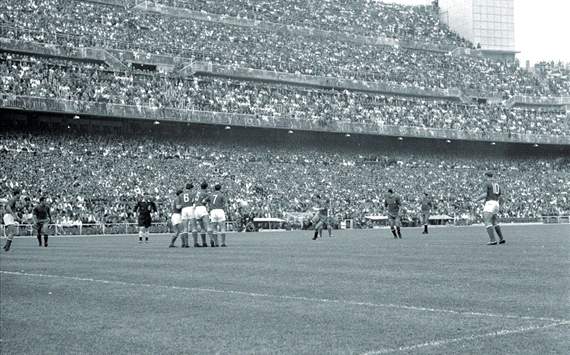 El Arquitecto taking a freekick in the final
Spain faced previous winners USSR in the final and once again Luis Suarez didn't disappoint with his performance. A wise head among young players, Suarez was the eldest member of the Spanish squad. A sublime pass from Luisito found Jose Maria Pereda whose skilful finish left the "Black Spider" Yashin helpless. Spain were in the lead in the 6th minute in front of 100,000 spectators at the Bernabeu with General Francisco Franco among them. However, the Russian side equalised within two minutes of conceding and it took some heroics from Spanish goalkeeper Jose Angel Iribar to keep the scores level. Luis Suarez's calming presence made the difference when he spread the play to the right and the ball was crossed in from there to find Marcelino Martinez who beat Yashin for the second time in the game with a headed effort. Spain clinched their first European Nation's Cup on their home soil. Luis Suarez Miramontes' ability to dictate play and orchestrate attacks highlighted him as the mastermind behind Spain's victory. Again, reminds of someone?
"Honours"
Suarez also enjoyed a successful club career as he went on to win the league, Copa and Fairs Cups twice with Barcelona and three Serie A titles, two European and Intercontinental Cups for Inter. To date he remains the only Spanish player to win the coveted European Footballer of the Year, also known as Ballon d'Or, in 1960. He has to his credit the most expensive transfer fee of his time when Barcelona sold him to Inter for £142,000.

"Post Retirement"
Suarez currently works as a scout for Inter. In his career spanning 20 years from 1953 to 1973, he featured for La Furia Roja 32 times, scoring on 14 occasions. He retired in 1973 and started his managerial career in 1975. He managed various clubs but couldn't match the success he earned as a player.
How do you stay up to date with football when on the move? With

http://m.goal.com

– your best source for mobile coverage of the beautiful game.