"We had scored there (in the away leg) which is important but I think we need to score more one or two goals to go to the final. The intention is to go ahead but if we resort to just defending our score, that will not take us to the final," said Bengaluru FC coach Albert Roca at the pre-match conference..
As promised, they played a fearless brand of football against the Malaysian champions, Johor Darul Ta'zim. Despite being pegged back by a goal, which came against the run of play, the home side remained resilient and more importantly, focussed on the task ahead.
Bengaluru FC's Amrinder Singh - Johor dropped deep after scoring
It was almost that Roca and his players knew that there would definitely be a possibility of them conceding at least once but that didn't deter them to move away from the original plan. There was not an iota of panic in their game as they continued to follow their coach's instructions to the hilt.
Bengaluru won the battle in midfield. Cameron Watson, deployed as the deepest lying midfielder, kept intercepting play with his intelligent positioning. Alvaro Rubio was the playmaker while Eugeneson Lyngdoh joined the attackers with his trademark late runs into the box.
Credit must be given to Roca and Carles Cuadrat as they identified the absence of many tall players in the Johor squad and looked to attack them on set-pieces. Goalkeeper Izham too is just 5 ft 8', which is far from an ideal height for a custodian.
Sunil Chhetri and Rino Anto won corner-kicks and every delivery from Eugeneson Lyngdoh saw the Johor defense in sixes-and-sevens. John Johnson and Juanan were difficult to deal with inside the box for the opposition as they struggled to clear their lines effectively on multiple occasions.
Lyngdoh drilled a diagonal ball which was parried away by the goalkeeper Izham only as far as Chhetri at the far post and his effort came off the crossbar. Their first goal came from a corner when Chhetri headed home from a Lyngdoh's floater.
Bengaluru made the most of the fact that Johor only had one defensive midfielder in Hariss Haroon with the rest being attack minded. With the Blues enjoying more of the ball and pressing forward, their attackers' influence was negated as not often would the wide players track back.
Bengaluru FC's Eugeneson Lyngdoh - All the set-pieces were planned
In the second half, the tempo slowed down a bit though the Blues kept pushing forward. Mario Gomez replaced an attacking midfielder with a defensive one in Gary Robbat but that didn't help them in retaining possession either.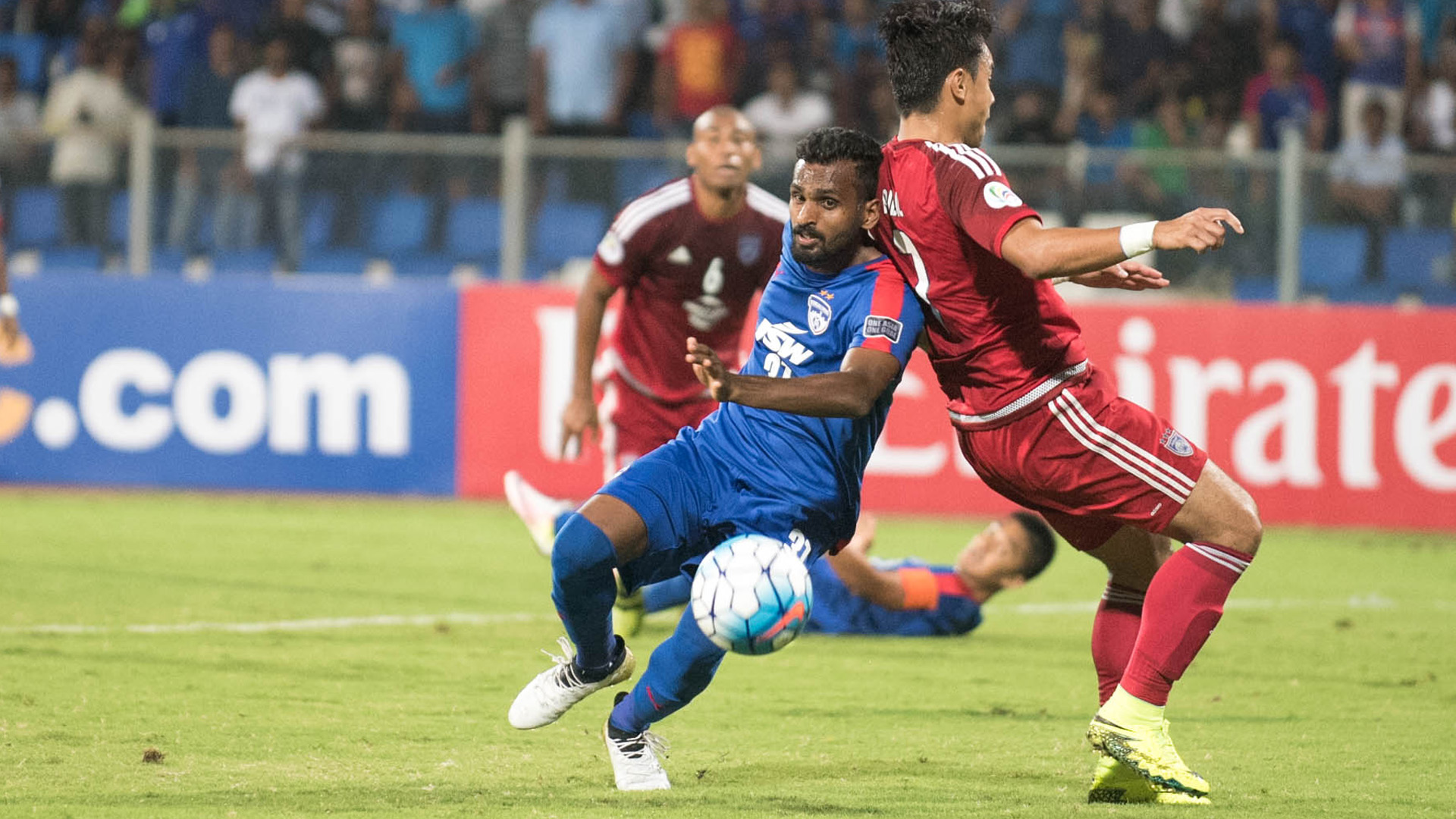 While Sunil Chhetri led from the front by intelligent runs from the left, Chekiyot Vineeth was adept at hold up play and he often drew attention from at least a couple of defenders. The former Viva Kerala player would then spot Chhetri in space, a move which was done thrice in the game, one of which resulted in a sublime goal. It must be mentioned that had the goalkeeper been a little taller, he should have been able to deal with it.
The goal bolstered their confidence and with the crowd egging them on, Bengaluru put the game to bed in 75th minute when Juanan put his head to good use from a Lyngdoh free-kick.
"All of the set-pieces were practiced. All of them," Lyngdoh told Goal in the aftermath of the game.
Bengaluru FC's Albert Roca - India just not a cricketing country any more
Roca acknowledged that he wanted to make the most of set-piece situations and spent several hours training his side to perfect the art.
It must also be noted that they have conceded just twice in four competitive matches against the reigning champions of Singapore and Malaysia. Part of the reason is the strong spine, with all their four foreigners operating close to each other and most importantly, all being comfortable on the ball. This allows the likes of Rino Anto to bomb forward while Lyngdoh has the license to manoeuvre and link-up with the forwards.
One of the first observations Roca made of Bengaluru FC squad after taking charge was of how thin they were in central midfield. They only had Lyngdoh, Shankar Sampingiraj (sidelined due to injury) and a 19-year-old Malsawmzuala.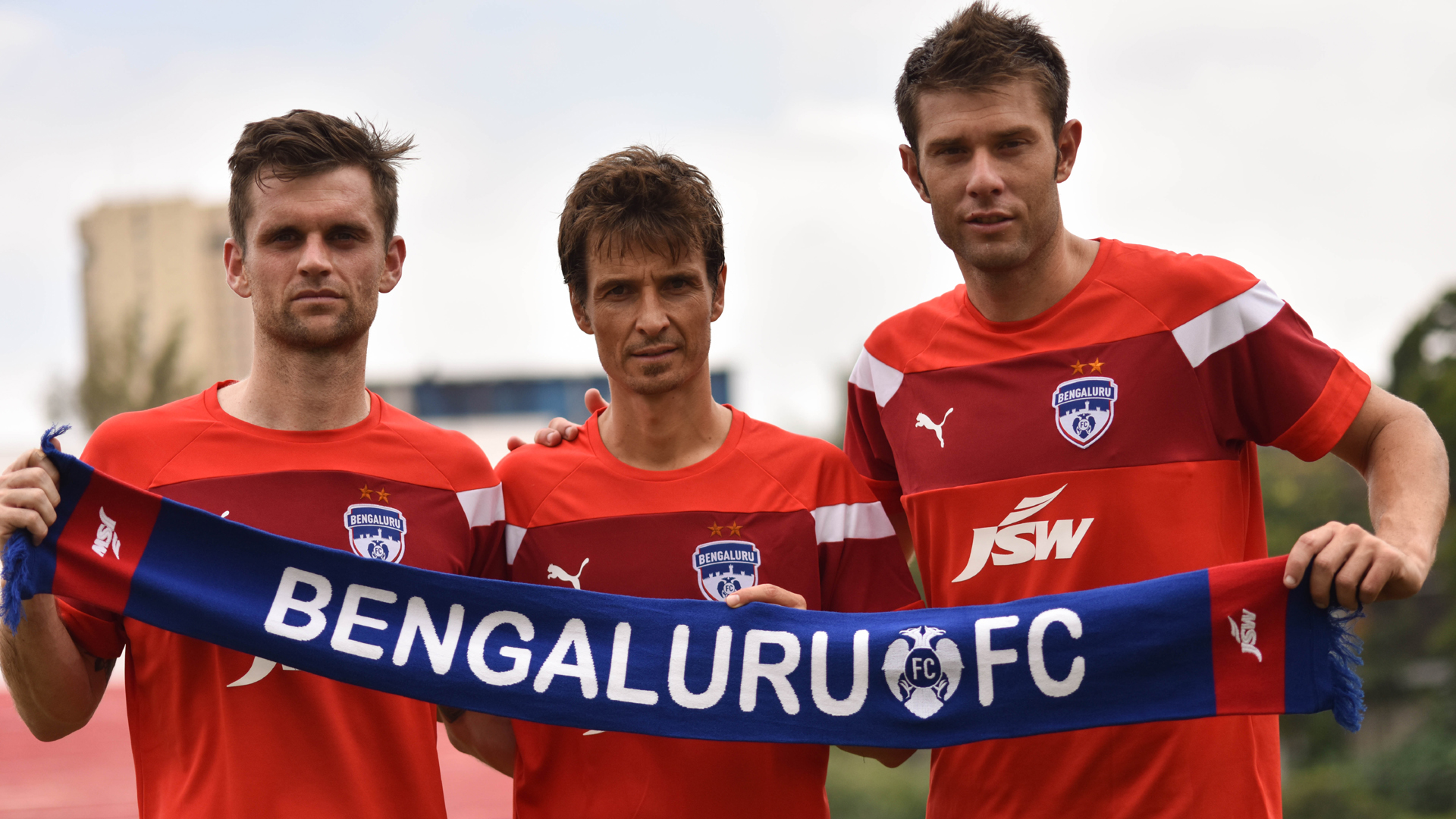 And they had as many as six Indian strikers - Chhetri, Seminlen Doungel, Vineeth, Daniel Lalhimpuia, Udanta Singh and Alwyn George, who operates as a number 10 primarily. Add to that they only had one recognised Indian centre-back in Salam Ranjan Singh.
Bengaluru FC's Sunil Chhetri - We were only thinking about winning
With John Johnson already being retained by the club before Roca took charge, it wasn't surprising to see him fill in the rest of the foreign contingent in defense and midfield. The idea was to control the game from the middle of the park, build up with short passes and more importantly, play at a higher tempo or rhythm with the midfielders dictating it.
Roca's signings, which was questioned by many, have proved their worth and his decision has been vindicated.
With the focus shifting to Doha, Roca will surely have begun devising a plan against Iraq's Air Force Club.