By Andy Brassell
While
Portugal
's second-half display against
North Korea
was derided by some as target practice against dispirited minnows, it could well prove the watershed which turned them from a heap of unrealised potential into
World Cup
dark horses.
What's more, it finally saw their captain Cristiano Ronaldo click back into some sort of nick for his international side following a metaphorical 40 days in the wilderness.
As one could argue is the case with England and Wayne Rooney and even Argentina with Lionel Messi, Portugal constantly fret about getting the best out of their team star and talisman.
While debate has raged how Diego Maradona might best coax Messi's Barcelona form from him in an Albiceleste shirt, the disparity between the form of Messi's fellow La Liga titan for club and country has been even more alarming over the last little while.
So much so that until Ronaldo set up Tiago and then helped himself to goal No.6 against the hapless Koreans, it had been an astonishing two years since he scored or even provided an assist for Portugal in a competitive match.
That was the occasion of Portugal's win over the Czech Republic at the European Championship finals on 11th June 2008. The landscape on Planet Ronaldo was quite different then, with the then 23-year-old having just completed a career-best season, winning the Premier League and Champions League double with Manchester United and hitting 42 goals in all competitions.
This achievement not only marked his ascension to - at the time - the status of being widely regarded as the world's best player, but it changed his life forever.
Rumours linking him with an eventual move to Real Madrid reached a crescendo as
Los Merengues
queued up one of their trademark media-led transfer pushes. Ronaldo himself appeared happy and relaxed throughout the tournament, but the paranoia in the Portugal camp was beginning to spin out of control.
This correspondent, on arriving at the team hotel to interview Ronaldo, was clandestinely ushered through the hotel's kitchens to avoid attracting any unnecessary attention.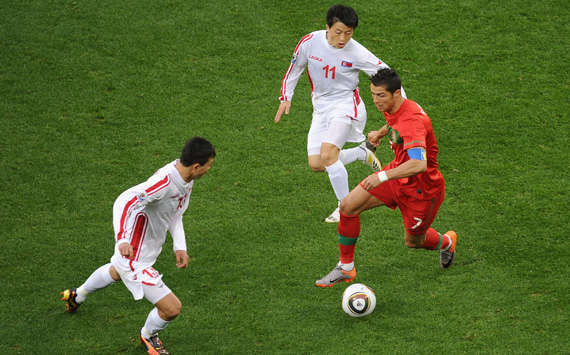 Out on his own | But once Ronaldo used his team-mates, Portugal thrashed North Korea
The pressure on Ronaldo to lead was growing as the departing Scolari's squad began to creak. The other feted names in the new 'Golden Generation' that Ronaldo was part of (Quaresma, Veloso) weren't developing at the same rate, leaving him as a sole torch bearer.
Scolari had already publicly deigned Ronaldo to be captaincy material, but his body was giving way under the pressure, and a long-term foot injury obliged him to have an operation following the Euros. By the time he was back in the saddle with Portugal, they had made a rotten start to the World Cup qualifiers, throwing away a winning position against Denmark to begin their home campaign with a defeat.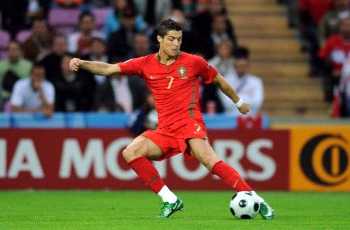 "This reporter, on arriving to interview Ronaldo at the team hotel in 2008, was clandestinely ushered through the kitchens to avoid attracting unneccessary attention"
Coming into this situation, and with his Manchester United ally Carlos Queiroz struggling to find the right tactical blend or convince the public of his worth, it's little wonder that Ronaldo had an unproductive World Cup qualifying campaign. In total he played just six of the 12 games including the play-off with Bosnia-Herzegovina, which he missed with an ankle injury sustained in new club Real Madrid's September Champions League game with Marseille.
Ronaldo started the campaign laughing off suggestions that he was feeling the pinch, memorably comparing goals to ketchup in a recent press conference - "when they come, they all come at the same time".
Yet his performance in Portugal's opener against the Ivory Coast betrayed a genuine anxiety. He began as if determined to win the game by himself, thrashing a free-kick at goal from fully 40 yards out before crashing another long-ranger against the post. The winger quickly became frustrated afterwards, picking up a daft booking in a childish squabble with Guy Demel.
Raul Meireles' fine opener against North Korea changed the mood of the team, and lifted the pressure from Ronaldo too. With Tiago and Raul Meireles orchestrating a fine passing display from the middle, Ronaldo had several foils to work with, rather than having to assume all the burden on his own shoulders.
None of these conduits has been more effective than Fabio Coentrao, the sparky young Benfica left-back, who combined with his skipper to magnificent effect on a number of occasions in the second half. Ronaldo's pass for Tiago's first goal was sublime, and he deserved the piece of ball-juggling fortune he got for his goal after a previous rocket had shaken the rainwater from Ri Muong Guk's crossbar.
All of a sudden, Ronaldo is happily part of a team, rather than feeling like a put-upon totem who is his country's only hope. Portugal's chances have always rested on opening him up, but now Queiroz - who Manchester United watchers always thought should be the man to do it - has managed it. Watch out, World Cup.
Our

provides the best breaking news online and our

football fan community is unmatched worldwide. Never miss a thing again!


Become a fan of Goal.com India's Facebook fan page for all the latest news and insight into everything related to the beautiful game!