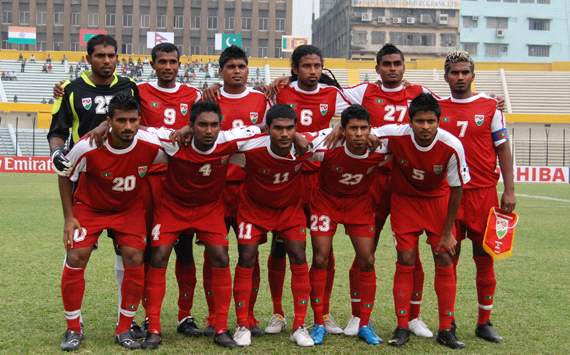 COUNTRY NAME: Maldives
GROUP : B (along with Afghanistan, Sri Lanka, Bhutan)
ADMINISTRATIVE BODY: Football Association of Maldives (FAM)
FIFA RANKING: 153
NICKNAME: Red Snappers
Last Official Match Played: Maldives 3-0 Pakistan (14th February 2013)

History And Team Highlights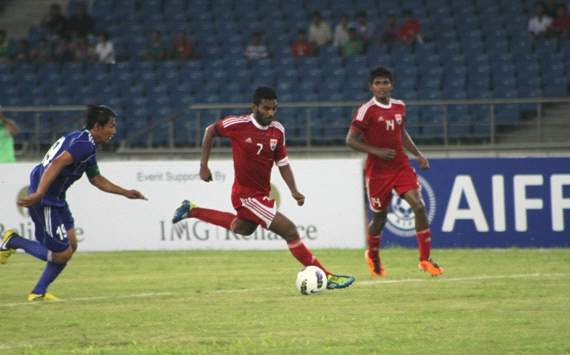 Maldives football team or Red Snappers as they are called played their first International Match against Seychelles in 1979 where they were thumped 9-0. The Football Association of Maldives (FAM), the governing body came to be established in 1982.

It was 4 years later that it became a full member of the AFC and FIFA. Making rapid strides in recent years inspite of being a small nation of islands, Maldives has a passionate football following. They have not yet managed to qualify for the Asian Cup but they managed to qualify for the 2012 AFC Challenge Cup (a tournament for developing nations) but were eliminated in the first round itself.

Being the hosts of the 2014 AFC Challenge Cup, they secured an automatic qualification for the event. They also managed to bag a silver medal in the 1991 Asian games in Colombo. However their most notable success which spurred the nation's footballing development came in 2008 when it won the SAFF Championship in Sri Lanka with the final date of June 15 being declared as a public holiday by the President.

History In The SAFF Championship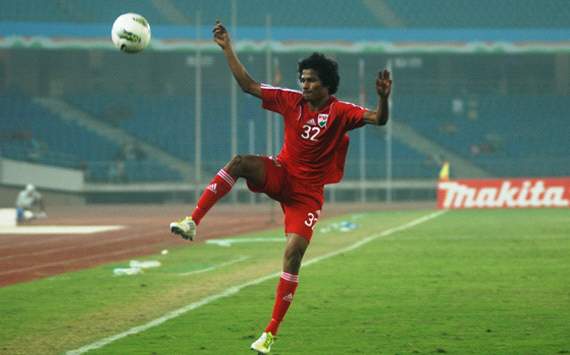 Having withdrawn from the SAFF Championships in 1995, Maldives have participated in all editions of the tournament from then on. They have often been desperately unlucky as they have finished runners up on three occasions in 1997, 2003 and 2009 besides being third in 1999.

Their crowning glory was however in the SAFF Cup in 2008 where they were crowned winners. Being in a group with India, Nepal and Pakistan, they only lost to India thus securing a berth in the semi-final.

Narrowly defeating Sri Lanka in the semis, Maldives entered their third SAFF final and were indeed third time lucky as they avenged their group stage defeat, beating India 1-0 with a solitary goal by Mukhthar Naseer.

In the last Championships they went down 3-1 to eternal rivals and eventual winners, India in the semi-finals.

2013 SAFF Championship Preliminary Squad
Goalkeepers: Mohamed Imran, Imran Mohamed, Mohamed Faisal, Ibrahim Arif
Defenders: Ahmed Abdulla, Mohamed Shifan, Rilwan Waheed, Akram Ghanee, Shafiu Ahmed, Mohamed Rasheed, Ahmed Zaadh
Midfielders: Mohamed Umair, Ali Umar, Ahmed Niyaz, Moosa Yameen, Ahmed Rasheed, Mohamed Niyaz, Ismail Easa, Mohamed Arif, Ahmed Imaaz
Forwards: Ali Ashfaq (Captain), Ashadullah Abdulla, Hassan Adhuham, Ali Fashir, Ahmed Nashid

Ali Ashfaq: The national team skipper, the Man of Steel, the No. 7 of the national team, Ali Ashfaq is clearly the face of the Maldives team. The 27 year old striker who has an impressive tally of 26 goals in 39 appearances has been in top form. He was also the best player when Maldives last won the SAFF Championship in 2008 and they would want the striker, who plays for New Radiant in Maldives to replicate that form. Not only with the eye to score, but Ashfaq is a potent creative force too as he demonstrated in 2008 when he finished with no goals but six assists to lead his team to the title. With attacking midfielder Ibrahim Fazeel out of the championships, Ali Ashfaq's importance will be even more.
Mohamed Arif : The 27 year old playmaker will have to be at the forefront as he needs to build the team's moves and also provide Ashfaq upfront with the chances to score goals.
Mohamed Shifan: The 30 year old defender will need to lead from the back as he needs to helm the backline which is filled with fresh faces. With an experienced campaigner like Shifan calling the shots, coach Istvan Urbanyi expects him to lead the way for them to follow.
How do you stay up with football when on the move? With http://m.goal.com –your best source for mobile coverage of the beautiful game.