Full Name: Shahbaz Saleel

Former Clubs: Viva Kerala, ONGC

Age: 21 (31st May, 1990)
Position: Left Back/ Midfielder
Represented India at U-19 level & member of current U-23 team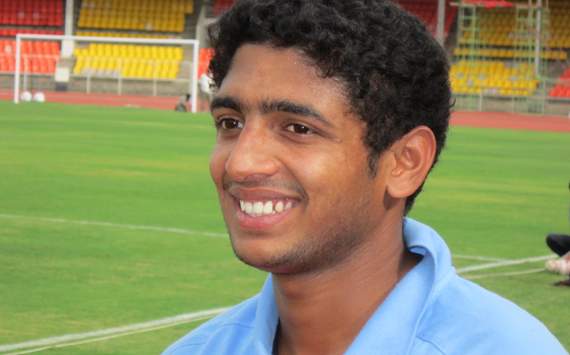 In the recently concluded Pre-Olympic qualifier between
India Under-23
and Qatar Under-23, the Indian team had very few non-Indian Arrows members.
Among those non-Indian Arrows players was Kerala born
Saba Saleel
, who despite missing much of the 2010-11 I-League for ONGC, caught the attention of Desmond Bulpin and was part of the squad for both the legs.
The 21 year old is a left footed player, who can play both as a left back and left midfielder.
Saba's journey started with TFA but he didn't graduate from there and instead made his competitive debut at Viva Kerala under coach A.M. Sreedharan in the 07-08 season.
"I am thankful to Coach A.M. Sreedharan, who gave me the chance to play at Viva Kerala," said a shy Saba in an interview with
Goal.com
.
Saba had to deal with the disappointment of relegation with Viva in his first season but then played a key role in winning back promotion the very next campaign.
After that he joined ONGC and spent two seasons with them but before joining the Mumbai based club he was already a member of the India Under-19 team under Colm Toal.
"I learned a lot under Colm Toal and it was a great experience to be a part of the India Under-19 team as my game improved a lot."
He was mostly injured in the 10-11 season and thus couldn't help ONGC avoid relegation.
But Saba's talents earned him a place in the under-23 side and sharing his experience, he expressed his delight on earning the call-up.
"It was a pleasant surprise when I earned a call up and it was a real honour for me to be a part of the Indian Olympic team."
Saba didn't get to make any appearance in the two legs but is likely to be an integral part of the Under-23 setup in the next two years.
The left-footed youngster idolizes Real Madrid superstar Cristiano Ronaldo and among left backs is a big fan of Chelsea's Ashley Cole.
"I always wanted to be like Cristiano Ronaldo and that is another reason why I started playing on the wings. I used to be a striker when I started off at TFA. Ashely Cole is another favourite of mine as I love the way he overlaps from left back."
The youngster also remains hopeful of a revival in Kerala football and is considering offers from quite a few I-League clubs including Indian Arrows.
"The passion for football in Kerala is immense but the state league doesn't function well. Hopefully that will change sometime soon as there is no dearth of talent in Kerala.
"My contract with ONGC has ended and I have offers from some clubs including Indian Arrows. I will decide very soon."
Attributes

- Crossing
- Work Ethic