ROBIN SINGH
Club: East Bengal
Age: 19
Height: 6 ft 2 Inches
Position: Striker
It was just few weeks back when Robin Singh, a talented striker and a product of the Tata Football Academy, signed a big-money contract with Kolkata heavyweights East Bengal. It was reported that the Red and Gold brigade had to shell out around 50 Lakhs for a two-year deal with the former India U-16 international.
Robin, who was born in a business-oriented family in Punjab, chose to become a footballer, aiming to turn his passion into his profession. He began his career as a winger due to his raw pace, and it was only when he joined TFA that he decided to become a striker.
The forward stole the show while donning the TFA jersey in the IFA Shield last year, as he scored a memorable brace against East Bengal at their home ground in a historic upset. Speaking to
Goal.com
, he revealed, "That was one of my most memorable experiences in Indian football. No one expected us to win against East Bengal at their home ground but my goals helped the team win 3-1."
The 6-feet-plus striker believes that TFA has been the correct learning groung for him, and he recalled his days in the country's premier football academy, saying, "Tata Football Academy is solely responsible for my success as they have made me what I am today. I credit Ranjan sir (Ranjan Choudhury) and Vijay Sir (Vijay Kumar) for their constant support."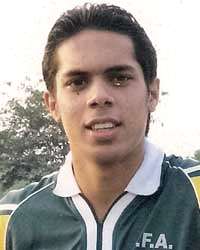 It has been learnt that the Delhi lad is also considering a move abroad, but for now he is contractually bound to the Kolkata club.
"I had played in England as part of an exchange program for almost three months. I am in love with the football set up in that country, and would love to get offers to play abroad."
As a part of the India U-16 team, Robin had also traveled to Germany and played some practice matches against German clubs like Wolfsburg and AS Augsburg.
"The trip to Germany was one of the turning points in my career. I really enjoyed playing under Colin Toal, and we played very well against the German sides."
The 19-year old is on his way now to join East Bengal, one of the country's most followed football teams. Is he nervous regarding his stint?
Rubbishing any such rumours, he confidently says, "I love playing in front of big crowds and I also enjoy people applauding a player when you make a good move and so on, which is why I'm really excited to join the team."
If all goes well, Robin could end up partnering Indian Skipper Bhaichung Bhutia for the team, something most youngsters playing the game in his generation imagined growing up.
"It is like a dream come true for me to play with my hero. I will try to learn from him while playing together", he signed off.