JEWEL RAJA SHAIKH
Club: Dempo
Country: India
Age: 20 (January 18, 1990)
Position: Midfielder
Jersey Number: 38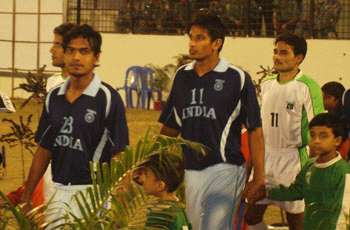 In the Indian football circuit, central midfield is one of the positions which is mostly dominated by foreigners but one youngster who wants to change that is Jewel Raja Shaikh of Dempo and India Under-23s'.
Born in Bujbuj, Kolkata, Jewel has excelled in Sukhwinder Singh's India Under-23 squad despite still being only 20 years old.
But central midfield was the not position Jewel used to play in when he started playing the game. It was his father who advised him to play in that position with a family reason behind it.
Jewel revealed, "I used to be a winger when I started playing. Usually I would play on the right but I had the experience of playing on both flanks. But once my elder brother became a striker, my father wanted me to play central midfield so that one day when I and my brother play in the same team I would provide the pass and he would score the goals." (Smiles)
The elder brother in question is current ONGC striker Tarif Ahmed, who has also appeared for the senior national team and holds the distinction of scoring against Iraq in an Olympic qualifier in 2006.
Jewel has one other older brother who also used to play football but stopped after suffering an injury. His younger brother is currently playing in the Under-14 category and Jewel hopes that even he will become a professional footballer.
It's fair to say that Jewel's family is very much dedicated to football and when asked about the same he reveals that it is their unconditional support that has taken him and Tarif this far.
"My family has worked really hard to make sure that first Tarif and then I become professional footballers. Even my other older brother could have become a professional player and my younger brother is also learning the game.
"The support from my parents has been immense and because of their blessings Tarif and I have been able to realize our dream."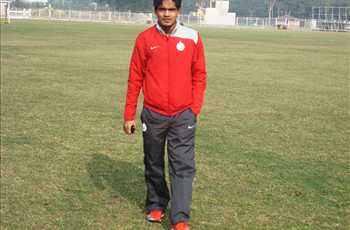 Jewel though quickly points out that initially he had a keen interest in cricket and wanted to become a cricketer. But as he grew up he realized that he had a better chance as a footballer and so chose the beautiful game.
"I used to have a lot of passion for cricket and wanted to be a cricketer. But by the time I was 12-13 years old I started to realize that is it very difficult to play in the Indian team and the domestic circuit wasn't really that big. There was no IPL also that time so I shifted focus to football and told myself that I have to play the sport professionally."
Jewel started learning the beautiful game at the Pujali Athletic Club which is situated in his locality. He furthered polished his skills at SAI's Eastern Center in Kolkata and then was selected to be a part of IFA's Haldia Academy.
He then appeared for Bengal Under-19 and then India Under-19 despite only being 16 and soon joined ONGC in 2007.
Despite being at the same club as his brother Tarif, Jewel couldn't make a single appearance for the Mumbai based club as he was off for national duty for the major part of his tenure there.
He however continued his progress with age group teams of India and was offered a contract by Dempo in 2008.
"Unfortunately I couldn't get any chance of playing for ONGC as I would be with the Indian Under-19 side for most of the year. Luckily Dempo offered me a contract and I didn't have to think twice about it."
But it has been difficult for Jewel to be a regular in the talented Dempo side and only made his I-League debut in a substitute appearance against Churchill two weeks ago.
The Steven Gerrard fan acknowledges that it will be difficult for him to start week in week out for Dempo but admits that he is learning a lot from the many experienced players in the squad and one Indian midfielder in particular.
"I am a learning a lot here as there are so many top-class players here. Climax Lawrence is the one Indian player I look up to because he is so fit and has such a good football brain, so it is like a dream to train alongside him."
The pinnacle of Jewel's short career has to be the SAFF Cup triumph in 2009.He did suffer a head injury in the final against Maldives but even that couldn't hamper his celebrations.
"Winning the SAFF Cup was a great feeling. The semi-final against Bangladesh was the best performance of my career so far.
"In the final the head injury was terrible as I didn't know where I was and even in the hospital it took me time to get back to my senses. But I still came back and enjoyed with the rest of my teammates."
Jewel adds that playing against teams like DPR Korea, Turkmenistan in the 2010 AFC Challenge Cup was also a great experience and feels that there is enough talent in the Under-23 squad to do well in the Asian Games later this year.
"Our India Under-23 squad has a lot of talent and I think it can do well in the Asian Games if we play more international matches and have all players fit."
So the two competitions have made Jewel a much better and more matured player. He is determined to work on many aspects of his game but does set big targets for himself.
"Physically I have to get stronger and I also need to score more goals from midfield.
"I want to play at least 15 years at the very highest level that is for big clubs and the senior national team. I have worked really hard to get this far by paying attention only to football so I want to keep doing the same for the rest of my career and get closer to my dreams."
We all hope that Jewel Sheikh Raja has a successful career and when he is asked about his hobbies he does struggle to name one which clearly suggests the amount of dedication he has given to football.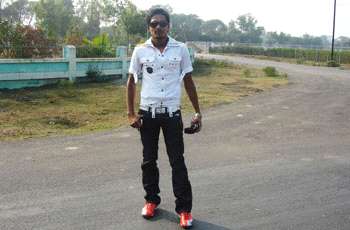 "I do very little activity outside football. Mostly I take rest and think about the way I trained or played. I have a very strict daily routine and of course since I stay alone everything starting from cooking has to be done myself.
"Probably one small hobby I have is photography, I like taking pictures a lot," he concluded with a smile.
Attributes:
•
Workrate
•
Accuracy in the final killer pass
Become a fan of Goal.com India's Facebook fan page for all the latest news and insight into everything the related to the beautiful game!