Praful Patel, president of the All India Football Federation (AIFF), paid his
first visit
to the headquarters of FIFA on Thursday as a member of the FIFA Standing committee on
Legal Aid.
Following the meeting, Patel had a short discussion with FIFA President Sepp Blatter on matters concerning India and thereafter gave an interview to the official website of the governing body of football.
Sharing the discussions that took place between the two presidents, Patel said, "This is my first visit to FIFA and my meeting with President Blatter since I was appointed a little less than a year ago."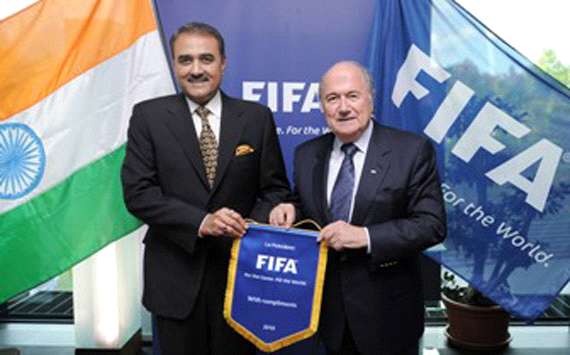 Praful Patel's First Visit To FIFA Headquarters
Having attended the 2010 World Cup in South Africa a couple of months back, Patel was impressed with the organisation of the event.
"I congratulated him (Sepp Blatter) on his leadership and on the success of World Cup 2010. I told him it was a magnificent event and very well organized too."
India has managed to qualify for 2011 Asian Cup after a gap of 24 years and sharing his objectives on the possible target for the Indian national team, the AIFF President was quoted saying, "Our team is already hard at work. We've qualified for the first time in 24 years and we intend to make a good impression. The players have an eight month training schedule, for example. We are not lacking in ambition and I would like to see us reach the last eight because the popularity of football across the country depends on having a strong national team. That's also the reason why we are going to bring the U-19 team (AIFF XI) into the I-League for the next five years. It will toughen them up."
Has There Been A Change Since His Visit?

Sepp Blatter had visited India back in 2007 and since then, not much has changed in Indian football as unprofessionalism continues to haunt it at all levels.
"We discussed about Sepp Blatter's last visit to India in 2007. I was the Vice President of the Federation and we set up the Win in India With India programme, which is now taking shape. As a part of this project we are having 8 artificial ptches under construction across the country as well as three football academies in Bangalore, Sikkim and Andaman Nicobar Island."
"We are working very hard on developing football in the grassroots level, which is another vital aspect to increase the appeal of the game in India. We know that our infrastructures are too weak and we have now set ourselves specific objectives. For example, we are aiming to build five or six good quality stadiums in the next three years," added the President.