| | |
| --- | --- |
| 11.* | Real Madrid 11-1 Barcelona 13 June 1943 |
Pruden (5,32,35), Barinaga (30,42,44,87), Alonso (37,74), Curta (39), Botella (85) | Martin (89)
Barcelona went into the second leg of the Copa Del Generalísimo, which is what the Copa Del Rey was known as under Francisco Franco's dictatorship, with a 3-0 lead. Real Madrid won the second leg with a flabbergasting 11-1 win, leading 8-0 at the break. The general's men had supposedly threated the Barcelona players to lose the game or they'd be imprisoned along with their families. The referee was completely in Madrid's favour, supposedly due to similar threats. Whistles were distributed at the entrances to magnify the atmosphere. Although it is claimed that general Franco hugely helped out Real Madrid, Madrid lost the final to local rivals Atletico Madrid. Real did not win the La Liga until the 1953-54 season, raising questions of the aid they received.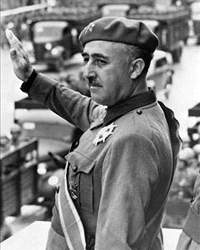 General's Franco's men supposedly threatened the Barcelona players into losing the tie

| | |
| --- | --- |
| 10. | Barcelona 1–2 Real Madrid 17 February 1929 |
Parera (50) | Morera (10, 55)
Real Madrid won the first ever El Clásico in the La Liga, beating Barcelona 2-1 in their own backyard, the Les Corts Stadium in Barcelona. Morera opened the scoring in the 10th minute to see his lead cancelled out by Parera, Real Madrid took the lead once again as Morera completed his brace and won the game for his side.
| | |
| --- | --- |
| 9. | Real Madrid 4-0 Barcelona 29 June 1974 |
Santillana (6), Rubiñán (47), Aguilar (50), Pirri (83)
Real Madrid showered all their opponents leading up to the Cop Del Rey final with goals at the Bernabeu, scoring 5 goals at home in the semi-finals and 7 in the previous two rounds. Los Blancos ran riot on their rivals, bagging 4 goals to lift the Cup. Madrid went into the second half with a single goal separating the teams, courtesy of Santillana. They started the second half aggressively, ending the competition by the 50th minute, as Rubiñán and Aguilar found the back of the net. Pirri put the icing on the cake with Madrid's fourth of the night. Real Madrid didn't lose a single game in the competition.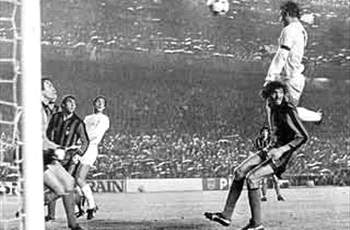 Santillana played 17 seasons at Real Madrid and was known for his stellar heading abilitiy
| | |
| --- | --- |
| 8. | Barcelona 0-1 Real Madrid 23 December 2007 |
Baptista (36)
Real Madrid dominated Barcelona at the Camp Nou. The home side failed to string a set of passes together and were outmuscled by the mighty men in white. Baptista scored the sole goal of the night in a counter attack after a one-two with Ruud van Nistelrooy. Barcelona looked completely out of sorts as Ronaldinho failed to have an impact and Casillas made a few terrific saves. In the later stages of the game, Barcelona surprisingly looked to cross the ball into the box, hoping a teammate could get on the end of it. This was Ronaldinho and Frank Rijkaard's last season with Barcelona.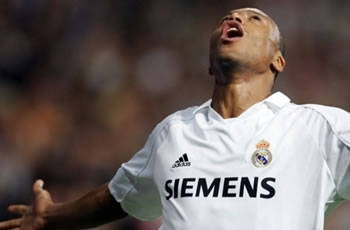 Baptista scored the winning goal as Madrid triumphed at the Camp Nou
| | |
| --- | --- |
| 7. | Real Madrid 5-0 Barcelona 25 October 1953 |
Di Stéfano (10, 85), Roque Olsen (34, 35), Molowny (39)
Two weeks after signing for Real, Di Stefano made his El Clásico bow, bagging two goals in a 5-0 win. An instant legend, his 29 goals in that 1953-54 season helped Real to their first title in 21 years. The following season saw Real record another 5-0 home win against Barcelona, and bag another title, one that allowed them entry into the inaugural European Cup. Di Stefano went on to be the leading goal scorer in El Clásicos, with 18 goals.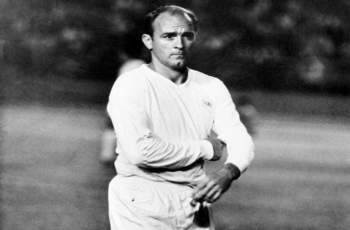 Di Stéfano was instrumental in Madrid lifting the European Championship in 5 consecutive seasons

| | |
| --- | --- |
| 6. | Barcelona 0-2 Real Madrid 23 April 2002 |
Zidane (55), McManaman (92)
Real Madrid locked horns with eternal rivals Barcelona in the Champions League semi-finals at the Camp Nou. The match was a one sided affair, with Barcelona pushing hard to make home advantage count. They had chances aplenty but could not break the deadlock, when totally against the run of play, it was Zinedine Zidane who scored with a wonderful chip on receiving Raul's defense splitting pass. As they pressed to equalize, things went from bad to worse for the Catalans as substitute, Steve McManaman immediately doubled the advantage in injury time. Real Madrid progressed to the final after drawing the second leg in the Bernebeu and went on to win the European Cup.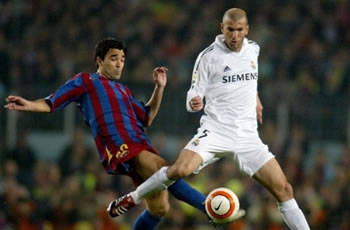 Zinedine Zidane won the FIFA World Player of the Year 3 times in his career
| | |
| --- | --- |
| 5. | Real Madrid 4–2 Barcelona 10 April 2005 |
Zidane (7), Ronaldo (20), Raúl (46), Owen (66) | Eto'o (29), Ronaldinho (73)
Zinedine Zidane and Brazilian Ronaldo headed Madrid to a 2-0 lead within the first 20 minutes at the Santiago Bernabeu in the 150th league El Clásico. Despite a period of shaky play, Madrid stunned Barcelona with a third goal on the stroke of halftime when Raul turned home a low cross to make it 3-1 after Samuel Eto'o had pulled one back. Michael Owen met Beckham's pass and drilled in Madrid's fourth on the night against the league leaders. Ronaldinho's goal was just conciliation as Madrid brought Barcelona's lead to just 6 points with seven games left to play. Madrid failed to win the league as Barcelona lifted it for the 17th time.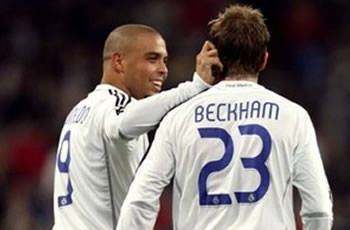 Ronaldo celebrates with Englishmen, David Beckham as they defeat Barcelona
| | |
| --- | --- |
| 4. | Real Madrid 8–2 Barcelona 3 February 1935 |
Lazcano (14, 42, 73), Sañudo (21, 35, 47, 81), Regueiro (29) | Escola (17), Guzmán (68)
Having not lost to Barcelona in 4 years, Real Madrid humiliated Barcelona in an 8-2 victory. Jamie Lazcano opened the scoring in the 14th minute and bagged a hat-trick. Sañudo ended the night with 4 goals, the most a player has ever scored when the two sides have met. Regueiro also managed to get his name on the score sheet. This is the biggest* margin of victory between the two clubs in a competitive game.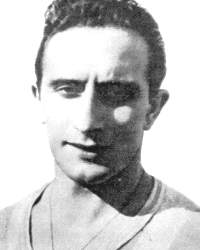 Sañudo scored a record 4 goals in the El Clásico
| | |
| --- | --- |
| 3. | Real Madrid 1-0 Barcelona 20 April 2011 |
C. Ronaldo (103)
Real Madrid claimed their first trophy under José Mourinho when Cristiano Ronaldo's dramatic extra-time winner secured a 1-0 victory over Barcelona in the final of the Copa del Rey tonight. Real successfully closed down Barca's creative midfielders and pacy forwards and had much the better of the first half. Barça had failed to muster a shot on target but the second period was a different story and they dominated possession.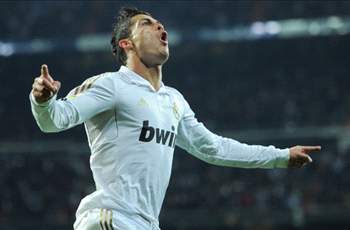 Ronaldo won Real Madrid's first trophy under Jose Mourinho
With penalties looming in a tense and a brutal clash at Valencia's Mestalla stadium, the Portuguese forward leaped to crash home a 103rd-minute header from Angel Di María's superb deep cross. Di María did not complete the game as he was shown his second yellow.
| | |
| --- | --- |
| 2. | Real Madrid 5-0 Barcelona 7 January 1995 |
Zamorano (5, 21, 39), Luis Enrique (68), Amavisca (70)
Michael Laudrup's first appearance in an El Clásico since leaving Barcelona ended in 5-0 victory for his new team, Real Madrid. Chilean Ivan Zamorano bagged a thunderous three goals. Madrid had made their statement and went on to win the Liga that year. Having won four titles in a row with the Dream Team, Laudrup became Barça's living nightmare, stealing their La Liga crown and delivering it to bitter rivals, Real Madrid, his personal fifth title in a row.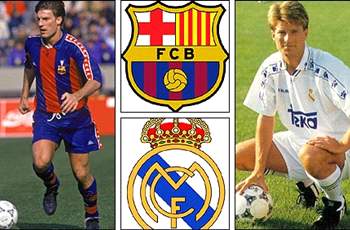 Laudrup was influential in his side's 5-0 victory over his previouse club, Barcelona
| | |
| --- | --- |
| 1. | Real Madrid 4–1 Barcelona 7 May 2008 |
Raúl (12), Robben (20), Higuaín (62), van Nistelrooy (p. 77) | Henry (86)
Real Madrid celebrated winning the Spanish league title by humiliating Barcelona in the El Clásico derby. It was a miserable night from start to finish for Barcelona and their beleaguered coach Frank Rijkaard. Before the match started at the Bernabeu, Barcelona, in compliance with Spanish tradition, formed a guard of honour and magnanimously clapped their traditional rivals on to the pitch. The night ended with Xavi seeing red in injury time. Until date, this has been Real Madrid's last win over Barcelona in the La Liga. The humiliation saw a transition at the Camp Nou as it was the last season of Brazilian ace Ronaldinho as well as Dutch manager, Frank Rijkaard.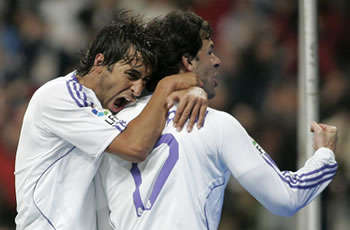 Madrid's all-time top scorer celebrates with Nistelrooy as they humiliated Barcelona

*The game cannot be considered due to the controversy surrounding the tie.

Top 10 Barcelona wins over Real Madrid

How do you stay up to date with football when on the move? With http://m.goal.com – your best source for mobile coverage of the beautiful game.