Whether it be in China, Rio de Janeiro or Buenos Aires, when Brazil meet Argentina the rivalry is always as strong, the atmosphere as heated and the tension every bit as palpable. A packed Bird's Nest Stadium in Beijing on Saturday was no different as the two giants of the world game locked horns in the Gillette Superclasico de las Americas.
As in the previous two editions, Brazil prevailed. This time thanks to two goals from Diego Tardelli, his first in international football. Coach Dunga made it three wins in three since his return, with three clean sheets to boot. After a tense opening, Tardelli came good, Jefferson reigned supreme and Miranda made a position his own.
Below, GBGT takes a look back at the five biggest talking points from the famous victory in China.
DIEGO TARDELLI, BRAZIL'S NO.9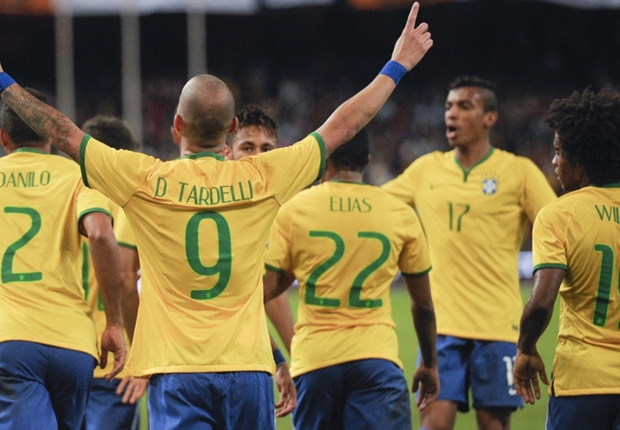 While the game may have been billed as a battle for supremacy between Lionel Messi and Neymar, Brazil's new no.9 Diego Tardelli was the star of the show, netting twice to break his international duck. Fred's indifferent form at the World Cup left the Selecao in something of a crisis up front. Dunga showed faith in the Atletico Mineiro man as he searched for a more contemporary attacking model centered around a false No.9. And the 29-year-old hasn't disappointed his new boss. The striker was a vital part of his club's march to the 2014 Copa Libertadores title and has taken his fine form into the international game as if he were a veteran. With Brazil increasingly struggling to contain Argentina in the early stages, he pounced on a defensive mishap to expertly volley his side into a first-half lead before sealing victory with by finishing a near-post corner routine straight off the training ground. His two goals have cemented his role as Brazil's unrivalled No.9.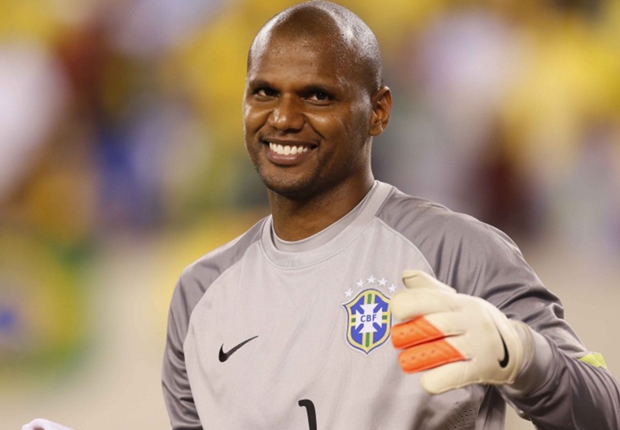 "Jefferson's greatest secret is that he stands still until the last minute. He was great there [against Messi] and made a great save. I joked with him at half-time, saying his save was worth the double... after all, we're talking a penalty save against Argentina, and against Messi," said goalkeeping coach Taffarel of Brazil's No.1. At 31-years-old, Brazil's reserve goalkeeper at World Cup 2014 proved himself a worthy successor to the shirt, leaving the likes of second-choice Rafael Cabral with an awful lot of work to do if he is to dislodge him from between the posts. Having started all three of Dunga's matches in charge so far, the Botafogo man has come of age with the Selecao. With Brazil having just taken the lead against the run of play, Jefferson became 'a muralha' (the wall) at a time when his side when they needed him most.
MIRANDA, DEFENSIVE KINGPIN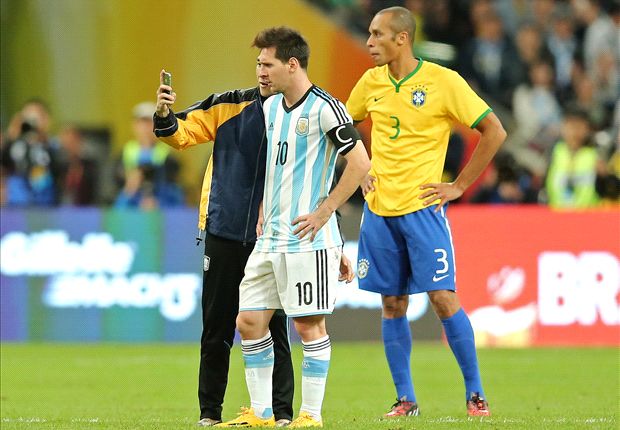 Secure, firm and pleasantly discreet, defender Miranda has created a problem for coach Dunga, the sort every coach dreams of. With Thiago Silva injured, Miranda was handed the task of forming a defensive partnership with David Luiz, and the Atletico Madrid stopper has been superb. One of Europe's most outstanding defenders last season as Diego Simeone's side shocked Spain to claim the Liga title, the former Sao Paulo man was the subject of heated debate after he was controversially left out of Luiz Felipe Scolari's World Cup squad. He was instantly drafted in by Dunga has been one of the standout performers in a new era for Brazilian football and on Saturday he dealt with an Argentine front-line as talented as any in the international game. He made just one mistake, when he clumsily played a pass straight to Angel Di Maria, but showed wonderful pace and a cool head to track back and make a goal-saving tackle. Now the question Dunga will be asking himself is: "Can Thiago Silva, heralded by many as the world's best defender in recent years, even get back into this team?"
CAN HOLDING TWO PROVIDE 'CONTROL'?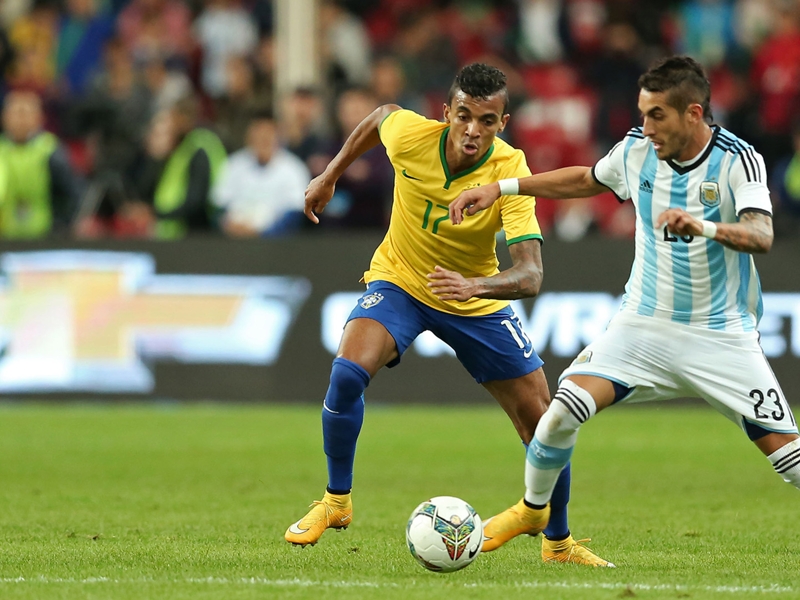 Dunga's modus operandi during his first spell in charge of Brazil was to soak up pressure with two holding midfielders placed in front of his back four, then spring forward on the counter-attack. This time around he is working hard on the training ground to replicate those dynamic attacks in transition, but is desperate for his side to provide more control through ball possession, in a style similar to that of reigning world champions Germany. Luiz Gustavo was perhaps Brazil's finest performer prior to the semi-final exit at this year's World Cup, but can a partnership with Elias provide the sort of possession he is striving for? Flamengo midfielder Elias held his position well against Argentina, constantly covering for others as they came forward, but the Selecao didn't enjoy huge spells with the ball in deeper positions and at times struggled to pass directly through midfield. Elias replace the injured Ramires, a dynamic runner who will likely return to the starting line-up, but with the likes the range of passing possessed by substitute Romulo, there may well still be a place in midfield up for grabs.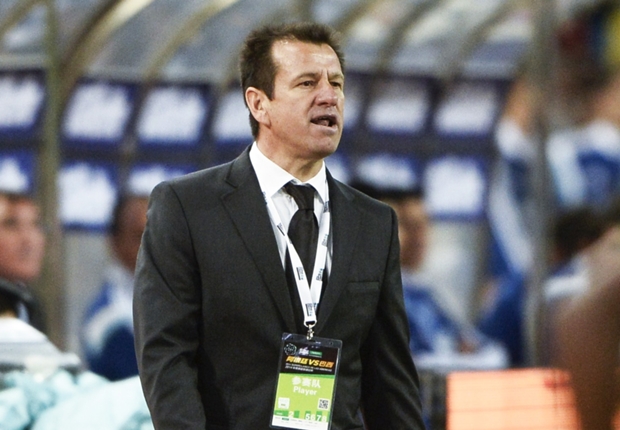 He shouted, screamed, argued and glared... the old Dunga certainly emerged at the Bird's Nest stadium in Beijing. It was a heated affair that at times threatened to boil over, but Dunga will hope to return to his new, serene demeanour when he takes his place back on the bench in Singapore against Beijing on Tuesday. Always a passionate onlooker, his enthusiasm translates onto the field through his players, but after suggestions he took his frustrations too far as his Brazil suffered a World Cup 2010 quarter-final defeat at the hands of the Netherlands, the 50-year-old returned intent on projecting a more benevolent exterior. But whether we have a new Dunga, or the Dunga of old, one thing's for sure, he is making a mightily impressive start to his second coming as Brazil coach.