SPECIAL REPORT
By Kris Voakes | International Football Correspondent
Scoring 104 goals in three years will make you a very popular person. Just ask Edinson Cavani. Having joined Napoli from Palermo in 2010 for €17 million, the Uruguayan went on to be one of the Campania outfit's greatest ever players and an idol in the eyes of the club's fans.
But just as he had made friends in Naples, each goal he scored enhanced his worldwide reputation a little bit further. In 2012, the Partenopei received a €55m bid from Zenit St Petersburg for the striker, but that originally only strengthened the Italians' resolve. President Aurelio De Laurentiis flew to Uruguay's Olympic training camp in Cardiff to speak to Cavani, persuading the player to sign a new deal which included a €63m buy-out clause.
One year on, De Laurentiis knew it was time to cash in. As the summer transfer window approached, the president made his stance clear: Cavani was for sale, but only at the agreed release price. The club supremo - not wanting to be known as the man who sold his club's star player - would instead be remembered as the man who got the right price.
There was initially substantial interest from England, with Manchester City and Chelsea both wanting to add Cavani to their forward line. City identified him as one of their prime targets, but their unwillingness to pay more than €42m meant talks never got close to a satisfactory conclusion for both sides. Napoli even asked for Edin Dzeko to be included on top of a big-money deal at one point, but the respective clubs' valuations of their strikers proved divisive.
CAVANI'S INCREASING PRICE TAG


€1.7m

Danubio - Palermo (2007)

€17m

Palermo - Napoli (2010)*

€64.5m

Napoli - PSG (2013)

*full deal completed in 2011
Cavani, meanwhile, had tried to use the interest of City and Chelsea to his advantage, with early talks with each club boosting his chances of a healthy contract. He also tried to entice Real Madrid by claiming they would be his "dream" club. However, los Blancos were put off by the price, while City decided to pull out when Manuel Pellegrini said enough was enough, leaving transfer chiefs Ferran Soriano and Txiki Begiristain to focus on bringing in Stevan Jovetic and Alvaro Negredo with the money previously earmarked for Cavani.
Chelsea's interest took a similar turn, with Fernando Torres at one point discussed as a possible makeweight. Again, the valuations of the potential buyers and De Laurentiis were a long way apart. The Blues, who also missed out on Radamel Falcao, were simply unwilling to go up to €63m and the Napoli president refused once more to back down.
The one club with the resources and the resolve to get a deal done was Paris Saint-Germain. The French champions' sporting director, Leonardo, met with De Laurentiis in Roma and outlined his plan to make Cavani the latest addition to his growing stock of former Serie A talent. The Brazilian was given carte blanche by PSG owners QSI and as such was able to meet Napoli's €63m tag.
Was the decision to shell out so much on Cavani justified? Uruguayan FA president Sebastian Bauza certainly believes so.
"It's very difficult to know if a player is really worth €63m, but there are people in football with a lot of money who are investing in something," Bauza told Goal. "So it's much simpler to invest in a world-famous player than in one who is unknown, no matter how good he is.
"Cavani is a complete player, the sort that all directors of football want to have, as he doesn't just score goals but also wins the ball back, helping the midfielders, and having an exceptional physique he's able to move around different areas of the pitch."
Jorge Chijane, an agent who played a big part in Cavani's move from Danubio to Palermo, is of a similar mind.
"Cavani was transferred to Palermo for around €1.7m. They were difficult negotiations in which I worked hard. The player then showed his great sporting condition, progressed a lot and was transferred from Palermo to Napoli for €17m.
"Based on the goals he was scoring, Cavani's reputation grew and so did his valuation, so that he went from Napoli to PSG for €63m. This shows that Cavani is one of the chosen ones of football, a player without limits."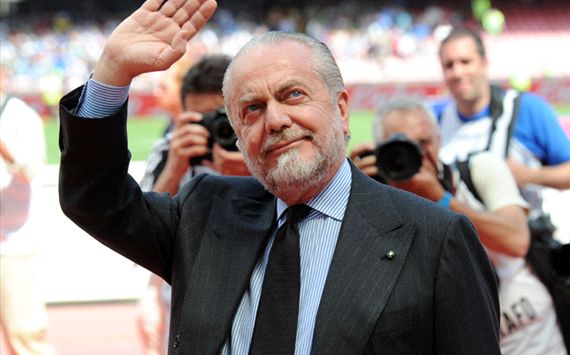 Boardroom hero | De Laurentiis stood his ground and eventually got the right price
The Parisians were quick to state their intentions regarding a contract for Cavani. One of QSI's main economic principles since buying the club has been to ensure that players are financed according to their squad status. As such, the Uruguayan would receive a healthy pay packet, but would not be placed in the same bracket as star striker and marquee signing Zlatan Ibrahimovic.
Even with a lower transfer fee, QSI would not have been willing to offer Cavani a better pay deal and the Uruguayan was left with the offer of a five-year €50m contract, with the club liable for an extra €26.5m in tax.
When agents got involved, De Laurentiis played his latest game of hardball. Middle men used to negotiate the deal asked for extra commission before pushing the transfer through, amounting to over €1m per club. The Napoli chief insisted that he would not hand over the desired cash, saying that he would simply add it on to the initial €63m asking price, effectively charging PSG the difference for the extra agents' fees.
Thus, the French side ended up paying above the release clause in order to get De Laurentiis to sign off on the transfer. Cavani's former clubs also received a fee as part of the deal, with Palermo receiving €1.5m and first club Danubio collecting €2.3m.
Having sold their talisman, De Laurentiis still had work to do in order to be received by Napoli fans as the star of the show rather than the villain of the piece. But the use of the Cavani transfer fee, plus cash saved on future salary payments, put the club in a position to build a new first-team base.
Just as Juventus had brought in Gianluigi Buffon, Lilian Thuram, Pavel Nedved and Marcelo Salas after selling Zinedine Zidane in 2001, and Inter had sold Ibrahimovic in 2009 to finance the arrivals of Lucio, Thiago Motta, Wesley Sneijder, Diego Milito and Samuel Eto'o, Napoli would use Cavani's departure to their benefit too.
The summer signings of Gonzalo Higuain, Jose Callejon, Raul Albiol, Dries Mertens, Rafael, Duvan Zapata and the loan arrival of Pepe Reina have left Napoli still fighting at the top end of Serie A despite the loss of Cavani. The transformation has painted De Laurentiis as a hero, just as he had hoped. As far as most Napoli fans are concerned, he is the man who worked the transfer market to perfection.
THE GOAL TRANSFER LIST 2013