SPECIAL REPORT
By Ben Hayward | Spanish Football Writer
He has been cruelly cut down at the peak of his powers. Following a flourishing finale to 2012 and a world-record 91 goals for club and country, Lionel Messi has had his 2013 interrupted by injury and is now sidelined until the end of the year as he recovers from a fourth muscle problem in eight months. So where has it all gone wrong for Barcelona's brilliant and once seemingly immortal Argentine?
Messi was blighted by a series of muscle injuries earlier on in his career and looked as if he would be a player prone to such strains throughout his playing days. But a special fitness plan was devised under Pep Guardiola to cover all aspects of his conditioning and Leo never looked back. Between 2008 and 2012, he was not only the world's greatest player but also the fittest footballer on the planet.
The problems began in Barca's Champions League last-eight tie at Paris Saint-Germain in early April. The Argentine limped off with a hamstring strain at Parc des Princes and, clearly nowhere near fit, returned in the second leg to save the Catalan club from a surprise exit by setting up Pedro for an equaliser and passage to the last eight on away goals.
Messi then looked lost in Munich as Barca were thrashed 4-0 by Bayern in the semi-finals and missed the 3-0 defeat at Camp Nou altogether in the second leg after being brought back hastily against Athletic Bilbao days earlier.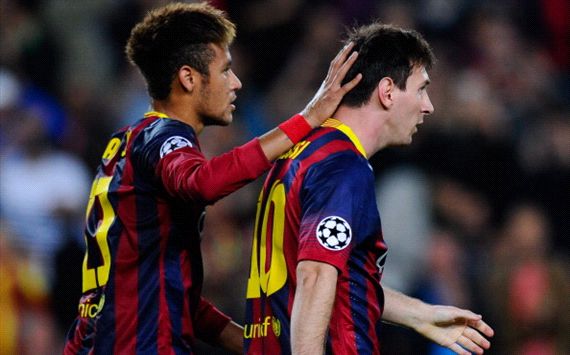 Big shoes to fill | Neymar will be expected to shine in Messi's absence
This term has brought three more injuries already: a thigh problem picked up against Atletico Madrid in the Spanish Supercopa back in August, a similar strain at Almeria in La Liga in late September and now the hamstring problem which will keep him out for the rest of year. Each time he closes in on full fitness, Messi has suffered a setback.
"Leo has to stop and rest for as long as he needs," team-mate Cesc Fabregas said on Sunday. "I had the same problem at Arsenal. You want to come back quickly and it's a mistake. It's a bitch of an injury."
It perhaps could all have been avoided in the first place, with Messi injured at PSG following a gruelling trip to South America for back-to-back World Cup qualifiers in March - the second of which was played at high altitude in Bolivia, leaving the Argentines exhausted. Back at Barcelona following the long journey, Messi featured for 90 minutes in the Catalans' 2-2 draw at Celta Vigo before the trip to Paris in midweek. International team-mate Javier Mascherano was also injured in the French capital just days after returning from South America. It hardly seemed a coincidence.
"Leo could do with a rest," former Argentina fitness coach Fernando Signorini said last week. "If he accepted it in some of his commitments, it would be good for him to save up some minutes because for some time now he has been pushed too hard."
But Messi also pushes himself too hard. "Leo won't listen," Signorini added. "He is like Diego [Maradona]. They always want to play and to be the best in the world they always demand the maximum from themselves."
Leo won't listen. He is like Diego [Maradona]. They always demand the maximum from themselves..."



- Former Argentina fitness coach Signorini

New Barca boss Gerardo Martino has been criticised in some quarters for Messi's latest problems, yet the Argentine coach had hoped and attempted to avoid such a situation. By deploying Leo in a deeper role and occasionally on the right, 'Tata' believed the 26-year-old could play at a lesser intensity than usual. But he couldn't: Messi gave everything anyway and ignored instructions to slow down. His competitive nature simply would not allow it.
Martino has not changed anything regarding Messi's fitness programme, with the Argentine still following a special regime at the Catalan club. "Leo lives for football," Fabregas said in an interview with
Cadena SER
on Thursday night. "He is doing exactly the same things he did with Pep and with Tito [Vilanova]..."
There have, however, been some changes in personnel. Physio Juanjo Brau has shadowed Messi in recent years, following the forward to every game home and away for club and country to aid in his recovery and leaving no stone unturned in his rapid recovery to full fitness on each occasion. Brau became a friend and almost a father figure for Leo, telling the Argentine what to eat, when to rest, for how long and so on.
But Brau and Messi no longer work together on a day-to-day basis after the physio was promoted to a different position at Camp Nou. Fitness trainer Elvio Paolorosso, brought in as part of Martino's coaching team (instead of Lorenzo Buenaventura, who departed in the summer to join Guardiola at Bayern), is in close contact with the Argentine, while Brau is now again (perhaps belatedly) being carefully consulted as Barca seek a solution to the player's problems. Like Buenaventura, physio Emili Ricart also left the Catalan club, although he never really worked directly with Messi anyway.
"Technically there has been no change in Messi's training programme and he is still doing everything he did before, but Brau's lesser involvement means he may not have quite the same guidance as before," a source close to the Catalan club told
Goal
.
IN NUMBERS
Messi's injury-interrupted year

4
The Argentine has suffered four separate muscle injuries in 2013
8
Leo looks likely to spend eight weeks on the sidelines with his latest problem
14
The 26-year-old travelled to 14 different countries in the summer and received little rest time
16
Leo has featured in 16 of Barca's 19 games so far this season, but could now miss the next 10
46
Messi has netted 46 goals for club and country in 2013, just over half his record of 91 last year
Pre-season probably didn't help either. Messi travelled to 14 countries across four continents for friendly fixtures with Barca, charity events and benefit matches. He simply couldn't say no - but he should have.
"In retrospect, all of that may have been harmful," the source added. "Messi travelled far and wide in pre-season, to Poland, Israel, Thailand and Malaysia with Barca, to Colombia, Peru and Guatemala for other games and also to Senegal with his Foundation. Having ended the season with an injury, it may not have been the most suitable preparation."
There are other key factors, however. Leo was laid low by the illnesses suffered by both team-mate Eric Abidal and - in particular - coach Vilanova. Tito's troubles hit the dressing room hard and Messi was particularly vulnerable. Having ended on poor terms and barely speaking to Guardiola, Leo looked up to Tito (by whom he had been coached as a youngster) and the stress took its toll, while Vilanova's shock exit in late July also set Barca back in the club's pre-season preparations.
"This has been a very stressful year for Messi, with the illnesses to Tito and Abidal and also his court case [for tax evasion]," the contact continued. "Mentally he has been affected and that looks like it has manifested itself in the form of physical problems. It is all related."
Perhaps the real reason Messi has been unable to take care of every single detail as he had before, though, is fatherhood. Son Thiago was born last November and Leo's life changed dramatically. His priorities changed and his rest time has been affected. The Argentine still wants to be the world's finest footballer, but is now also desperate to be a fantastic father too - and that means sacrifice.
"Being a father is a big change for a footballer. You have to manage your time differently and that may have affected his sleep patterns. At this level, such slight alterations can make all the difference in terms of fitness and recovery," the source added.
At the back of Messi's mind is also the World Cup. Having won abolutely everything with Barcelona in recent years, the forward's thoughts are turning to Brazil 2014 and what will be his best chance to claim football's greatest prize with Argentina and emulate Maradona. Team-mate Mascherano claimed recently that Messi will manage his fitness this term with the World Cup in his head and clearly the aim will now be to peak in the summer, not necessarily in April or May.
"The World Cup is in his mind and that's normal, but Barca are also concerned by his problems this season," our source summed up. "That is why he is being given longer to recover this time. They expect him to come back strongly in 2014."
Follow Ben Hayward on