Brendon Netto


COMMENT | England

Follow on
Going into the summer, Manchester United had a distinct idea of what their primary target was in the transfer window. They needed a central midfielder with creativity, vision, passing range, a goal-scoring threat and the ability to drive them forward or track back. In a nutshell, they were looking for a young Paul Scholes. However, having chased the likes of Thiago Alcantara and Cesc Fabregas in addition to being linked with several others, United find themselves embarking on the more likely pursuit of Marouane Fellaini, who is perhaps far from the midfielder they had in mind.
United have had a £28 million double bid for Fellaini and Leighton Baines rejected by Everton who branded it 'derisory' and 'insulting'. The Premier League champions are expected to go back with an improved offer though.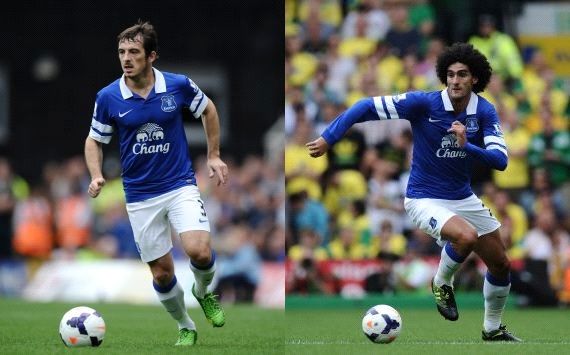 United's £28 million bid for Fellaini and Baines was rejected
Fellaini is associated with physicality and power rather than guile and skill, which is what United initially set out to recruit at the start of the summer. Of course, there's every chance that they would have liked to sign him anyway as well as the more cultured midfielder they desire in order to boost their options but at the moment the prospect of signing a Fabregas or Luka Modric is looking pretty bleak.
At some point, United and their fans may be forced to come to terms with the fact that Fellaini could be their only arrival in midfield for now. The Belgian is known to be keen to reunite with his former boss David Moyes and has repeatedly voiced his desire to move to a bigger club in the past. However, one wonders whether he could benefit United or hinder the attacking football they're desperate to maintain and indeed build on.
Looking at the way the team sets up at the moment, a midfield duo of Fellaini and Michael Carrick doesn't look very appealing. Yes, Carrick has a vast array of passes and the Everton man is no slouch either but neither have the kind of pace or quick feet to drive forward with the ball and offer penetration from midfield. Therein lays the danger of both players sitting too deep and thereby holding the entire team back too.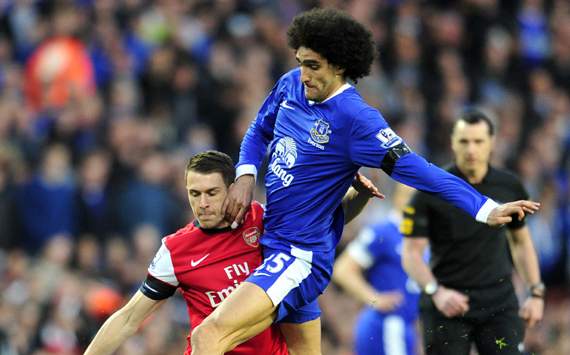 Fellaini isn't the crafty midfielder they were looking for
Nevertheless, altering the current 4-4-1-1 system United employ could change everything. Fellaini has often been used as an attacking midfielder at Everton but that was a specific ploy designed for a more direct approach which Moyes will rarely adopt at his new club, if at all. The player himself has spoken of his preference to feature as a holding midfielder.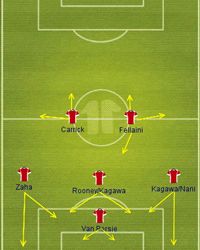 United's 4-2-3-1 system with Fellaini
So if a central midfield partnership of Fellaini and Carrick would be inclined to sitting deeper and content with anchoring the midfield, shielding the defense and making rare forays into the attacking third, then maybe that's exactly what they should do. A 4-2-3-1 formation could be the solution as it demands the presence of two holding midfielders capable of distributing the ball well and protecting the defense.
With Robin van Persie leading the line, Moyes could deploy three out-and-out attackers in support of him with the insurance of Fellaini and Carrick to fall back on. Rather than having the wingers regularly tracking back and the second striker dropping deep as well, the system would ensure that the four foremost players would make for a pretty potent attack while the deeper lying midfielders would offer cover for a defense that proved to be so frail last season.
The 4-2-3-1 system has worked well for several sides including the Netherlands national team, Tottenham Hotspurs and Borussia Dortmund but perhaps the team who most resembles how United's midfield would operate is Real Madrid, not this season but in the two or three preceding ones.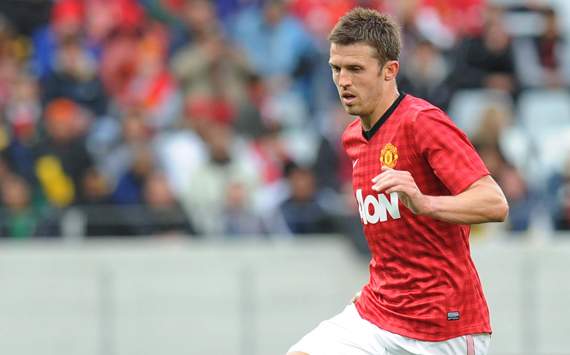 Could Fellaini & Carrick be a good partnership for United?
Xabi Alonso and Sami Khedira were consistently the two men in the middle of the park for Madrid. Alonso, much like Carrick, was the distributor who picked out the long-diagonal balls and also knitted the team's play together with intelligent short-passing. He didn't slide into tackles on a regular basis and instead made more interceptions.
Khedira on the other hand, was the more physical of the two and had the legs to track back to good effect, make tackles and occasionally carry the ball forward which is precisely the same way in which Fellaini could complement Carrick if United adopts this system.
The towering midfielder also offers a threat from set-pieces and is equally effective when defending against them. He has an eye for goal and can boost the output of the midfield department in that regard. United scored freely last season but very few of those goals came from midfield, an aspect they'll be eager to improve on. With Fellaini making late runs into the box from deep, he may arrive unmarked and if the quality of crosses are good enough, it could be open season for the big man.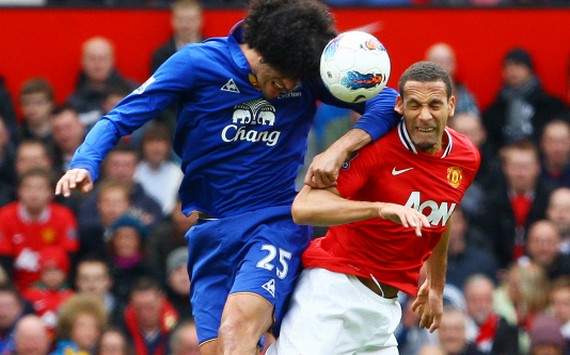 Fellaini offers an aerial threat & can score goals
This is not to say that deploying Fellaini and Carrick in a 4-2-3-1 system will be United's only choice but if they don't sign a more creative option in the middle of the park, then it could the most competent one. The Belgian's proposed inclusion may threaten to give their midfield a sluggish appearance but he can definitely be used to the team's advantage as well. Ultimately, signing the 25 year-old is far better than signing no one at all.
There's still a chance that the Red Devils may land a different quality midfielder more suited to their style and that, along with the prospective signings of Baines and Fellaini, would give their title defense a massive boost. However, if the Belgian international is to be their only midfield addition, he can be beneficial for the team even if he isn't the tactical fit they were looking for. At the end of the day, Fellaini is nothing if not effective.
Can Fellaini succeed at United? Send in your thoughts in the comments below or discuss with the writer on Twitter @BrendonNetto.
How do you stay up with football when on the move? With http://m.goal.com –your best source for mobile coverage of the beautiful game.