---

BY AYUSH SRIVASTAVA

Follow @ayush_sri on twitter
---
Liverpool have made some steady progress this transfer window, having sealed the signature of 4 players, who they will hope add some strength and depth to their squad.
However all of Brendan Rodgers' good work has been put in the shade by Luis Suarez's wish to leave the Reds for a side which could match his ambitions.
The unconditional support that the Anfield based club gave to the Uruguayan, sometimes at the expense of taking a hit on its own image, is well documented. At the end of last season, there was hope amongst the Liverpool faithful, that the player, who had a brilliant, as well as another controversial campaign last time round, would repay their trust in him by guiding the Red into a Champions League spot next season.
The player though, obviously felt otherwise, but instead of expressing his motives behind such a move in clear terms, he decided to blame the 'treatment' meted out to him by the British press and authorities, who he stated were driving him out of the country.
His words though, did not fool too many people, and even the fans who had shown something close to blind faith in him, realized that it wasn't the press, but his ambitions that had made him ask for a move, though he stopped short of putting in a transfer request.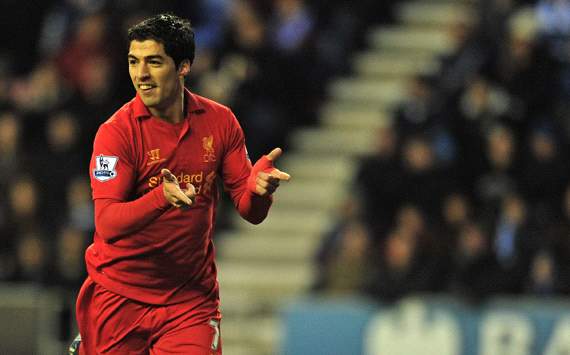 Suarez pointed his fingers at the media...
The player possibly thought that if he blamed the press for his exit, the fans would not tag him as being ungrateful after receiving their vociferous backing, and he would not be pasted as a villain by the supporters, in the same way as Fernando Torres was, when he left the Reds for Chelsea.
Truth though, can seldom be hidden, and in recent days, Edinson Cavani's statement about Suarez and his situation at Liverpool, as well as the former Ajax forward's own flirtations with Arsenal have finally let the cat out of the bag.
Cavani in a recent statement to the press had stated how Suarez would have loved to stay with the Anfield based club, if they had been in the Champions League.
And when recently Suarez himself came out and tacitly invited Arsenal's interest in him, there was enough clarity on why he wishes to leave Liverpool.
Because after-all, the media that 'haunts' him in Liverpool, will only grow more intense when he moved to London!
The fact is, and has always been, is that after a season where he almost single-handedly saved the Reds on numerous occasions with his goals and trickery, the player has realized that it might be a few years before he can truly challenge for titles at Anfield, as Rodgers' revolution continues at a steady pace.
However at the same time, he wanted to leave the club on good terms with the fans that had backed him during his very controversial two and a half years with Liverpool, and was hoping to use the media harassment card to fashion a move to Real Madrid.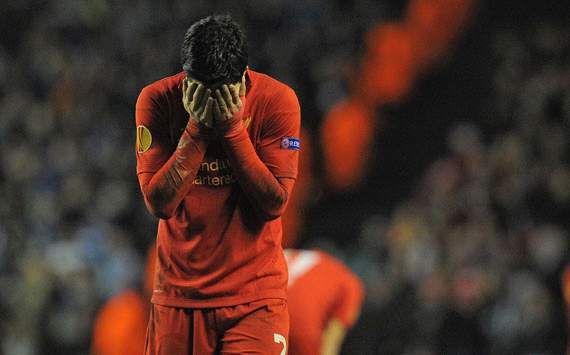 After inviting Arsenal's interest, Suarez now has nowhere to hide...
This contact though, did not materialize into a bid, and seeing how Arsenal were the only ones who actually made an offer, which was promptly rejected by the Merseysiders, the Uruguayan realized that this might be his best chance to leave.
In doing so however, he seems to have finally alienated the fans, who are still bitter at the circumstance under which Fernando Torres departed. Infact if Suarez had been more honest with the supporters, they might well have held no grudges against him, seeing how it was obvious that he is a player who should be playing at the highest level, whenever he turned out for what was generally a very mediocre Liverpool side, especially in the first half of the season.
El Nino atleast, was very upfront about his reasons for leaving the club, as he realized that it might be a long while before he won anything at Anfield.
Suarez on the other hand has not only shown lack of loyalty towards the fans, but by not even being honest about his motives, he has assured that even if a move away from Liverpool does not materialize, he can expect an acrimonious reception from the Anfield faithful.
On their part, Liverpool would be right to not agree a cut-price figure for a player, whose match-winning abilities are in no doubt and it would be even more suicidal to sell to a team who could well be their major contender for a top 4 spot in the Premier League.
If they could though, get the right fee for him, from a club abroad, then it would be in their best interest to move out the player, whose various controversies have often besmirched the reputation of the club, and whose value, after a brilliant last term, may not be higher in the future.
---

BY AYUSH SRIVASTAVA

Follow @ayush_sri on twitter