Brendon Netto




Comment

| England


Follow on
When David Moyes accepted the offer to become Manchester United's new manager after the club enjoyed a 26 year era under Sir Alex Ferguson, he always knew it was going to be the most challenging job in football. Replacing the most decorated manager in Britain is intimidating, especially when you're yet to win your own bit of silverware but the most daunting of tasks is to replicate the charisma of the man and reconstruct the "aura of invincibility" around the club.



"The aura that Sir Alex had, David Moyes does not yet have. This could have a direct influence on the players of Manchester and their opponents. United had, because of Sir Alex's history of winning, an aura of invincibility."





- Andre Villas-Boas
As United's boss, Moyes is quickly learning that anything he says or does or doesn't say or do will be endlessly scrutinized and judged. If he came in all guns blazing, the approach might have been misconstrued as disrespect for the previous regime and possibly obnoxiousness. Meanwhile, tact is appreciated but if too subtle can go unnoticed and misunderstood for idleness. Yes, he's got to find the right balance but first and foremost, he needs to take his seat.
What so many conveniently overlook is the fact that the former Everton manager is yet to take over in an official capacity. Moyes is set to be unveiled as the new manager at Old Trafford on Monday but that hasn't stopped his critics from jumping the gun. Sadly, it also hasn't kept certain sections of United's fans from being discontent with his appointment and skeptical of proceedings at the club since.
"Why sign Guillermo Varela when we've already got Rafael?" some ask when perhaps the signing should serve as a reassurance that Moyes appreciates the groundwork done by the previous administration and isn't just going to discard their efforts. Varela spent time on trial at Old Trafford last season under the supervision of Ferguson and his staff. The fact that the full-back is regarded as Moyes' first acquisition, is a statement of continuity.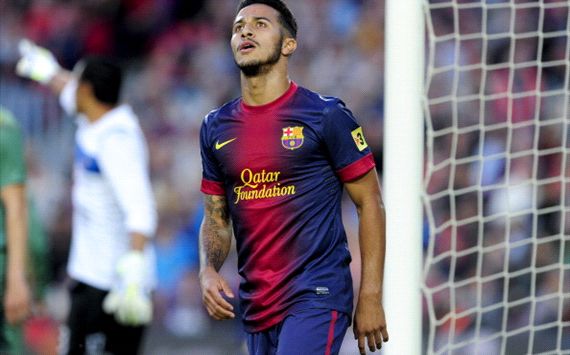 Fans frustrated by lack of transfer activity
Some fans have grown frustrated by the fact that United haven't made a big signing so far, even though the transfer window isn't even officially open yet. "Sign Thiago already!" a few implore given Alcantara's widely publicized release clause but with Barcelona desperate to hold on to him and pulling out every stalling technique in the book, patience is the order of the day.
Then of course, there's the absence of a trophy on his resume for him to answer for. He came close to winning the FA Cup in 2009 but was narrowly beaten 2-1 by Chelsea in the finals after eliminating United in the semis. However, Everton were never really in a position to win trophies.
When he took charge of the Merseyside club, they were languishing at the bottom of the table. He dragged them up to the top half and subsequently into European spots with a lot of grit and determination while operating on a shoestring budget. Had he surfaced in the late 80's or early 90's like Ferguson, he may have taken the club right to the top but the reality is that teams with greater financial muscle like Chelsea and Manchester City blocked his path to the top four.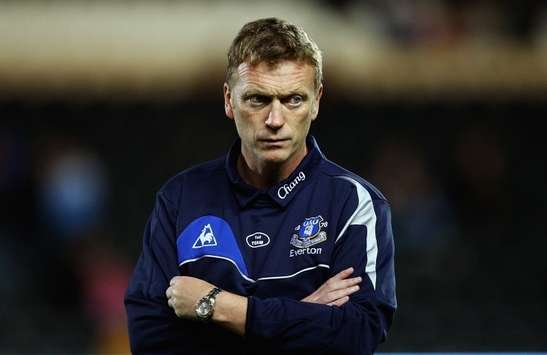 Moyes surpassed expectations at Everton
Skeptics have suggested that Moyes' arrival spells doom for United's attacking brand of football and that's been a chief concern among the fans as well. However, that notion is harsh on the 50 year old and shallow in its thinking. Yes, Moyes was a defender in his time as a professional and he moulded Everton into a solid unit but there's certainly more to his approach than just that.
At Goodison Park, he had to make do with the resources at his disposal. He made sure his team was organized and compact so they weren't easily beaten. Where's the harm in laying down a solid foundation? He demanded a high work-rate from his players and instilled a dogged attitude in them. Their relentlessness was especially evident when they came back late in games to draw 4-4 at Old Trafford in 2012 and 3-3 at home to United in 2011.
| | | | | | |
| --- | --- | --- | --- | --- | --- |
| Club | Games | Won | Drawn | Lost | Win% |
| Preston North End | 234 | 113 | 58 | 63 | 48.29% |
| Everton | 518 | 218 | 139 | 161 | 42.08% |
Roberto Martinez won plaudits for Wigan Athletic's attacking play but the fact is that they were in a relegation battle every season and eventually succumbed last term. Blackpool were an exciting side to watch a couple of seasons ago but they went straight back down to the Championship. Swansea City have had spectators swooning in the last couple of seasons and while they've done well, they finished three places below Everton on both occasions.
A lot more firepower available at United
If United wanted to play beautiful football which doesn't always guarantee results, like Arsenal have been accused of doing, then Moyes is not the man for the job. But if the club needs a coach flexible enough to maintain an attacking brand of football and mix it up with grit when needed to grind out victories and consequently win titles then there's no fault to be found in Moyes' approach.
He has shown in the last couple of seasons that he can produce an attacking brand of football while being able to force a result as well. United have needed that kind of approach over the years and the fact that, like his predecessor, the Scot also has the ability to adapt to situations bodes well for a club obsessed with winning.
Recruits like Kevin Mirallas, Nikica Jelavic and Steven Pienaar gave Everton a much more attacking look in recent times and pointed towards the direction they were heading in. It's not that Moyes favours a defensive style but more likely that he simply had to bow to it under the circumstances to get results.
"I was brought up on the best attacking team ever - Glasgow Celtic - so that is in my blood, because of what was demanded and expected there. I want my teams to play that sort of attacking football, but sometimes you have to find a way of winning even when you're not playing well. You can only do the job with the tools you've got."





- David Moyes

Moyes is a flexible manager and instead of worrying about how he could curb United's attacking instincts, fans should be excited about what the club could bring out in him. He could finally embrace the idea of indulging in a more expansive style of football, one that he didn't have the luxury of even considering at Everton. Now he has the resources and players to accomplish that and with the support of his new fan following, he can ensure that United's identity stays intact while working towards reestablishing that distinct aura of invincibility.
Do you think David Moyes will be a success at Manchester United? Send in your thoughts in the comments below or discuss with the writer on Twitter @BrendonNetto.
How do you stay up with football when on the move? With http://m.goal.com –your best source for mobile coverage of the beautiful game.