In this edition of 'The Good Life', Goal,com takes a look at Marco Reus; one of the hottest properties in world football, who is tipped for greatness.
Marco Reus was born in Dortmund, North Rhine-Westphalia, Germany. Reus started his career with Dortmund before being deemed surplus and was sold to Rot Weiss Ahlen. Known for his versatility, speed and technique, Reus was garnering the world's interest with the Bundesliga II side . He was snapped up by Borussia Monchengladbach after his definitive breakthrough and meteoric rise . He came into prominence with the Die Fohlen, most notably in the 2011-12 season where he scored 21 goals and set up a further 12,
helping Monchengladbach to a 4th placed finish in the Bundesliga. Such performances earned him a dream move return to his boyhood club, when Borussia Dortmund signed him for €17.1 million on a five-year deal. Since then, Reus has been a inseparable part of an overachieving Dortmund side.
German blonde Reus is fastidious about his hair. A mohawk, skewed hair, shaved sides with a spiky top, you will see all of them on the stylish Dortmund man's head.
Emulating 'The Little Mozart' Tomas Rosicky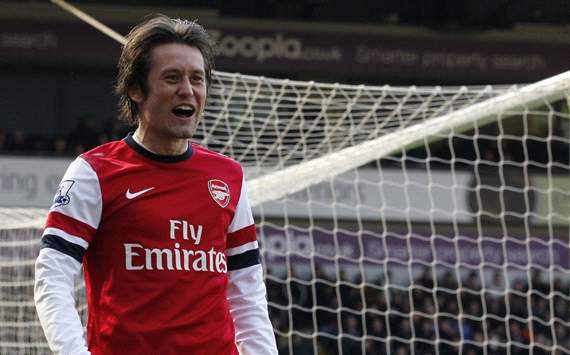 Rosicky - Reus's role model
Marco is a huge admirer of former Dortmund star Tomas Rosicky, and admitted that he tries to replicate the Czech midfielder. "My idol was always Tomas Rosicky. He used to be phenomenal. He had such a good eye for an opening and knew where his team-mates were, and he was so quick. Rosicky had great technique and was so intelligent and mature even though he was still young at Dortmund. I copied everything about him, right down to his sweatbands. He was so unlucky he had bad injuries at Arsenal, otherwise, he would be one of the world's best players."
Gotzeus - Dortmund's Dynamic Duo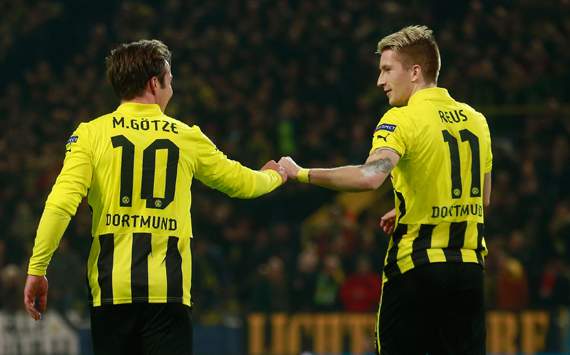 Gotze and Reus have been prolific for the Borussians

Marco Reus is known for his close links with his Dortmund teammate Mario Götze, and are branded affectionately as Götzeus(Götze-Reus) by German media. Combining extremely well on the field, "Götzeus" are best buddies off the field too. The duo have scored a combined of 25 goals this season between them, also setting up a further 22. They are also well known vintage celebration, jumping in the air, clashing their backs against each others. They often enjoy playing table tennis, although Reus admits that he always ends up losing against his compatriot.
Xavi and Iniesta comparisons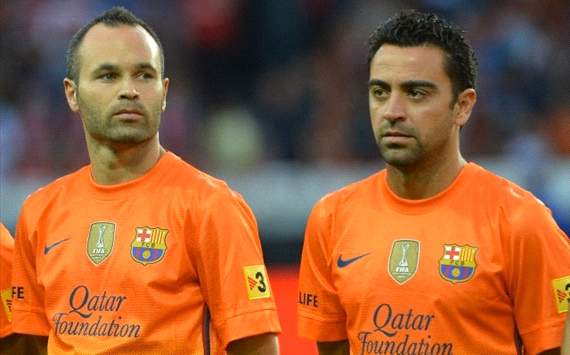 Beckenbauer likens Gotzeus to the Barcelona midfield geniuses

Germany and Bayern Munich legend Franz Beckenbauer recently labelled Marco Reus and Mario Götze as the 'strongest midfield duo' in world football, and even better than Xavi and Iniesta. "At Barcelona Lionel Messi, Andres Iniesta and Xavi are building a triangle. But as a classic duo, there is nobody better than the prolific Reus and Götze."
Rituals and superstitions

Footballers have some superstitions and pre-match rituals. Some seem to be bizarre, while some are comic. Marco Reus makes sure his side wins and he too performs well, with his pre-game ritual. Reus always puts on his right socks, right shin guards, and right boots first. And while stepping on the field, he always steps with his left foot first.
Due to his stellar performances, German tabloid "Bild" nicknamed Reus as "Rolls Reus", referring to British Car manufacturers Rolls Royce.
Reus was nicknamed 'Woody Woodpecker' by his Mönchengladbach teammates, as they found similarities in the head movement of the German and the funny cartoon character.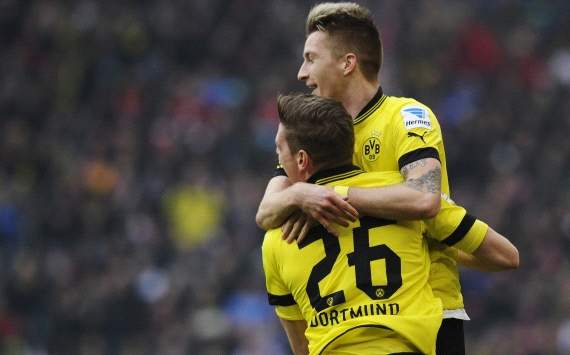 Tattoos have become one of the most common things you will ever see associated with a footballer. Although Reus is not a tattoo freak unlike Fenerbahce's Raul Meireles, he does have two tattoos of his own. Both being on the left hand, the first one contains his name 'MARCO' followed by the birthdate '31-05-1989'. The second one is a quote from Oprah which reads : "The biggest adventure you can take is to live your dreams"
Favourite Sport (besides football) - Table Tennis
Favourite Food - mashed potatoes, goulash, cabbage
Favourite singer - Justin Bieber
Favourite movie - Hangover 2
Music - R 'n' B and hip hop
Favourite video game - FIFA ( He often used to play FIFA 12 with then Mönchengladbach teammates Roman Neustadter and Tony Janstschke)
Reus is contracted with Puma to wear their performance and lifestyle footwear and apparel on a long-term basis. Reus became an international communication asset for their Power Silo, as a supporting player to Cesc Fabregas for Puma Power football products. He wears the Puma PowerCat 1 FG boot.
How do you stay up with football when on the move? With http://m.goal.com –your best source for mobile coverage of the beautiful game.