COMMENT
By Mark Doyle
Two ill-advised outbursts of differing degrees of severity made headlines this week. The first came from a wearily predictable source: Joey Barton, who was ultimately forced to apologise by his club for another attack on a fellow professional, with the one saving grace being that at least this time the assault was of the verbal variety.
However, if Barton's characteristically crass and witless comments were entirely unsurprising, Franz Beckenbauer's distinctly invidious appraisal of Gianluigi Buffon's performance against Bayern Munich on Tuesday night was anything but.
The 35-year-old Juventus goalkeeper had been at fault for both of the goals his side had conceded in their comprehensive 2-0 defeat in Bavaria, failing to change direction in time to keep out a deflected long-range drive from David Alaba before then spilling an equally slow-moving strike from Luiz Gustavo, thus leaving a disbelieving Mario Mandzukic with the rather straightforward task of teeing Thomas Muller up for a tap-in.
The nature of the errors were shocking; Beckenbauer's reaction even more so.
"Buffon looked like a pensioner," the Bavarians' honorary president told Germany's
Sky Sport
. "He should have saved that shot [from Alaba]. Maybe, he was not expecting him to strike it from there: Alaba shot from 120 metres!"
Buffon looked like a pensioner. He should have saved that shot. Maybe he did not expect Alaba to hit it from there: he shot from 120 metres!





- Franz Beckenbauer

That Buffon appeared to be moving in slow motion as he attempted to scramble back across his goal to keep out Alaba's bouncing drive was beyond dispute. However, a goalkeeper considered by some as the greatest of all time deserved better than to be the subject of such snide remarks. It was only right, then, that there was a swift show of support for a man who has so often leapt to the defence of others.
"Certain comments made by an icon like Beckenbauer were hurtful," Juventus director general Beppe Marotta stated. "They concerned another icon called Buffon, to whom great recognition comes from not only Juventus fans, but I believe all supporters of the national team, to whom he has given great satisfaction with his performances.
"Furthermore, he is a special man, a great professional full of humanity who is used as an example to follow by all of our young people and, as such, should be respected."
Millons across Italy agreed. However, that did not dissuade TV show '
Striscia la Notizia
' from presenting Buffon with a blanket, a dressing gown and a pair of slippers upon his return to Turin.



[Buffon] is a special man, a great professional full of humanity ... and, as such should be respected.





- Beppe Marotta

Buffon's reaction to such public ridicule spoke volumes about his character, the World Cup winner exuding a class and humility that were so conspicuous by their absence from Beckenbauer's comments.
"Making mistakes happens a lot in this type of profession," the Italy captain mused. "But I'm sorry because I compromised the game. I'm sorry for myself, for my team, for my people.
"I cannot take exception with anything said by the wise old man Beckenbauer. As the old adage goes: 'When you are the hammer, you hit; when you are the anvil, you stay put.' ... You just have to keep quiet and wait for the next game."
That Buffon took both the 'gifts' and the 'joke' with such grace was typical of the man, as Italy coach Cesare Prandelli acknowledged.
"Gigi responded very well, with great composure, with great irony ... but then, pensioners are wise people," the former Fiorentina boss joked.
"All joking aside, though, Gigi has shown and will show a great response; everything will be decided on the field."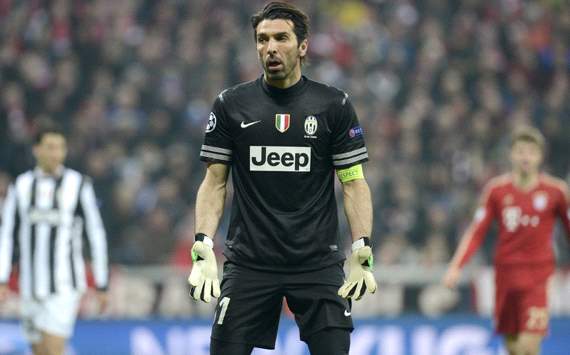 Beggars belief | Even Buffon himself was shocked by his errors against Bayern
Indeed, who would now bet against Buffon issuing the perfect riposte on Wednesday night? In that context, Beckenbauer's outburst was really quite silly. No player should be above criticism and yes, Beckenbauer made his comments with a smile on his face, but they could prove horribly counterproductive.
Der Kaiser
has offered similarly harsh appraisals in the past - he called Bayern's players "pensioners" after a 3-0 defeat away to Lyon during their 2000-01 Champions League campaign but Stefan Effenberg subsequently claimed that the criticism spurred them on to victory that season. However, this was different: these were not barbs aimed at his own players; they were not motivational. At least not for Bayern, with the irony being that rather than invoke a response out of his own side, Beckenbauer now runs the risk of provoking a Buffon-led backlash out of the
Bianconeri
.
Still, regardless of the outcome on Wednesday night, Buffon has already reminded Beckenbauer, and everyone else for that matter, that a true legend is a class act off the field, as well as on it.