COMMENT
By Ewan Roberts
History shows that genius and madness often go hand-in-hand, that in the eye of brilliance resides a certain kookiness, a way of behaving that defies normal convention. Whether it be Lord Byron wondering the halls of Cambridge with a pet bear on a leash or Pythagoras's irrational distrust of beans.
That extends to football as well. Some of the most wonderfully inventive players have also been the most wildly unhinged. From Eric Cantona karate-kicking a Crystal Palace fan to the larger-than-life Diego Maradona, from Paulo Di Canio pushing over referee Paul Alcock to Zinedine Zidane headbutting Marco Materazzi in the final of World Cup 2006.
Football is flooded with such controversial and volatile characters, players who can often appear determined - predisposed, even - to throw away their enormous talent. Yet we do not care. Football fans will worship even the most tainted of icons and, in Wayne Rooney, England have their very own temperamental genius.
THE NIGHT THINGS CHANGED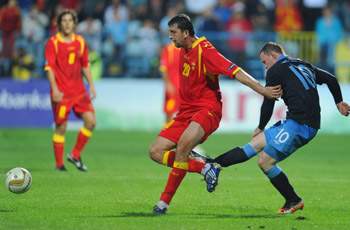 ROONEY v MONTENEGRO, OCT 7 2011




Always looked to pull the strings for England, dropping deep more often than not. Passing was sloppy at times but continuously looked a threat when in possession. A remarkable moment of stupidity then saw the Manchester United talisman sent off for kicking out at Dzudovic and he will miss the start of Euro 2012.
FROM OUR LIVE! COMMENTARY


RED CARD! Wayne Rooney kicks out wildly after losing out in a physical battle and is sent for an early bath by the referee. Absolute insanity from the forward in a crucial tie here.
On Tuesday night he returns to Podgorica almost 18 months after receiving a red card for lashing out at Montenegro defender Miodrag Dzudovic; the hope is that he can block out the baiting home fans, ignore the Brave Falcons' attempts to wind him up and show how much he has matured since his last visit to the Podgorica City Stadium.
"There is no doubt that Rooney is one of the best strikers in the world but we know from the last time England played here that he can sometimes play with a hot head," said Montenegro skipper Marko Vucinic in the build-up to the match, eager to prey on that particular pressure point.
All eyes are on the Manchester United forward, waiting to see if he can repel the urge to erupt in an environment that is likely to be hostile and intimidating. In the past there was a sense that no transgression could dislodge Rooney from the public's favour, such was his talent and value, but not this time. This time it feels like the last-chance saloon for the 27-year-old.
That is not so much because of the volume of misdemeanours which he has amassed on his rap sheet but because the moments of match-winning brilliance which accompanied those rushes of blood to the head have dried up. Rooney has not developed into the player that he was supposed to become, his ability is no longer so vast that people will clamour to defend his shortcomings.
It is a decade since he made his debut for the England national team as a 17-year-old, an all-action, unbridled force of nature and the most gifted player of his generation – perhaps any generation of British talent. His ability was obvious and so was his impulsiveness.
But his genius was so rare – especially in an era of English football during which Darius Vassell and Emile Heskey (who scored, combined, 13 goals in 84 appearances for the Three Lions) were regulars in the national side – that his character flaws, no matter how perverse or explosive, were forgiven. England needed Rooney, a lone, peerless spark of creativity, verve and threat, whether he was a hothead or not.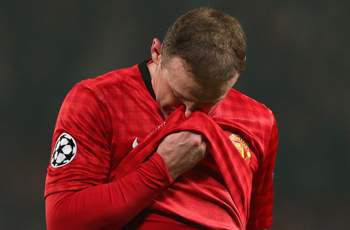 For club and country, Rooney is no longer the talisman that he once was

Yet many felt that the United star had to change, had to grow up, and Rooney conformed to that logic. He picked up no yellow cards in the 2011-12 season after lashing out at Dzudovic and has just six cautions to his name in all competitions this term. He is a reformed character, yet with that new-found cleanliness has come a degree of passivity.
For club and country, Rooney is no longer the talisman that he once was. Pushed down the United pecking order by the arrival of Robin van Persie, the ex-Evertonian has struck just 12 Premier League goals in 2012-13. He was also ousted from the starting XI for the key Champions League clash with Real Madrid in favour of Danny Welbeck.
In international tournaments, he has scored just once in his last 10 appearances, having bagged four goals in his debut tournament in Portugal in 2004, while Arsenal's Jack Wilshere is the new bannerman for the future promise of English football.
Efforts to tame Rooney's fiery side have diluted his on-field influence and perhaps the question that should dictate build-up to Tuesday night's match is not whether or not the forward can keep his cool but if he should.
Taming the devil inside him has defanged Rooney. Every effort that he has made to taper his temper has also diluted his passion on the pitch, every effort made to become more mellow has reduced his explosiveness. His personality was so closely tied to his football identity that, in curbing his inherent nature, he has built a dam to his brilliance.
Football fans – especially followers of the Three Lions, so desperately searching for a hero onto whom to latch – will accept almost any shortcoming or indiscretion as long as it is accompanied by genius. You can bet that, if Joey Barton had the pace and power of Cristiano Ronaldo or the poise and majesty of Lionel Messi, he would be the most revered man on England's green and pleasant lands.
England need more of the volatile, lawless, heart-on-the-sleeve Rooney whose energetic genius lit up Euro 2004 and less of the passive, timid, conformist Rooney whose edges have softened. Rather than dispel or hide his anger, he ought to channel it.
While Rooney remains clawless and devoid of spark, his inevitable outbursts and relapses of his inexplicably stupid old self become harder to defend. We can accept the brilliant madman, complete with pet bears and bean phobias, but not the one who provides nothing, whose genius resides in only temporary glimpses of what could have been.
Follow Ewan Roberts on