Brendon Netto




Comment

| England


Follow on
Blackburn Rovers have endured a trying period over the last 18 months or so. After a prolonged presence in the Premier League, the club was relegated to the Championship and subsequently underwent three managerial changes since, leaving their fans disillusioned with the actions of their Indian owners, Venky's.
In a recent exclusive with Goal.com, Venky's Managing Director Balaji Rao expressed the company's desire to persist with the club while still harbouring hope of promotion back to England's top flight and his desire to exercise the club's brand in the Indian football circuit. While his optimism is refreshing, it may be a tad premature. Meanwhile, the reasoning behind the most recent sacking of Michael Appleton also raises more questions than answers.
"I want to go up (get promoted) and not go down, period. Mathematically (we could get relegated), and I don't want us to go down. Gary Bowyer will continue to be the manager for the rest of the season."
Mathematically, they most certainly can get relegated since they are only 4 points clear of the drop zone at the moment. Nevertheless, Rao chose to focus on the significantly less likely and only marginal mathematical possibility of making the play-offs for promotion, a target they are 13 points away from with only 9 games remaining.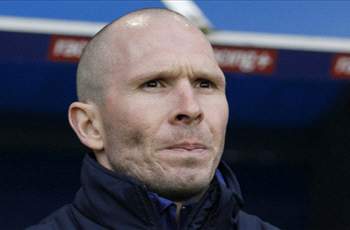 Appleton| The latest to get the axe
Meanwhile, Rao suggested that Bowyer will act as a caretaker manager until the end of the season after which they will consider a more permanent candidate. In that case, why not just let Appleton see out the rest of the season instead of having the assistant manager step up which would have spared them the hassle of a substantial severance payment as well?
The Managing Director cited the fear of relegation as the primary reason behind Appleton's termination but if that's the case then what makes Bowyer qualified to steer them away from the drop? Yes, he did manage to get three wins out of the four matches when he was in-charge of the club. But does he have the tactical nous to take the team into the Premier League?
Admittedly, Appleton wasn't the most experienced either but he still had 8 years as a first team coach at West Bromwich Albion behind him where he also had brief stints as a caretaker and assistant manager. He was in-charge of Portsmouth for a year before a short stay at Blackpool. Bowyer on the other hand, has only managed the reserve side for Blackburn apart from taking over as caretaker manager after Henning Berg's dismissal.
Rao also expressed his desire to use the Blackburn Rovers brand in Indian football. "For Indian football we have great plans. We are getting our own stadium up, and we are also looking forward to starting an academy. We are also planning to have our own team here in India. We will 100% use Blackburn Rovers' brand for the (Indian) club."
Now there's certainly no harm in starting an academy here in India. Other big-name clubs have made attempts at setting up similar academies in the past but with little success. Given that the Championship club have Indian owners, the likelihood of the project being handled with greater commitment is much higher.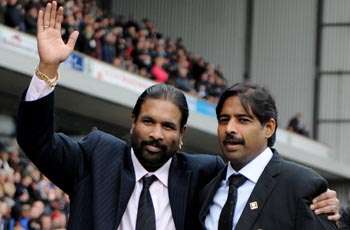 Venky's determined to influence Indian Football
Rao's further aspirations of forming a new club under the Blackburn Rovers' brand to participate in the I-League and his plans to set up their own stadium as well are very intriguing. There's every chance that the new club will attract plenty of publicity and perhaps benefit from their parent club in their endeavours.
The move may prove to be a progressive step forward for the I-League as well as for Indian football as a whole. It could also mean that the I-League outfit may benefit from taking bright young talent from their parent club on loan. They may even be able to lure some of the coaching and back-room staff to India in a bid to improve training regimes and help with the infrastructure of the club.
However, the problem lies in the spirit in which such news would be received back in England. Although these new developments would no doubt be promoted as a partnership or collaboration, the local fans may find it hard to see how the move would be mutually beneficial and you can understand why.
Yes, they may garner a few more fans in India as they already have since Venky's takeover but it is a question of whether the pros outweigh the cons. For ardent local Blackburn supporters, this probably isn't what they want to hear. From their point of view, their beloved club is on a downward spiral and they are showing no signs of recovery. With three managers in the span of a single season and the fact that they are currently in 18th place in England's second tier, they are very much a club in crisis.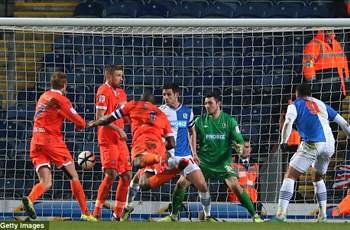 Blackburn are 18th in the Championship
For that reason, they may not agree with the initiatives of the owners who they already despise. They'd want them to address the issues within the club before engineering a move to form a new entity. They don't need a new club on the other side of the globe to feed off their resources. They need their owners to give their undivided attention to getting the Lancashire club back into the Premier League. While the Indian outfit would probably be labelled a 'feeder club', it's only a matter of time before the Blackburn fans brand it a 'parasite'.
Furthermore, it probably makes more sense for the owners to focus solely on promotion at the moment and then on establishing the team in the Premier League before drawing up any plans of opening a new branch in India. If they enjoy Premier League status, the project in India will only be more popular and have a far better chance of succeeding effectively in a much shorter time frame.
"Edinho is a good player and this is good exposure for him. It is also the first time that somebody with his caliber has come to India."
This is exactly what Blackburn fans will be living in fear of, courtesy of their owners' keen interest in Indian football which they are already starting to act on. Again, Edinho Junior playing in the I-League is great news for Indian Football. It brought on a bit of publicity and probably even sold a few more tickets but how exactly does the loan move fit into the player's development plan?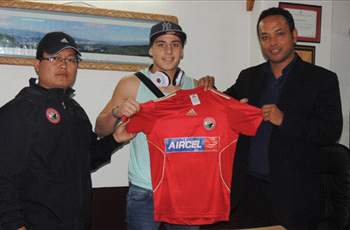 Edinho on loan to Shillong FC
Edinho is a young striker and while regular first team football is definitely beneficial to his progress and maturity, Blackburn fans would argue that he could have had better options in Europe, most likely back in his native Portugal if not in England itself.
Given the hype that surrounded the Indian National Team captain and arguably the best Indian talent at present, Sunil Chhetri when his move to Sporting Lisbon 'B' was announced, we've clearly established that even the Portuguese second division is superior to our very own I-League. Indeed, had the Sikkimese striker been afforded more game time in Lisbon, he probably would have stayed on instead of choosing to return to India on a loan deal with Churchill Brothers.
So why would one then choose to loan Edinho to I-League minnows Shillong Lajong FC when he may as well join a second division club in Portugal if not return to S.C. Olhanense, the Premeira Liga club he was with as a youth player? It would've made sense to have the youngster back in familiar surroundings while he hones his skills rather than playing on muddy Indian pitches against below-par opposition in the kind of heat he would never encounter back in England.
It would be remiss of us to blindly go along with the notion that the loan deal is in the best interests of the player and Blackburn without any favouritism towards Indian Football affecting the decision. Once again, it's a good move for the I-League but it does justifiably subject Venky's to scrutiny over their priorities from the Blackburn fans.
Finally, the appointment of Shebby Singh as their 'Global Advisor' in the summer of 2012 didn't exactly cover the owners in glory. The Malaysian reportedly never got along with the then manager Steve Kean while some of his comments about the players brought about unrest within the squad. Following Kean's resignation, Singh hired Henning Berg who was subsequently fired after 10 games and 57 days on the job.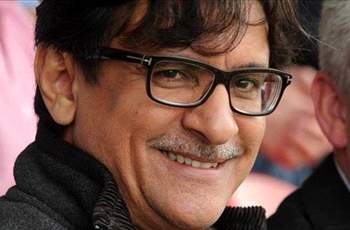 Shebby Singh has made some questionable decisions
Singh then publicly admitted that Berg's appointment was a 'mistake that he regretted' and gave assurances of signing an experienced manager in his place only to appoint the relatively unknown Appleton. It begs the question, why was Singh appointed in the first place? Yes, he was a Technical Advisor to Malaysian club Melaka TMFC but surely there were better candidates available in England and certainly ones with a better knowledge and understanding of the English circuit. His appointment was an early indication that the owners didn't know what they were doing, as far as the Blackburn fans were concerned.
If all their dreams and aspirations transpire, Venky's could well go down as visionaries and would have been of immense service towards the development of Indian Football but if they are indeed jumping the gun so to speak, they may be better off stepping back and assessing the situation first. Their primary objective should be to establish the club and strengthen the franchise before branching out. In order to do that, they'll have to win over their disgruntled fans sooner rather than later.
What are your thoughts on Venky's regime at Blackburn? Leave your comments below or discuss with the writer on Twitter @BrendonNetto.
How do you stay up with football when on the move? With http://m.goal.com –your best source for mobile coverage of the beautiful game.