SPECIAL


By Kaustav Bera




"Michael's first touch with the outside of his boot took him past the defender on the halfway line. After that he had just one thing on his mind. He went at their defence. His pace took him past a second defender and towards their sweeper, Ayala. When Michael's acceleration took him past Ayala on his right hand side it was like lightning. It was as if Ayala was standing still. We've always been amazed at how fast Michael runs with the ball at his feet. A little dummy and he was just away on the outside of the last man.Paul Scholes was steaming up on the outside and we were all thinking Michael was gong to give it to Scholesy who looked as if he had a straight on view of goal. Then suddenly, as his body was falling away, Michael cut across the ball and hit it back across goal. When the ball hit the net the feeling was fantastic. Unbelievable."


Glenn Hoddle might not have been anywhere close to being a great England manager (Who has in any case besides Alf Ramsey for that matter!), but these words about an 18 year old prodigy who took the world by storm will be forever remembered.
The player in question is none other than Michael Owen, arguably the best striker to have turned up for England in the present generation. With a 40 goal haul in 89 matches, statistics in this case at least paints a similar picture. Having turned out for some of the biggest clubs, the likes of Liverpool, Real Madrid and Manchester United to name a few, Owen was no slouch when it came to his feats at the club level, being the 2001 Ballon d' Or winner no less, for leading Liverpool to the cup treble (UEFA Cup) including his famous double in the 3-1 win over Arsenal in the FA Cup final.
The career graph of the diminutive English striker shows promising signs at the start of his magnificent career and it has been a steady decline to obscurity as he matured, a large part due to his hamstrings and a long list of injuries which has probably built up even more than his rather enviable trophy cabinet.
The only English player to be named European Player of the year, besides the legendary Stanley Matthews has not only lit up the field with his goal scoring feats but has the unique dinstinction of turning up for both - Liverpool and Manchester United, something which is unique in the Premier League era.
While Owen had reached super stardom with his stint with the Reds at the beginning of his career, his stint with Manchester United was equally celebrated, never mind the scarcity of appearances or the initial sceptisism, as he etched a permanent spot in the memory of the fans, with a late late goal in the 4-3 win over Manchester City in 2009. In his injury plagued three season sojourn with the Red Devils, Owen did manage to pick up a Premier League medal in 2011, even though most of his tenure was spent on operating tables and recuperating rooms.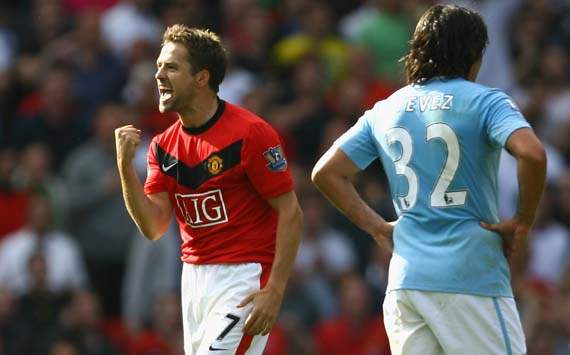 Owen's injury time winner against City was his most memorable goal
While injuries did play a decisive part in cutting short the rapid rise to stardom which befitted a class player like Owen, the changing times of football also had a key role to play in that process. When Owen started out, he was the archetypical poacher, a player with raw pace and tremendous acceleration that could leave any opposition defender for dead. In the prevalent 4-4-2 formation in those days, Owen was a perfect fit as he would play off his more burly partner who would be expected to do the dirty work of trying to hold up the ball or link up play, while Michael's job was just to score! The more the merrier!
However, rather unfortunately for Owen and football in general, the need for a more compact and tactical style of play saw the extinction of the two striker mechanic, in the favour of a one striker role which was obviously going to be a Didier Drogba rather than an Owen (taking Jose Mourinho's Chelsea as an example). This was the case when Owen returned from his short Spanish stay, as he was sold to Real Madrid to be a part of Galacticos project after fitness concerns began cropping up in his final years at Merseyside.
While he never really could break into the star studded team of Raul, Luis Figo and Ronaldo, in just 15 starts, he had managed to score 18 goals in a total of 41 appearances. However the lack of being able to adjust to a foreign life saw him want to move back to his homeland. While both Liverpool and Everton were equally interested, Owen instead ended up as a marquee signing for Newcastle United, clearly somewhere where his career would not hit the highs as before. Serving under six different managers, Owen hit the ground running, scoring 7 in his first 10 matches, but then the lack of quality around him, and his own unending injuries saw him seeing Newcastle relegated after four seasons, just on cue with his contract also coming to a close.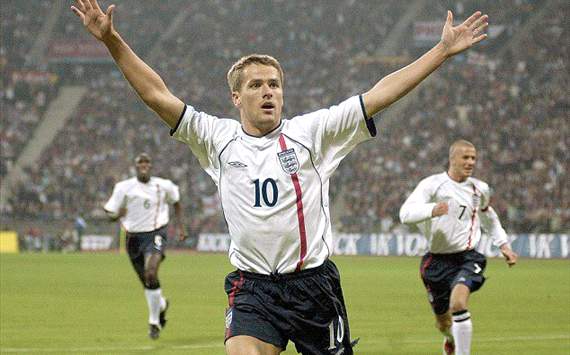 Injuries were detrimental to Owen's England career

Like his club career, his Three Lions' career too followed a similar curve as with his blistering display in the 1998 World Cup, and goal scoring runs in Euro 2000, 2002 World Cup and Euro 2004 was abruptly halted by his injury in the group stages of the 2006 World Cup, bringing a premature end to his campaign and non inclusion in the 2010 World Cup due to an injury sustained while playing with Manchester United in the League Cup. While he could not stop scoring for the English national team, his hamstrings had a different idea altogether.
A footballer who believed that his only task was to score goals,
"I don't want to be modelling G-strings. It's not that good for my image – I'm a footballer not a tart"
Michael Owen never believed in hyperbole and got on with his task of putting the ball at the back of the net, time and again. In fact he had said quite candidly,
"Scoring goals gives you a 10-second buzz but I wouldn't describe it as joyful"
and it was this adrenaline buzz that had kept him going, even with failing hamstrings and continuous setbacks thrown across his path.
Although he finally gave in to his body's wishes, announcing his retirement from football at the end of the season, he has endeared himself to any and every football lover as a player whose only desire as he said himself, he was 'born to score goals', and everyone will have their favourite 'Michael Moment'.
A tragic case of an unfulfilled career, who knows what Michael could have done if his muscles had held up. Yet for what he has achieved, he is surely one of the greatest goal scorers to have set foot in the Premier League at least.
Follow Kaustav Bera on

What is your FAVOURITE Michael Owen Moment? Let us know..
How do you stay up to date with football when on the move? With http://m.goal.com – your best source for mobile coverage of the beautiful game.