Brendon Netto




Comment

|

India




Follow on
Rome wasn't built in a day and going by the evidence of Wednesday's game, India's bid to be among the top hundred ranked countries in world football could prove to be a task of similar proportions. The national team's first friendly in three months ended in a 2-4 humbling against Palestine on home soil.
When the coaching staff and players alike sing praises about the giant strides Indian Football is taking at present, a convincing defeat against a depleted Palestine side doesn't help justify that claim. There's been plenty of talk of the new style of play being adopted by the national side but there was no evidence of it. Instead, it was a timely reminder of where India stands on the international stage and a caution against getting carried away with few positives.
Just over three months ago, Indian custodian Subrata Paul (who was dropped from the starting eleven for the most recent game) suggested, nay, 'guaranteed' that India 'will surely be below 100 in the FIFA Rankings' within 18 months. His ambitious words are admirable but misleading nonetheless. The harsh reality is that football in India has a long way to go before we can even think about featuring in the top 100.
| | |
| --- | --- |
| | "I can tell you, we have the potential to be below 100. We need to play on all FIFA dates without failure for the next 18 months. If we play that regularly, I guarantee you, we will surely be below 100 in the FIFA Rankings. We are much better than 168." |
Despite the talk of numerous football academies being set-up and revolutionizing Indian football at the grass root level, very few projects have been put into motion with real intent. The process of introducing these new academies and improving grounds by utilizing artificial turfs haven't been carried out on the kind of scale that they were meant to. Before eyeing a top 100 status, these are just a few of the things that need to be put in place first.
The infrastructure of football in India needs a major overhaul and that's going to take years. The employment of Wim Koevermans as national team head coach along with that of his staff was a step in the right direction and in all fairness, they do have good intentions to significantly improve the standard of the game. But let's not expect the team to perform miracles and surge up the proverbial ladder within a year and a half of the current administration's tenure.
As far as Wednesday's game goes, there were few positives to derive from the first half performance prior to that almost instantaneous capitulation in the second. Alwyn George and perhaps Clifford Miranda put on decent performances in the first half but like the rest of the team, they went missing in the second period. Despite leading 2-1 at half-time, Koevermans' troops failed to show up after the break and were trailing 2-4 after twenty minutes following the restart.
In all honesty, it was utterly disheartening to see virtually no retaliation or fight from the team nick-named 'Blue Tigers' - quite ironically so after that timid performance. The midfield was hesitant at best but the defense was border-line embarrassing.
With his red kit, number 7 jersey and the ease with which he turned the Indian defenders inside-out on several occasions, one could've been forgiven for mistaking Palestine winger Ashraf Nu'man for Bayern Munich star Franck Ribery. The right-footed winger played down the left for the visitors and was ably aided by the Indian defense in his imitation of the French star as he helped himself to a hat-trick while barely breaking a sweat.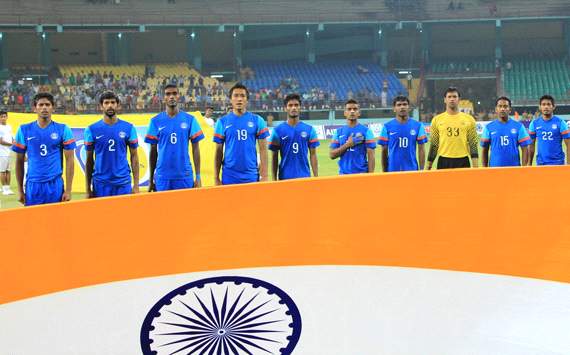 However, for those who support the revolutionary philosophy Koevermans' and his staff aim to implement, the score-line or result is not the most disappointing aspect of the game. The ease with which the Indian defenders were made to look ordinary is also not what's most disappointing. The fact that the team failed to show any sort of fight is not the most disappointing part either. The most disappointing aspect of this particular defeat is the team's style of play.
There was no evidence whatsoever of the 'pass-and-move' system that the national team is supposed to be working towards. The hosts were barely able to string five passes together and were too tentative on the ball. If simple five or ten-yard passes were on and the visitors weren't charging at them, only then were a few successful passes administered. Whenever confronted with a bit of pressure on the ball, the Indian midfield and defense didn't hesitate to launch it forward aimlessly and concede possession.
Make no mistake about it, no one expects the team to suddenly deliver a Spanish passing style of play. That's not what's expected at all but there has got to be some small indication that the team is striving to keep the ball better.
When trying to transit into a new style of play, losing games is acceptable as long as you lose while attempting to enforce that particular system. If you get caught in possession and concede a goal while trying to stick to the 'pass-and-move' system then that's perfectly understandable because errors are inevitable when trying something new. Unfortunately, the four goals conceded had nothing to do with the players' determination to pass the ball and the defensive blunders cannot be attributed to a transitional phase.
In January 2011, Palestine were ranked at 178 in the FIFA rankings while India were at 144, fast-forward two years and Palestine have climbed 26 places to 152 while India have dropped 22 places to 166.
| | |
| --- | --- |
| | "A war-torn country with a population that amounts to approximately 0.32% of India's, beat the Indian national team at home with a second-string side and are taking much bigger strides forward on the international stage." |
A war-torn country with a population that amounts to approximately 0.32% of India's, beat the Indian national team at home with a second-string side and are taking much bigger strides forward on the international stage.
When you take that into consideration, it's evident that there is a lot of serious work to be done before entertaining the possibility of breaking into the top 100. This is not to condemn ambition or optimism but to promote the reality of the situation so as to maintain focus on the task at hand. To put it in layman's terms - let's learn to walk before attempting to run.


Do you think India will make the top 100 in the near future? Leave your comments below or discuss with the writer on Twitter @BrendonNetto.
How do you stay up with football when on the move? With http://m.goal.com –your best source for mobile coverage of the beautiful game.