Akarsh Sharma

Comment

|

Premier League

Follow on
Sir Winston Churchill, one of the greatest English leaders, once said that "the price of greatness is responsibility". And the two best forwards in the English game would concur, as they begin to truly bear the burden of their brilliance.
Of course, they aren't termed 'greats' of English football yet, or even of their own clubs for that matter. No. Such terms are highly provocative in modern football, making the armchair romantic rise and point to the greats from the past; the romanticism, unjustifiably at times, enhancing the measure of greatness.
Robin van Persie and Luis Suarez are, at the very least, on the right path to becoming two of the most revered servants of England's two most decorated clubs. After all, how many players can actually claim that a rivalry so historic, so famous, so significant and so deep-rooted into English culture can become only about two men on the pitch – neither of whom is a homegrown talent and neither of whom was anywhere near his current club two years ago.
In little time, Van Persie and Suarez have managed to make Manchester United versus Liverpool practically a straight shootout between the pair with their respective sides so heavily dependent on their moments of magic. All this, along with an added underlying plot (not that this match needed one) of Sunday's showdown being labelled a decider to tilt the Premier League's Player of the Year crown in either one's favour.
This plot has the potential to become a Messi-Ronaldo like rivalry (or you could say a poor English man's answer to it) in the future. The Argentine and Portuguese have made arguably the greatest club rivalry in the world their own personal battleground, driving each other to unbelievable heights of perfection.

In Van Persie and Suarez's case, the personal enmity is non-existent and so is any direct battle between their clubs for league positions – seven places and twenty-one points separating the two sides in the table.
But with supporters inevitably making this goal-scoring duel one of high bragging rights, it may become an intense personal contest over the next few seasons. And perhaps England can do with one, simply to rekindle a somewhat dormant football rivalry that has been the core of English football for decades.

Robin van Persie vs. Luis Suarez - PL 2012/13
| | | |
| --- | --- | --- |
| 21 | Apps | 20 |
| 16 | Goals | 15 |
| 6 | Assists | 3 |
| 74 / 32 | Shots on goal/on target | 123 / 42 |
| Goal every 4.6 shots | Conversion rate | Goal every 8.2 shots |
| 81% | Passing accuracy | 76% |
| 15 | Fouls conceded | 32 |

When Van Persie and Suarez meet, they aren't likely to exchange words but have plenty of commonalities to share. Both have had to force infamous, unpopular moves to a different club at some point in their careers. Both of them had earned prominence as wide men in the Eredivisie before eventually moving to England.
Both were deployed primarily on the left wing during those days; Van Persie a more traditional winger and Suarez an inverted one. Both were too creative and too efficient in front of goal to be wasted on the flanks (much like Messi) and were moved to a centre-forward role, which has reaped rewards for them.
The two strikers are an absolute joy to watch and if they had ever been paired together in a traditional 4-4-2 (now a virtually defunct formation), their playing styles would complement each other perfectly. The somewhat contrasting styles of the two players are a reflection of the way they've been brought up.
Van Persie, son to a sculptor and a painter, is a true artist of the game and admits to his parents' profession being of great influence on the way he has visualized football over the years. From the glorious nature of the way he kicks a ball – making it look ever so refined and elegant – to the way he scores goals – simplifying an art that is so complex for many. Van Persie now helps define a loose term thrown around in football, of a player possessing 'a cultured left foot'.
His country of birth, home of the greatest players from the past and of the most eye-catching football that the world has ever seen, has also helped him develop a unique appreciation to the finer aspects of football.
At Arsenal, his manager Arsene Wenger and teammates like Thierry Henry and Dennis Bergkamp, appreciated the beauty of the game like nobody else from that era and Van Persie's stylish brilliance follows from that.
Luis Suarez, on the other hand, is son to a porter and a housewife, and was brought up in a small town of Uruguay. Nothing in life had come easy for the Uruguayan hero, especially when his father walked out on his family when he was only eleven which forced him to quit football.
Suarez's life struggles have translated into his work ethic and excessive passion on the field. His behaviour, for large parts, is similar to one of a child playing in the streets – cheeky and rash. For him, every second counts and every second ought to be made the most of. Every second that he is switches off on the field is an opportunity wasted and it matters to him because he has reached where he is today through extreme hardship.
Unfortunately, football has a tendency to pit one top player against another. It's either this one or the other, but never both. And thus, the inevitable comparisons are drawn. Who is better - Van Persie or Suarez? This then breaks down into a series of questions. Who is more lethal? Van Persie. More exciting? Suarez. Better goal-scorer? Van Persie. More skillful player overall? Suarez.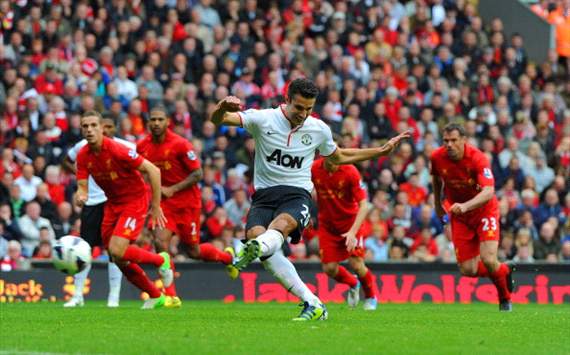 Van Persie's winning penalty at Anfield in September


If Van Persie is a game-changer, so is Suarez. If the United striker repeatedly pops up with important goals and assists, the Liverpool forward runs the whole show for his team. If the Dutch poacher is the finest goal-scorer in England, the Uruguayan is the finest forward-cum-playmaker in the country.

Van Persie has virtually perfected the art he is best known for, while Suarez's imperfections are compensated in the multiple dimensions of his game. The two are deceptively clever and as technically gifted as any other footballer in the league's history.

Van Persie guarantees a show for the purists like the poise with which he executed his last-gasp equalizer last week against West Ham United in the FA Cup. Suarez does not, but his awkwardness and cheek with the ball dismantles the best of defences. When Suarez gets going, there is no player in England capable of matching what he provides – entertainment, brilliance and compulsive viewing.

The head-to-head stats highlight the difference between the two. Van Persie, a refined finisher and lethal in dead-ball situations, has more goals and assists. Van Persie's technically superior game also means he has a much better shot conversion rate and a higher passing accuracy.


Suarez, who roams around doubling up as a playmaker, completes significantly higher number of dribbles. He also specializes in creating shooting opportunities for himself, with considerably higher number of shots at goal than Van Persie. The Liverpool forward also acts as the first line of defense with relentless pressing which results in more bookings and more fouls conceded.

While Luis Suarez is much maligned for his antics and attracts controversy like no other player in England, Van Persie is a constant entry in the good books of fellow professionals and consequently has many more admirers.

This season, they've both carried their teams forward virtually all on their own and have the responsibility of doing the same on Sunday. It's the price of (future) greatness. The burden of brilliance. Both have made the sublime look ordinary. Both have served an absolutely delicious treat to the worldwide audience.

Which of them suits your taste?

Don't forget to let us know your views in the comments section or discuss with the writer on twitter @Akarsh_Official
How do you stay up with football when on the move? With http://m.goal.com –your best source for mobile coverage of the beautiful game.